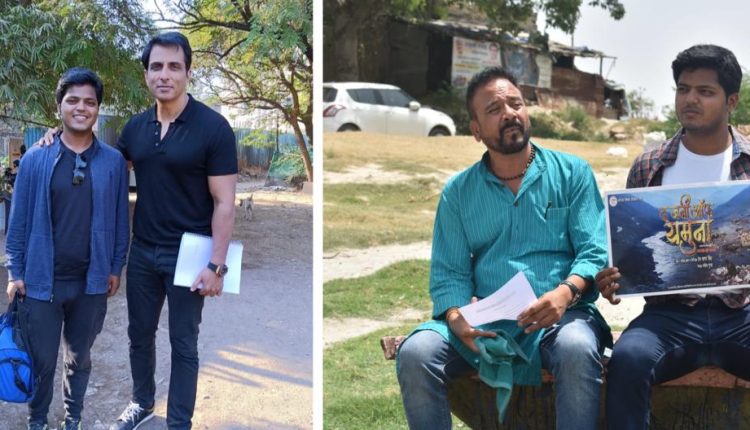 Manish Gupta's NGO 'Nageshwar-Bimala Foundation' To Make A Film Based On Yamuna River's Pollution titled 'The Journey Of Yamuna
For anyone imagining a world without water is not possible. Nobody can also deny the fact that our careless attitude towards our rivers, which are absolutely necessary for our existence, are being polluted everyday and we are doing nothing to save it. But now producer Manish Gupta's NGO 'Nageshwar-Bimla Foundation' has come forward to make people aware about the impact of polluting the life-saving river Yamuna and make a feature film on it which has been titled 'The Journey Of Yamuna'.
Before you could know how Manish Gupta thought of making a film about river Yamuna, it is necessary to know how he survived during his toughest phase in Mumbai while he was trying to pursue a career in acting in Mumbai. It would be interesting to know how later he defied all odds and started a charity foundation which is now making a film on one of India's biggest rivers highlighting the grave level of pollution it is facing now."
While talking about producing a film highlighting the cause of the river Yamuna, Manish Gupta says that millions of people are dependent on the river. Hence, it is our primary duty to make people aware about its current situation and tell them not to pollute it further and what better way to make a film and spread the message about it? Director Prem Sagar Singh was already planning a film on river Yamuna and I was already working on the plan to run a campaign to save it. We were thinking on the same line, and one day coincidentally we met and decided to join forces to spread awareness about the river which is now turning into one big naala."
Prem Sagar Singh is not only the writer and director of the film but he has also written the lyrics and composed the music for the film. He says when river Yamuna begins her journey from the mountains it is in the purest form but when it touches the surface and flows between the populated areas, it is here that it gets populated and severely affects the quality of the river and its water. Various religious beliefs among people is also the big cause of polluting our rivers. He said, "And negligence of government authorities is also turning our rivers into big nalaas which is quite worrisome. Hence, it is necessary to spread awareness about the current plight of the Yamuna river. That's how a film was planned on the river with the glorious history. When I gave a proposal of making a film on Yamuna river, producer Manish Gupta understood my concerns about the river and immediately agreed to produce the film as his NGO is also taking lot of efforts to save it and spread awareness among people".
It is interesting to know that before starting the shoot of the film, a film team has been dispatched from Delhi to Mathura to authentically research and understand all the root causes related to Yamuna river so that all the facts related to the river could be traced and presented accurately in the film.
Notably, a 17 years old Manish Gupta came to Mumbai 4 years back to fulfill his dream of becoming an actor. But before he could begin his journey as an actor, pandemic happened and soon lockdown was imposed all over Mumbai and other parts of the country. As Manish Gupta didn't have any rent left to pay his landlord, he was thrown out of the house and then he was forced to sleep on the footpath for nearly 15 days. During his most difficult period of his life, Manish Gupta didn't even had any money to buy food or water. Soon Sonu Sood and his team rescued him and made all the arrangements to send him to his hometown in Siharsa, Bihar.
Recalling the tough period while staying in Mumbai, 21 year Manish Gupta now says, "If Sonu Sood would have not rescued me during lockdown and helped me in reaching my hometown in Bihar's Saharsa, I don't know what would have happened to me. I owe my life to him. Later I took inspiration from Sonu Sood himself and started an NGO in the name of my grandfather and grandmother. I named it 'Nageshwar-Bimala Foundation' and then I started to support poor people who are in desperate need of help. Till now, our foundation has been able to help 10,000 people in various ways. We will continue to provide relief to people who are poorest of the poor".
Produced by Manish Gupta and directed by Prem Sagar Singh, film 'The Journey Of Yamuna' might feature Sanjay Mishra in a pivotal role. As of now Swapnali Lokhande, Bharat Bhardwaj, Shalu Roy and Ashish Pathak are also integral part of this campaign to save Yamuna. The shoot will commence in February, 2024 and the film will be released at the end of next year.
Click here for the latest news from Bollywood, Hollywood, South Film Industry, Bhojpuri and TV world… Click here to join the Facebook Page, Twitter Page, YouTube page and Instagram of Bollywood Mascot !