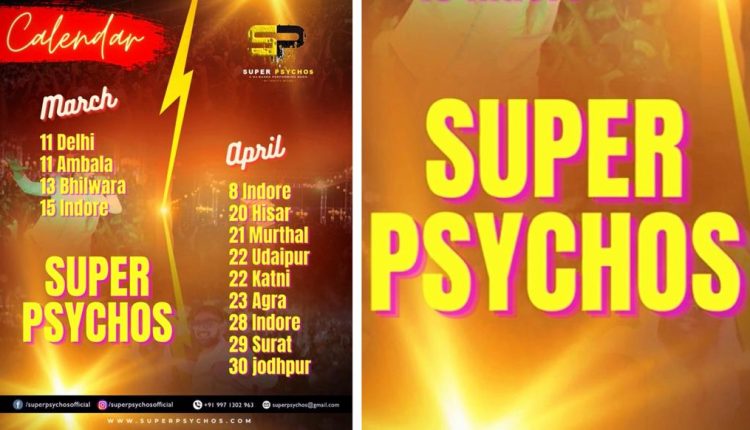 Super Psychos Emerges as One of the Top DJ Based Bands in India
In the dynamic world of DJ-based bands, 'Super Psychos' has emerged as a formidable force, captivating audiences with their exceptional talent and electrifying performances. Over the past two months, this innovative group has skyrocketed to success, earning a prominent position among the top DJ-based bands in Delhi and India as a whole. Their relentless dedication and continuous stream of remarkable event shows have propelled them into the limelight, captivating fans and industry insiders alike.
With a unique blend of musical genres, 'Super Psychos' has carved out a distinctive niche for themselves. Combining elements of EDM, hip-hop, and pop, their mesmerizing soundscapes ignite dance floors, transforming ordinary nights into unforgettable experiences. Their ability to seamlessly blend tracks and create a euphoric atmosphere has garnered them a dedicated fan base that eagerly anticipates their every performance.
Over the past two months, 'Super Psychos' has been a tour de force, consistently delivering unforgettable event shows. From upscale nightclubs to large-scale music festivals, their magnetic stage presence and infectious energy have left audiences yearning for more. Their versatile repertoire, comprising original tracks, remixes, and mashups, ensures that each performance is a captivating journey through pulsating beats and infectious melodies.
The meteoric rise of 'Super Psychos' can be attributed not only to their outstanding musical talent but also to their relentless work ethic and commitment to excellence. By consistently delivering high-quality performances and leaving audiences in awe, they have garnered a reputation for being one of the most sought-after DJ-based bands in the country. This has led to an ever-increasing demand for their services, catapulting them to the upper echelons of the music industry.
The impact of 'Super Psychos' has not gone unnoticed by industry insiders. Their recent achievements have earned them accolades and recognition, solidifying their position among the elite DJ-based bands. They have been featured in leading music publications, interviewed on popular radio shows, and invited to perform at prestigious events. Their unique sound and ability to captivate diverse audiences have set them apart from the competition and established them as trendsetters in the DJ world.
With their meteoric rise in the past two months, 'Super Psychos' shows no signs of slowing down. They are already in talks to collaborate with renowned artists, both national and international, and have plans to release their debut album in the near future. Their vision extends beyond boundaries, as they aim to take their electrifying performances to global stages and establish themselves as a force to be reckoned with on the international music scene.
'Super Psychos' has carved a distinct and impressive path for themselves in the highly competitive world of DJ-based bands. Their unique sound, combined with their relentless work ethic, has propelled them to the forefront of the industry. With their recent achievements and continuous string of extraordinary event shows, they have solidified their position among the top DJ-based bands in Delhi and India. As they continue to push boundaries and captivate audiences worldwide, the future looks incredibly promising for 'Super Psychos.'
Click here for the latest news from Bollywood, Hollywood, South Film Industry, Bhojpuri and TV world… Click here to join the Facebook Page, Twitter Page, YouTube page and Instagram of Bollywood Mascot !