Heart Of Stone : Release Date, Trailer, Star Cast, Story and everything you should know
"Heart of Stone" is an upcoming American spy action thriller, helmed by director Tom Harper and featuring a screenplay crafted by Greg Rucka and Allison Schroeder, based on Rucka's original story. The stellar cast includes Gal Gadot, Jamie Dornan, Alia Bhatt, Sophie Okonedo, and Matthias Schweighöfer.
The project's inception in December 2020 marked the commencement of its development, with Gal Gadot signing on as the lead. Tom Harper was chosen as the director, and Netflix secured distribution rights in the subsequent month. The remaining ensemble was finalized in early 2022. The film's production spanned from January to July of that year, with shooting locations spanning across Europe. "Heart of Stone" promises an intriguing blend of espionage, action, and suspense, sure to captivate audiences with its star-studded lineup and creative team.
Heart Of Stone Details
| Directed by | Tom Harper |
| --- | --- |
| Screenplay by | Greg Rucka, Allison Schroeder |
| Story by | Greg Rucka |
| Produced by | David Ellison, Dana Goldberg, Don Granger, Gal Gadot, Jaron Varsano, Bonnie Curtis, Julie Lynn |
| Starring | Gal Gadot, Jamie Dornan, Alia Bhatt, Sophie Okonedo, Matthias Schweighöfer |
| Cinematography | George Steel |
| Edited by | Mark Eckersley |
| Music by | Steven Price[1] |
| Production companies | Skydance, Pilot Wave, Mockingbird Pictures |
| Distributed by | Netflix |
| Release date | August 11, 2023 |
| Running time | 123 minutes[2] |
| Country | United States |
| Language | English |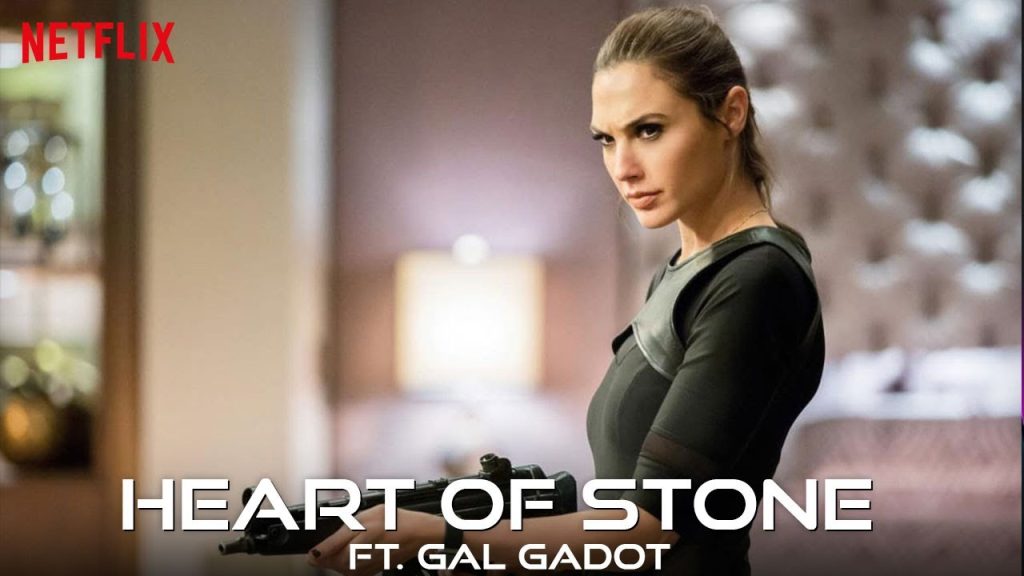 Heart Of Stone Full Story
In the heart-pounding world of espionage and intrigue, Rachel Stone (played by the enigmatic Gal Gadot) leads a double life that even her closest allies at MI6 remain unaware of. As a seemingly novice tech specialist within an elite MI6 unit, she operates under the command of the astute lead agent, Parker (Jamie Dornan). However, appearances can be deceiving, for Rachel Stone's true allegiance lies with a clandestine and enigmatic organization known as the Charter — a covert peacekeeping force that thrives in the shadows, concealed even from the prying eyes of fellow spies.
The Charter stands as the vanguard of a new era in global security, wielding cutting-edge technology to counteract and neutralize threats that endanger the delicate balance of the world order. In a serendipitous twist of fate, Rachel's life takes a seismic turn when a seemingly routine mission is suddenly disrupted by the enigmatic hacker Keya Dhawan (portrayed by the magnetic Alia Bhatt). The collision of these two formidable forces propels Rachel Stone into a vortex of intrigue, danger, and high-stakes suspense.
Under the deft direction of Tom Harper, known for his captivating work on "Peaky Blinders" and "Wild Rose," Gadot's portrayal of the enigmatic secret agent Rachel Stone becomes a mesmerizing focal point of the upcoming cinematic blockbuster. Far from the ordinary operatives, the Charter is an assembly of exceptional minds and skills, united by a common goal — to uphold peace in a tumultuous world. Their unparalleled effectiveness hinges on an unparalleled asset known as the Heart, a singular force capable of reshaping the destiny of nations.
In a heart-racing trailer, the enigma unfolds as Parker, Stone's counterpart within MI6, delivers a chilling revelation: "If you own the Heart, you own the world." As the stakes escalate and the lines between loyalty and ambition blur, Keya Dhawan embarks on a relentless quest to possess and control this unparalleled power. Her perilous journey jeopardizes global stability, setting the stage for an electrifying showdown with Rachel Stone.
As the tension builds, the clock ticks, and the fate of the world hangs in the balance, Stone must summon every ounce of her courage, wit, and resourcefulness to thwart Keya's dangerous ambitions. Will Rachel Stone, the enigmatic agent of the Charter, be able to quell the storm that threatens to engulf humanity? The answers lie within the heart-stopping narrative of "Heart of Stone," a saga of espionage, power, and the unyielding determination of those who dare to shape the destiny of nations.
Heart Of Stone Movie Trailer
Click here for the latest news from Bollywood, Hollywood, South Film Industry, Bhojpuri and TV world… Click here to join the Facebook Page, Twitter Page, YouTube page and Instagram of Bollywood Mascot !