Oppenheimer Movie Review : About the Movie, Ratings and more
Must Watch
It is a visual delight and a pure poetry!!
It is a visual delight and a pure poetry!!
Christopher Nolan's awe-inspiring film "Oppenheimer" delves into the complex life of J. Robert Oppenheimer, renowned as the "father of the atomic bomb," encapsulating a profound shift in human consciousness within a haunting three-hour narrative. This gripping drama navigates the interplay of genius, overconfidence, and both individual and collective mistakes, chronicling the tumultuous journey of the American theoretical physicist who played a pivotal role in the research and development of the atomic bombs dropped on Hiroshima and Nagasaki during World War II. These cataclysmic events ushered in the era of human dominance.
Oppenheimer Details
| Director | Christopher Nolan |
| --- | --- |
| Writers | Christopher Nolan, Kai Bird, Martin Sherwin |
| Stars | Cillian Murphy, Emily Blunt, Robert Downey Jr., Alden Ehrenreich, Scott Grimes |
| Rating | R |
| Running Time | 3 hours |
| Genres | Biography, Drama, History |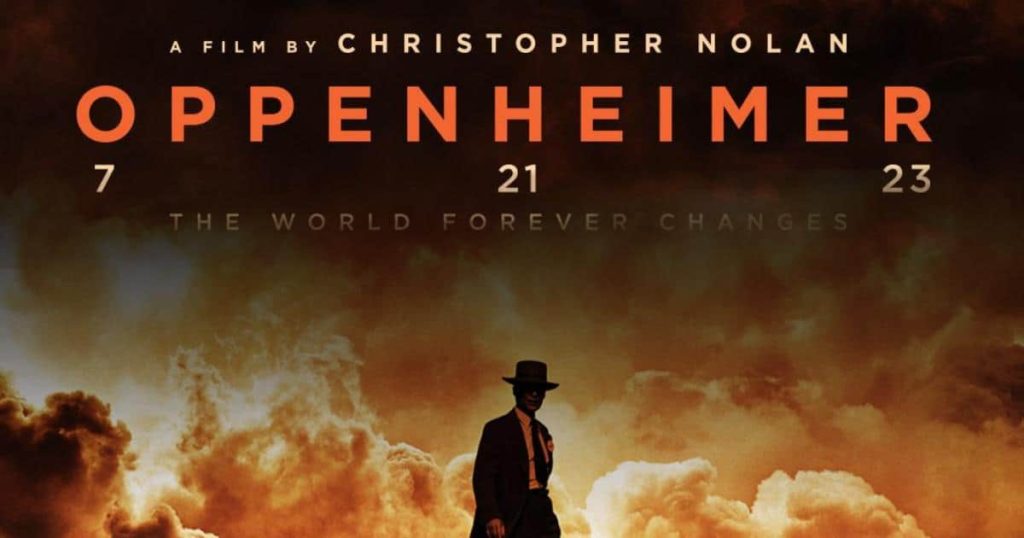 Oppenheimer Full Story
Nolan's movie draws inspiration from the authoritative 2005 biography "American Prometheus: The Triumph and Tragedy of J. Robert Oppenheimer," penned by Kai Bird and Martin J. Sherwin. Skillfully written and directed by Nolan himself, the film draws extensively from the book as it unfolds the tapestry of Oppenheimer's life, highlighting his pivotal involvement in the Manhattan Engineer District, known as the Manhattan Project. The clandestine weapons lab, situated in the remote expanse of Los Alamos, New Mexico, becomes the backdrop for Oppenheimer's endeavors alongside other luminaries of his time. Together, they grapple with the challenge of harnessing nuclear reactions for weapons that swiftly claimed tens of thousands of lives, ultimately ending the Pacific War.
While the atomic bomb and its far-reaching consequences shape Oppenheimer's legacy, Nolan's film is equally defined by these themes. Nolan deeply delves into the intricate process of bomb creation, an engrossing and unsettling journey. However, he refrains from reenacting the actual attacks, deliberately avoiding graphic imagery of devastation, thereby showcasing his ethical stance. The film pulsates with the horror of the bombings, the immeasurable suffering they inflicted, and the ensuing arms race. "Oppenheimer" stands as a remarkable achievement in its artistic and conceptual dimensions, captivating audiences while faithfully staying tethered to the historical narrative it portrays.
The narrative of "Oppenheimer" closely follows the life of J. Robert Oppenheimer, portrayed with intense fervor by Cillian Murphy, spanning several decades. The story commences in the 1920s, presenting a youthful Oppenheimer, and unfolds until his hair turns silver with age. The movie delves into key personal and professional moments, including his instrumental role in atomic bomb research, the controversies that plagued him, the onslaught of anti-Communist accusations that nearly destroyed his reputation, and his intricate web of relationships that both supported and vexed him.
Throughout his journey, Oppenheimer's path intersects with significant milestones. His affair with the passionate political activist Jean Tatlock, portrayed by the dynamic Florence Pugh, adds a vibrant layer to his life. The narrative later showcases his union with the captivating Kitty Harrison, portrayed by Emily Blunt in a gradual and compelling transformation. Kitty, a charismatic drinker, stands by Oppenheimer's side during his tenure at Los Alamos, where she gives birth to their second child, further intertwining their lives in the midst of unprecedented scientific pursuits and personal challenges.
Oppenheimer Movie Trailer
Oppenheimer Movie Review
The film exudes virtuosity in every frame, skillfully avoiding the pitfall of self-aggrandizement that often accompanies weighty subjects. Even well-intentioned filmmakers can sometimes overshadow the history they aim to honor, but Nolan skillfully navigates this challenge. He achieves this by consistently contextualizing Oppenheimer's journey, particularly through the use of black-and-white segments. These segments play a crucial role in amplifying the film's narrative, with one section spotlighting a politically charged security clearance hearing in 1954, a moment that marred Oppenheimer's reputation. Another delves into the 1959 confirmation of Lewis Strauss, portrayed compellingly by a nearly unrecognizable Downey, a former head of the United States Atomic Energy Commission who was nominated for a significant cabinet role.
Nolan ingeniously weaves these black-and-white sequences with the color portions of the film. By incorporating scenes from the hearings and confirmation processes, he establishes a thought-provoking synthesis that underscores the intricate relationships and influences at play. One poignant instance of this technique sheds light on how Oppenheimer and his fellow project scientists, many of whom were Jewish refugees from Nazi Germany, perceived their work in deeply existential terms. Despite Oppenheimer's exceptional brilliance, international renown, impeccable credentials, and invaluable wartime service to the U.S. government, he becomes entangled in a web of political maneuvering, the egos of small-minded individuals, and the glaring anti-Semitism of the Red Scare era.
These monochromatic sequences dominate the final third of "Oppenheimer." While occasionally they may appear lengthy, they serve as a pivotal juncture where Nolan's meticulous storytelling coalesces. Here, the myriad facets of the film converge, culminating in a comprehensive portrayal of a man who played a defining role in an era of groundbreaking scientific advancements. Oppenheimer's complex interactions at the crossroads of science and politics are laid bare, including his role as a target of McCarthyist fears. His transformation from a key figure in the development of devastating weaponry to an advocate for nuclear disarmament emerges as a central theme, providing the film with its profound resonance and depth.
Click here for the latest news from Bollywood, Hollywood, South Film Industry, Bhojpuri and TV world… Click here to join the Facebook Page, Twitter Page, YouTube page and Instagram of Bollywood Mascot !
Must Watch
It is a visual delight and a pure poetry!!
It is a visual delight and a pure poetry!!