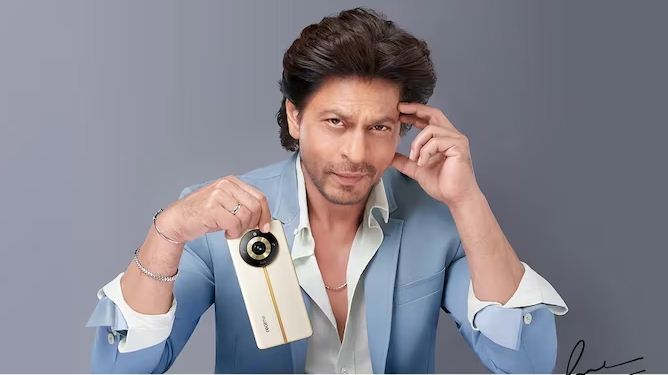 Shah Rukh Khan Embraces the 'Dare to Leap' Philosophy as realme's New Brand Ambassador
Realme Enlists Shah Rukh Khan as Brand Ambassador Ahead of India Launch of High-Profile realme 11 Pro Series 5G
Realme today announced superstar Shah Rukh Khan as its brand ambassador for realme smartphones. The announcement comes at a time as realme prepares to launch its highly anticipated flagship smartphone series, the realme 11 Pro Series 5G in India. This collaboration further reinforces the brand's commitment to inspiring the millennial generation and setting new benchmarks in the smartphone industry.
Shah Rukh Khan's immense contributions to both the film industry and society have earned him widespread adoration and admiration worldwide. By partnering with this iconic figure who serves as an inspiration to millions, realme underscores its commitment to delivering powerful, stylish, and youth-centric smartphones that resonate with the dreams and ambitions of today's generation. The realme 11 Pro Series 5G, the first product to be endorsed by Shah Rukh Khan, exemplifies the brand's unwavering dedication to offering cutting-edge technology to its customers. This collaboration positions realme for continued success and growth, while remaining true to its bold 'Dare to Leap' philosophy.
Shah Rukh Khan, as the brand ambassador for realme's smartphone category, embodies the essence of the brand, which seamlessly combines fashion, aesthetics, performance, cutting-edge design, and technology. With his incredible journey and charismatic personality, Shah Rukh Khan personifies realme's dedication to offering users an experience that goes beyond boundaries.
In his reflection on the partnership, Shah Rukh Khan expressed, "realme's 'Dare to Leap' philosophy deeply resonated with me. The brand's relentless dedication to pushing boundaries perfectly aligns with my own pursuit of excellence. Together, we aspire to spark innovation and propel realme's global growth. As I join the realme family as their brand ambassador, my goal is to inspire others to embrace challenges, take courageous strides, and strive for greatness."
Tao, the Chief Marketing Officer at realme India, expressed enthusiasm about the partnership, stating, "We are thrilled to welcome Shah Rukh Khan as the brand ambassador for realme smartphones. His fearless and audacious spirit aligns seamlessly with our brand's philosophy. Through this collaboration, we aspire to achieve unprecedented levels of innovation and redefine the smartphone experience for our valued users."
realme's unwavering dedication to relentless innovation, distinctive product offerings, and delivering excellence to users has resulted in setting numerous industry benchmarks and solidifying realme's leadership in the market. As realme gears up for the eagerly awaited launch of the realme 11 Pro series, users can anticipate a seamless combination of style, performance, and groundbreaking innovation that will establish new industry standards, further reinforcing realme's position as a frontrunner in the market.
Click here for the latest news from Bollywood, Hollywood, South Film Industry, Bhojpuri and TV world… Click here to join the Facebook Page, Twitter Page, YouTube page and Instagram of Bollywood Mascot !