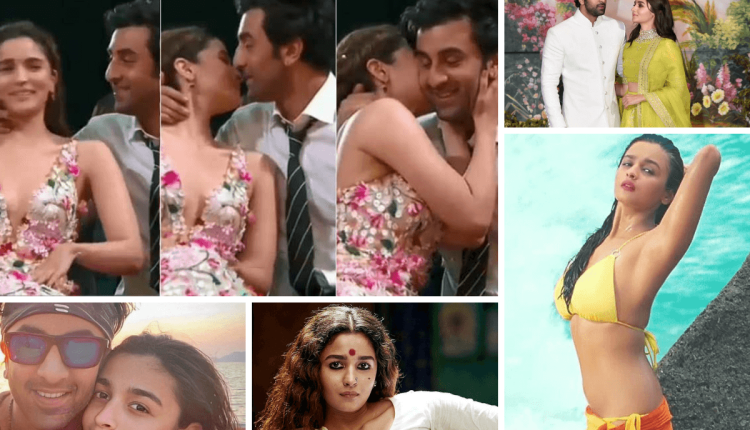 Ranbir Kapoor and Alia Bhatt Marriage date? Ranbir Kapoor and Alia Bhatt Relationship
Every media person and every fan of the couple is talking about Ranbir Kapoor and Alia Bhatt's love story these days, such as how they met and began Ranbir Kapoor Alia Bhatt's relationship. We shared some unique facts about both, let us have a look at the same.
How Ranbir Kapoor Alia Bhatt Love Story Started, What is the Difference in Age of Both?
If you're a Bollywood fan, you're probably aware that Ranveer Singh and Deepika Padukone's love story has reached the wedding stage. Everyone knows that their love story began while they were filming Sanjay Leela Bhansali's films. Let us also remind you that Ranbir and Alia met for the first time on the sets of Sanjay Leela Bhansali's film. Alia Bhatt revealed in an interview that she first spotted Ranbir Kapoor when she was 11 years old. Ranbir Kapoor had summoned her for a photo session. Alia claims that she was blushing so badly in front of Ranbir Kapoor that she took a long time to place her head on his shoulder, as per the shoot's premise. Currently, their film Brahmastra, which stars both of them, is nearing completion.  Also Read: Alia & Ranbir Faces The Heat As They Head For A Holiday In Maldives
Ranbir Kapoor and Alia Bhatt Marriage Date: 14th April 2022
Let us inform you that Alia Bhatt was born on March 15, 1993, and her age is around 28 years. Ranbir Kapoor was born on September 28, 1982, making him 39 years old. Ranbir Kapoor and Alia Bhatt's age difference are around 11 years.
Alia Bhatt Starrer Gangubai Kathiawadi Release Date
Alia Bhatt's much-anticipated flick Gangubai Kathiawadi has finally been given a release date. Fans who are eager to watch the film might make plans to watch it in February of the following year. This is due to the fact that Gangubai Kathiawadi will be released on February 18 of next year. Sanjay Leela Bhansali, the film's director, was waiting for the theatres to fully open. He has now chosen to release the picture in theatres in February of next year. Also View: Akkineni Nagarjuna Joins Ranbir Kapoor And Alia Bhatt For Brahmastra
The film was originally scheduled to be released in January. However, due to the conflict with RRR, the film's release date has been delayed. RRR and Gangubai Kathiawadi star Ajay Devgn and Alia Bhatt, respectively. And Ajay and Bhansali get along swimmingly. As a result, at Ajay's request, the release date of Gangubai Kathiawadi has been pushed back to February, so that neither film's box office will be affected. RRR, a film by SS Rajamouli, will be released on January 7, 2022. In this film, Junior NTR, Ramcharan, Ajay Devgn, and Alia Bhatt play key roles.
Ranbir Kapoor and Alia Bhatt Starrer Brahmastra Movie Release Date
Fans of Ranbir Kapoor and Alia Bhatt would be happy to hear some good news about the film. The premiere date for this Hindi film's magnum opus has arrived. Brahmastra is a unique film, not just for the Hindi cinema business, but also for producer Karan Johar. He has a strong emotional attachment to this film, as he stated in his social media message. Ranbir Kapoor and Alia Bhatt Brahmastra will be released in theatres on September 9, 2022. Director Ayan Mukerji's fantasy-adventure flick Brahmastra is his brainchild. This film has also taken a long time to make. Aside from Ranbir and Alia, Amitabh Bachchan, Mouni Roy, and Nagarjuna Akkineni play important roles in the film. Also Read: Ranbir Kapoor's Brahmastra Release Postponed: Avoid Clash With Salman Khan's Dabangg 3