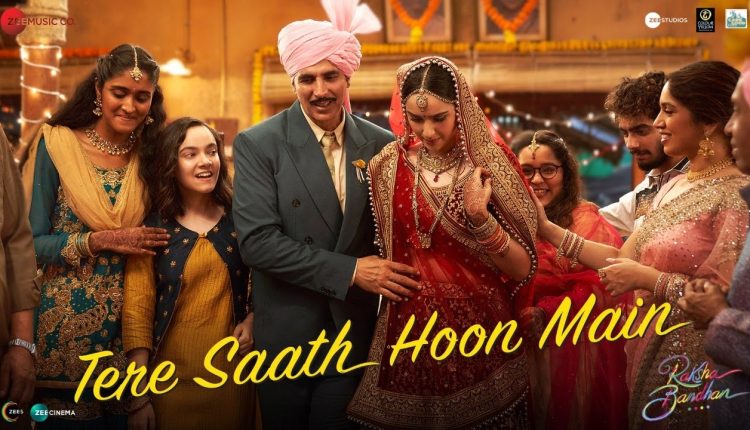 Tere Saath Hoon Main Official HD Video Song From Raksha Bandhan Movie by Akshay Kumar
Tere Saath hoon Main is the first song from Akshay Kumar's upcoming film Raksha Bandhan. On Wednesday afternoon, Akshay shared the video via his social media accounts. The actor plays the role of the film's older brother to four sisters. Aanand L Rai's film is a comedy about weddings and dowry. Tere Saath Hoon main is a song that focuses on the emotions of a brother when his sister gets married.
Akshay shared the song via Twitter, writing: Siblings don't walk alone in life as long as a brother or a sister is holding their hand. This beautiful bond can celebrate with Tere Saath Hoon Main, a Raksha Bandhan song.
The song begins with Akshay talking to his sister. He tells her how his mother used to say Mahadev would come down to Earth to marry his daughters. The song then shows Akshay and Bhumi Pedenkar preparing for the wedding of one of their sisters. Akshay is in the Haldi rituals, while his sisters also dress up. As he prepares for his sister's wedding, he applies mehndi to her feet.
Tere Saath Hoon Main Official HD Video Song Lyrics –
Mehandi Lagi Thi
Dulhan Saji Thi
Mehandi Lagegi
Dulhan Sajegi
Aansu Chhupake Tera
Bhai Hasega
Doli Ko Kandha Dega
Aur Yeh Kahega
Tere Saath Hoon Main
Tere Saath Hoon Main
Tere Saath Hoon Main
Tere Saath Hoon Main
Also Read – Mirzapur Season 3 Release Date
Woh Bhole Bhaale Se
Khilaune Bulaaye
Aur Gudiya Ki Phir
Shaadi Rachaye
Bachpan Ki Baatein
Yaadon Mein Aaye
Befikriyon Ke
Mausam Batayein
Bachpan Ki Baatein
Yaadon Mein Aaye
Befikriyon Ke
Mausam Batayein
Mehandi Lagi Thi
Dulhan Saji Thi
Mehandi Lagegi
Dulhan Sajegi
Aansu Chhupake Tera
Bhai Hasega
Doli Ko Kandha Dega
Aur Yeh Kahega
Tere Saath Hoon Main
Tere Saath Hoon Main
Tere Saath Hoon Main
Tere Saath Hoon Main
Sardiyon Ki Woh Chhat
Degi Gawaahi
Zyada Thi Mastiyan
Thodi Padhayi
Also Read – The Family Man Season 3
Roothna Rooth Ke
Phir Maan Jaana
Pyaar Tha Pyaar Mein
Meethi Ladayi
Aisa Lage Hai Jaise
Baatein Hain Yeh To Kal Ki
Seekhi Kyon Jaane Humne
Itni Baatein Akal Ki
Nasamjhiyon Ko Aaja
Phir Se Bulaye
Bachpan Ke Beete Din Woh
Aa Dhoondh Laayein
Tere Saath Hoon Main
Tere Saath Hoon Main
Tere Saath Hoon Main
Tere Saath Hoon Main
Hosh Tha Naa Koyi
Naa Tha Thikana
Khel The Sach Sabhi
Jhooth Tha Zamana
Fark Tha Naa Koyi
Naa Koyi Doori
Rone Ka Hasne Ka
Ek Tha Bahana
Kagaz Pe Chehra Mera
Phir Se Bana De Tu
Chehre Pe Thedi Mehdi
Aankhein Laga De Tu
Main Bhaagta Hoon
Yaa Phir Aa Ke Tu Chhu Le
Chaukhat Pe Teri Khaatir
Daalunga Jhoole
Tere Saath Hoon Main
Tere Saath Hoon Main
Tere Saath Hoon Main
Tere Saath Hoon Main
Also Watch – Sunny Leone Video
Tere Saath Hoon Main Official HD Video Song Credit –
Song – Tere Saath Hoon Main
Music – Himesh Reshammiya
Lyrics – Irshad Kamil
Singer – Nihal Tauro
Choreographer – Vijay Ganguly
Tere Saath Hoon Main Song Available on –
Spotify – https://spoti.fi/3NHK5C9
JioSaavn – https://bit.ly/3afdGFr
Resso – https://bit.ly/3uGBuJF
Apple Music – https://apple.co/3yxhdbz
Amazon Prime Music – https://amzn.to/3I6JkBA
Wynk Music – https://bit.ly/3bMZYu5
Related Article: Ashram 3 & Jannat Zubair Sexy