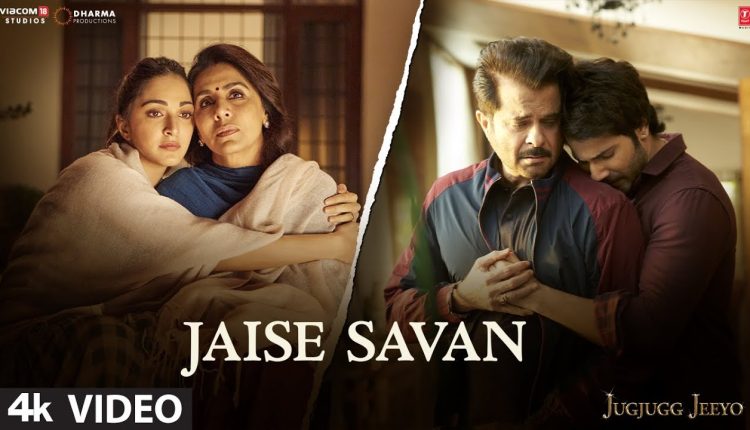 Jaise Savan Official HD Video Song From JugJugg Jeeyo Movie by Varun Dhawan and Kiara Advani
Jaise Savan Video Song released by JugJugg Jeeyo Movie. Neetu Kapoor enjoys all the affection that has come her way due to her enthralling role in the film JugJugg Jeeyo. As the mother of a family confronted with certain harsh realities, Neetu Kapoor emerged as the most adored by the viewers of her debut film. The veteran actress has revealed an exclusive glimpse of her favorite track from the album. Sharing a video of the song, which is still to be released, titled Jaise Savan, Neetu Kapoor acknowledged that the tune frequently left her crying. The singer shared a clip.
Neetu declared, Finally, my favorite song is released. Every time I heard this song, it would make me teary JugJugg Jeeyo and added Director Raj Mehta.A few days ago, just after the release of this movie, Neetu Kapoor posted a white and black image of her with co-star Anil Kapoor and wrote JugJuggJeeyo at its core, it's about families getting together to share the good times and fight the tough ones.
Working alongside Anil Kapoor is the very first time it is precisely similar. Like being with your family members to create new memories and relive previous ones.Speaking to the audience, Neetu Kapoor said, We wish you the best of luck in blessing the bond of families and give us your love and encouragement.
Jaise Savan Official HD Video Song Lyrics –
Koi juda na ho
kisi se kabhi
Koi baaki na ho
Baatein unkahee
Jisey chahey yeh dil 
Woh ruthey agar
Tu manaley usey
Jhoota sahi
Jhoota hi sahi
Mere liye
Toh ajao naa
Also Read – Indori Ishq
Jaisey sawan 
Phirse aatey hain
Tum bhi Aao Na 
Jaisey badal ghirke aatey hain
Tum bhi Aao Na… (2)
Jaa rehi main teri hoke
Shikwe saare khoke 
Sang le chali hu beetan lamha
Aadatein thi jo meri 
Hogayi hain saari teri 
Kaise Tu kahega 
Khudko tanha 
Isbaar jab jaoge Tum
Mujhe sang le jao na 
Jaise lehren laut aati hain
Tum bhi Aao na
Jaise Ghariyan ruk jaati hain
Ruk jaao Na…. 
Jaisey sawan 
Phirse aatey hain
Tum bhi Aao Na 
Jaise Ghariyan ruk jaati hain
Tum bhi jaao Na…. 
Ho Ho Ho……
Also Read – Family Man Season 3
Jaise Savan Official HD Video Song Credit –
Song – Jaise Savan
Singers – Tanishk Bagchi & Zahrah S Khan
Music – Tanishk Bagchi
Programmed and Arranged – Tanishk Bagchi 
Lyrics – Tanishk Bagchi 
Guitar – Rhythm Shaw 
Symphony Arranged – Ishaan
Symphony Recorded – Macedonia Symphony Orchestra
Mixed and Mastered – Eric Pillai at Future Sound Of Bombay
Dubbing Coordinator – Chayan Rio Ghosh 
Music supervisor – azeem dayani
Choreographer – Adil Shaikh
Music Label – T-Series
Related Article – Sunny Leone Upcoming Malayalam Movie & Mirzapur Season 3 Release Date