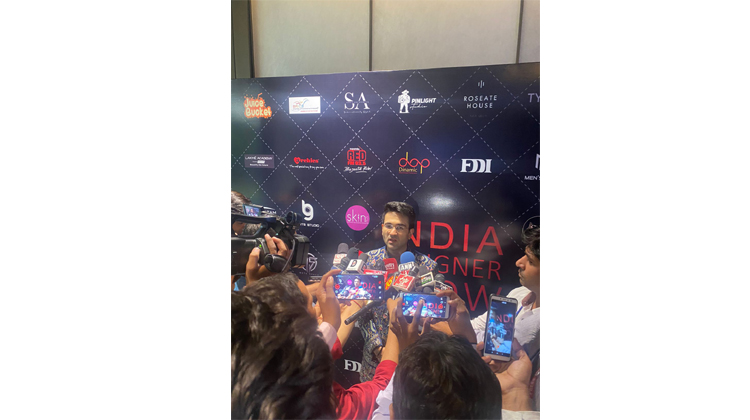 IRS Sahil Seth (Joint commissioner) walk the ramp for Indian Designer show season 3
New Delhi: Joint commissioner in the department of Customs, GST and Narcotics, IRS officer Sahil Seth, graced the 2022 India designer show season 3 as a guest of honour and walked the ramp for the designer Rosy Ahluwalia in the third season of Indian Designer show. This luxury Lifestyle show event was held on 2nd July, 2022 and Sahil Seth being a young influencer inspired and encouraged the participants. The show was created as a single platform that includes all sorts of designers.
About Sahil Seth
Mr. Sahil Seth IRS Joint Commissioner in Ministry of finance, Govt of India, who is also a former President of Delphic Council of Maharashtra, Honorary member of BRICS young leaders, and youth influencer had a walk of fame to encourage the participants and to elevate the work of the designers. Sahil has always been part of many shows in India as a guest and after this show, he said, "It was a wonderful day, I've met many designers with exquisite ideas and fashion statements that make me feel proud. India is a developing country and such events help it to aggrandize its development needs. I am always supportive of the people looking to grow themselves along with the nation. Special thanks to Modern Stage events for creating such a platform in India."
The third edition of the India Designer Show ended on a dazzling note with some of the most versatile and fashion-forward lines by Top Indian Designers. The event was filled with many celebrities, fashion influencers, designers, and Fashion Models. Many celebrities such as Hina khan,kainaat arora, singer shibani kashyap and many others also embarked on the charm of the show.
The India Designer Show was a complete package that brought elements of sophistication, luxury, and fortune under one roof. The show was well organized and just like the second edition it has achieved grand success with some of the amazing designer's work. Sharing the thrill of the show Sahil Seth added, "I enjoyed the show, and kudos to the organizing team and chairman of India designer Show 3 for creating a platform which promotes the talent on such as a global platform. I was glad to be a part of this show as a guest of honour and more then that was a wonderful experience to walk on the ramp for designer Rosy Ahluwalia.. As I am always excited to see new designs and development that evolved in India; this platform filled all of my such needs. The designers showcased amazing designs and had amazing ideas that highlighted the culture of India. The show was breathtaking and is a perfect way to aim for global recognition."
Sahil Seth's popularity is growing day by day as he is helping India to grow and engraving the perfect path for the young generation. Today there are many fans and followers who are inspired to stay healthy and have a better future just by following Sahil Seth 's pathway. He has delivered many opportunities to the youth and his hard work nominated him as a youth & inspirational Male Icon by 'Leamanah'. Sahil debut bollywood movie named Bal Naren in which he is featuring as a doctor is also be releasing shortly on OTT platform.