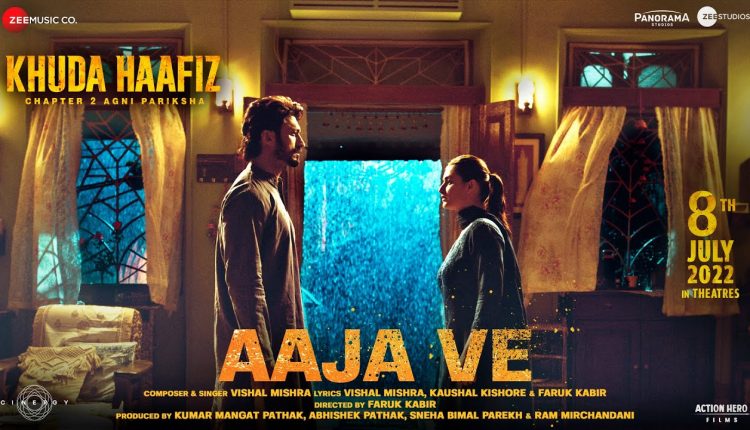 Aaja Ve Official HD Video Song From Khuda Haafiz 2 by Vidyut Jammwal and Shivaleeka Oberoi
Aaja Ve, The heartbreak track from the upcoming film Khuda Haafiz Chapter 2 is out now. After the huge success of Khuda Hafiz on OTT, its makers have come up with Khuda Hafiz Chapter 2 Agni Pariksha starring Vidyut Jammwal and Shivaleeka Oberoi and starring Farooq Kabir. The film will release on 8th July and before that its song has been brought in front of the audience. Showcasing the pain of love and heartbreak, Vishal Mishra sings the song. At the same time, its lyrics are written by Farooq Kabir, Vishal Mishra, and Kaushal. It is a heartwarming track with rain scenes.
Regarding the song, Farooq Kabir says that melody can describe more than words. Vishal Mishra has harnessed the power of music to bring out the emotional structure of Sameer and Nargis's love story in the most beautiful way. The song depicts the test of love and the feeling of the pain of separation. The film stars Vidyut Jammwal and Shivaleeka Oberoi in lead roles.
Aaja Ve Official HD Video Song Lyrics:
Chhod Ke Jaane Waale
Chhod Raha Kyon
Itna Bata De, Itna Bata De
Ishq Khuda Hai To
Phir Hai Judaa Kyon
Itna Bata De, Itna Bata De
Raah Dikha De Yaa
Rait Bana De
Ke Yeh Ghum Ki Shaam Dhale
Aaja Ve, Aaja Ve
Naa Jaa Ve, Naa Jaa Ve
Raah Dikha De Yaa
Rait Bana De
Ke Yeh Ghum Ki Shaam Dhale
Also Read – Inspiring Story Of Singer And Musician Shaffik Mohammed
Aaja Ve, Aaja Ve
Naa Jaa Ve, Naa Jaa Ve
Phirat Hai Raam
Jatan Kar Van Van
Kaise Viyod Sahe
Kaise Siya Se
Apni Siya Se
Raghuvar Door Rahe
Phirat Hai Raam
Jatan Kar Van Van
Kaise Viyod Sahe
Kaise Siya Se
Apni Siya Se
Raghuvar Door Rahe
Aaja Ve…
Also Read – YouTuber, Influencer & Musician From Maharashtra Sachin Pandit
Aaja Ve Official HD Video Song Credit:
Song – Aaja Ve
Singer – Vishal Mishra
Composer – Vishal Mishra
Lyrics – Vishal Mishra, Kaushal Kishore and Faruk Kabir
Choreographer – Faruk Kabir
Related Article – Actress Neha Pareek Plays Natasha In Ullu App's Dunali & Shamshera Poster Is Out Now, Ranbir Kapoor First Look