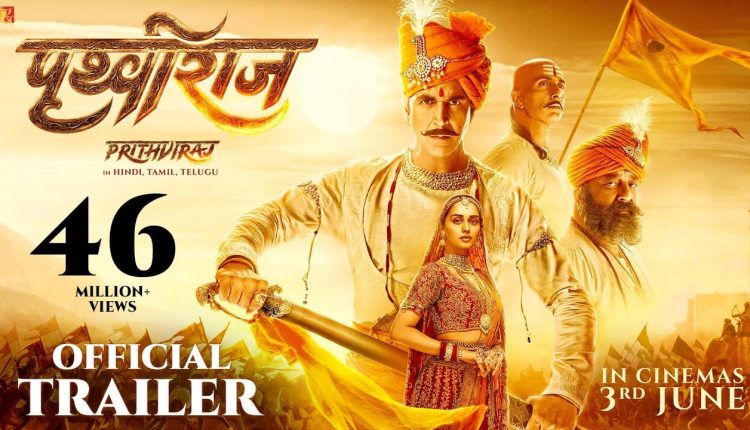 Watch Now Prithviraj Movie Trailer, Akshay Kumar and Manushi Chhillar
Prithviraj Movie Trailer (Historic Movie)
Prithviraj trailer Akshay Kumar portrays Samrat Prithviraj Chauhan. Manushi Chhillar is in the role of Sanyogita for director Chandraprakash Dawivedi's historic Movie.
Akshay Kumar-starrer Prithviraj is all about grandiosity as well as bravery and patriotism. The Yash Raj Film's newest masterpiece has been on the radar for quite some time and from the trailer that came out today, you can see that the team has done everything to make this a stunning historical drama.
Prithviraj movie trailer is packed with a hefty dose of dialogue and a plethora of hilarious scenes. From epic war scenes to the dazzling artwork, it appears like YRF has gone to great lengths to provide viewers with a historic drama that is aiming to do justice to the story.
Also check: Attack Movie Review – John Abraham New Movie 2022
Akshay Kumar, who plays the character in Prithviraj Chauhan appears impressive, especially considering that we've seen him deliver a soaring dialogue in his movies too. The supporting cast, which includes Sanjay Dutt and Sonu Sood provides a reminiscence recall of their previous work. Manushi Chhillar has a decent quantity of time on screen and appears gorgeous in the role of Prithviraj Chauhan's spouse Sanyogita. While Ashutosh Rana is only a brief appearance as does actor Manav Vij is playing Muhammad from Ghori.
Watch Akshay Kumar-Manushi Chhillar's Prithviraj Trailer
Based on the medieval poet Chand Bardai's epic poem Prithviraj Raso The period drama features Akshay portraying the role of the Rajput Emperor and the former Miss World Manushi Chhillar as Sanyogita. It is the actress's Bollywood debut.
The teaser trailer released earlier in the day for Prithviraj gave us a glimpse of the magnitude of the film's ambition. As the king of a nation with a huge army of soldiers ready to sacrifice their own lives. The trailer focused on his bravery on the battlefield, and how he fought off the invading Muhammad Ghori.
Also read: Katrina Kaif and Vicky Kaushal Just Shared Picture in Pool
The film was composed and directed by Chandraprakash Dwivedi. in an interview earlier the director behind Chanakya, Mohalla Assi and Pinjar talked about his experience working on the film for more than two years. "Prithviraj is my ultimate project. It's a script I've nurtured for a long long time due to the lengthy research required before I ever attempted to create an epic film about this powerful and famous monarch. For the record, the final work of Prithviraj's research took around six months to be completely confident that every detail was checked several times." Dwivedi said.
Akshay has meanwhile described Prithviraj as an example of a synergy between "history and patriotism, as well as the representation of the values we should be living by, and it also is a love story which is very rare." He also said that his heart was filled with emotion by Prithviraj Chauhan's tale. "The more I learned about his life the more I was impressed by the way his life was lived in every minute of his amazing life to defend his country and his ideals," the actor said.
Prithviraj also features Sanjay Dutt, Sonu Sood, Manav Vij, Ashutosh Rana, Sakshi Tanwar, and Lalit Tiwari. The film is directed by Yash Raj Films and will be released on June 3rd.
Related Article: Sunny Leone Hot Video Making Paratha in Saree will Make your Mouth Watering & Kareena Kapoor Looking Hot in Pool