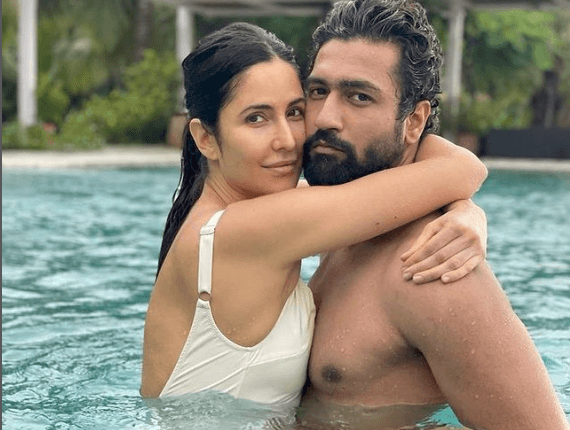 Katrina Kaif and Vicky Kaushal Just shared Picture in Pool on Instagram What User Reacted with Salman Khan Name
Katrina Kaif recently posted a super hot picture of her with his husband Vicky Kaushal on Instagram in the pool. They are holding each other tightly and looking for supper together. As you all know the couple had recently married and they shared some lovely moments of their marriage on Instagram and other social media platforms. Katrina Kaif and Vicky Kaushal are the most lovely and beautiful couple in the Bollywood industry. Let's see the blazing photo of a couple in the pool.




Katrina Kaif and Vicky Kaushal Latest Photos
View this post on Instagram





Also check: Bobby Deol Spoke On Not Getting The Film 'Jab We Met' With Kareena Kapoor
Comments on Katrina Kaif Post
After Katrina Kaif shares the picture on Instagram comments coming started on it. Where many users used Salman Khan's name and posted very funny comments on Katrina Kaif Post. Let's have a look at what users write:
"Feeling sad for selmon bhai 🙂"
"Selmon bhai ye dekh ke bahut jal rahe hoge 😂😂😂"
"Vicky be like jalte raho bacho 😂 dekhna na Katrina le aaya 😂"
"Kyun jala rahi ho selmon bhai ko didi 👀🙂"
"Salmon bhai ka kya hoga ye dekhne k baad"
Aisi post na kiya kro selomon bhai bolega ye dukh khtm kahe nhi hota be😂




"Yaar mere Vicky se dur hoja!!!"
"Woah 😍😍😍 raising the temperature 😍 give us a movie now please 😍😍"
"Salman khan crying in the corner after seeing them like this 😢"
"This is NOT a recent picture 🙈 it's from ur last year birthday celebration 😍 the way you managed to hide everything and keep everything a secret 🙏🤣❤️❤️"
There were lots of comments like this on her post you may check on the post, let's see the post Katrina Kaif posted on Instagram with her hubby Vicky Kaushal.
Related Article: Vishal Saroye Biography & Sunny Leone Hot Video Making Paratha in Saree Will Make Your Mouth Watering