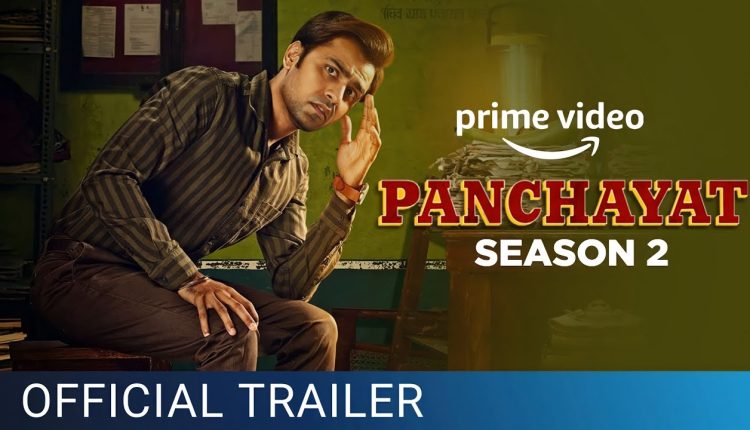 Panchayat Season 2 Trailer Out Now, Release Date on Amazon Prime
Amazon Prime Presents Panchayat Season 2
Starring: Jitendra Kumar, Neena Gupta, Raghubir Yadav, Faisal Malik, Chandan Roy, and others
Produced by: Arunabh Kumar
Directed by: Deepak Kumar Mishra
Written by: Chandan Kumar
Production Company: The Viral Fever
Panchayat Season 2 Release Date on Amazon Prime – May 20, 2022, only on Amazon Prime Video
Panchayat Season 2 on Amazon Prime Video
Panchayat is an ode to comedy and drama which follows an engineer Abhishek who, in search of a better option for employment becomes secretary for the panchayat office located in a remote town of Uttar Pradesh. In a bind between squabbling villagers and uneasy village life, Abhishek begins his new job with the sole purpose to leave the village at the earliest possible time and, in preparation for this, works on preparing for CAT.
Also check: Latest Bollywood Movies on Amazon Prime
Amazon Prime Video Show
The first full trailer for Jitendra Kumar's Amazon Prime Video Show Panchayat Season 2 is out and, judging by the look of it, the second season is expected to be just as enjoyable and warm as the initial chapter.
The over two-minute clip sees Jitendra Kumar's engineer-turned-panchayat secretary Abhishek battle new unique obstacles in Phulera, even as his bond with the village people, like Vikas and Pradhanji (played by an in-form Raghubir Yadav) becomes deeper. The clip is Panchayat and TVF's trademark humorous heartwarming humor evident throughout the video.
The official synopsis for the show reads "With more recent issues affecting the villager population How do Abhishek be able to manage everything and let the right win? Filled with humorous moments from life and plenty of humor, Panchayat Season 2 promises to entertain audiences as the first."
Also check: KGF Chapter 2 Release on Amazon Prime
Talk About Panchayat Season 2
When asked about his experience acting in the series the lead actor Jitendra Kumar stated in a statement "Growing in the confines of a tiny town I was able to relate to the struggles and uncertainty of Abhishek immediately from the beginning even though he faced more of a challenge moving into the rural world. The resonance helped me get into the character and make the character better. As an actor that is constantly wanting to become famous while also being in solidarity with the villager is the reason that makes Abhishek incredibly relatable and real. In this second part, Abhishek is more calm and content while navigating the challenges in Phulera. It was an incredible opportunity to work with such an amazing cast and I'm eagerly anticipating the global launch of Panchayat S2 on Prime Video."
Related Articles: Prithviraj Movie Trailer & Bobby Deol Spoke on Not Getting the Film 'Jab We Met' with Kareena Kapoor