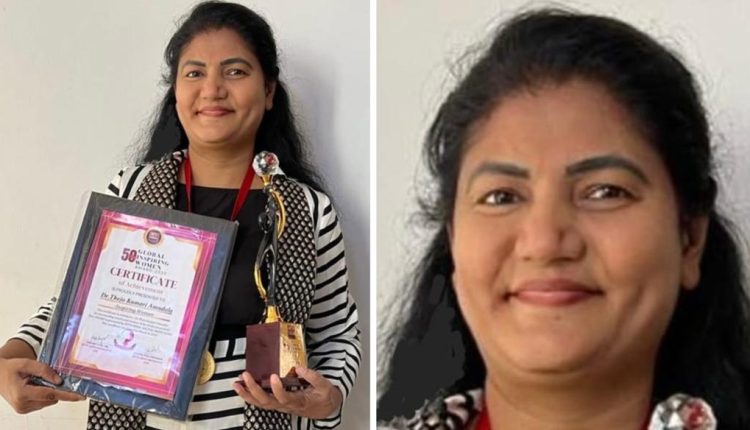 Renowned Businesswoman Dr. Thejo Kumari Amudala Named Among the Under 50 Global Inspirational Women of 2023
Mrs. Universe Winner Dr. Thejo Kumari Amudala Named Among the Under 50 Global Inspirational Women of 2023.
Dr. Thejo Kumari Amudala, who is widely regarded as one of India's most accomplished women, Mrs Unicerse Winner has received the "Under 50 Global Inspiring Woman Award 2023" in a highly esteemed event held on March 8. This award recognizes her outstanding career and the remarkable strides she has made in her field, cementing her status as a true inspiration to women around the world.
You've been told a lie your entire life. You've been told that being brilliant will make you successful . I'm here to inform you that the world rewards bravery over brilliance. The most well-known and accurate old quote, which properly sums up our lady inspiration. Dr. Thejo Kumari Amudala is the founder of Thejas Groups, Theja Business Solutions Pvt. Ltd, And Anzellic IT Solutions Pvt. Ltd., a woman who started from zero. One word, "question," sums up what she believes and wants to convey to the youth. Knowing your "why" will help you find the path to success in life.
The journey to success is not always smooth, and everyone encounters hurdles and failures along the way. However, Dr Thejo Kumari Amudala believes that having a clear understanding of one's "why" can provide the motivation and determination to overcome these obstacles and continue to pursue their goals. By generating new ideas and finding innovative solutions, individuals can rise above the roadblocks and achieve success in their career and personal life. Dr. Thejo Kumari Amudala's childhood experiences instilled in her a burning desire to empower others after achieving success. This "why" gave her the discipline and focus she needed to overcome obstacles and achieve success. As a humanitarian, she is driven by a strong urge to improve society and help those who are less fortunate, which motivates her every day
She began her philanthropic journey began with the realization that she could contribute to making society a better place. The joy and fulfilment that come with turning your dreams into reality are unparalleled. Her efforts are focused on providing improved education, livelihoods, and facilities to underprivileged sections of society.
Dr. Thejo Kumari Amudala work have earned her a place on various Top Prestigious Personality and Iconic Legend Award" by legendary cricketer Padmabhushan Sunil Gavaskar, the "Global Fame Award in the Category of Most Popular and True Legend Award" by motivational actor and social activist Sonu Sood, and last but not least, the "Trend Setter Award 2023" by Bollywood singer Padmashri Kumar Sanu. Her journey to success and accomplishments was challenging but eventually rewarding. such as "Top 10 Inspiring Personalities 2022," "Top 10 Influential Personalities Thriving in Their Fields 2023," and "Top 50 International Iconic Women 2022." In addition, she has received numerous awards, including the Business Icon of the Year Award, Dada Saheb Phalke Icon Award 2023, the Most Inspirational Woman Award, International Brilliance Award, Indian Glory Award, Business Excellence Award 2023, and Powerful Women Award among others.
Dr. Thejo Kumari Amudala's humanitarian activities have earned her countless titles and awards. She has been honored with the Global Iron Lady Award, Peace Ambassador, Indira Gandhi Seva Ratna Award, Most Popular and True Legend Award, Chathrapathi Shivaji Maharaj Gourav Award, Nari Samman Award, Real Life Super Hero Award from the United Nations, and many more.
Click here for the latest news from Bollywood, Hollywood, South Film Industry, Bhojpuri and TV world… Click here to join the Facebook Page, Twitter Page, YouTube page and Instagram of Bollywood Mascot !