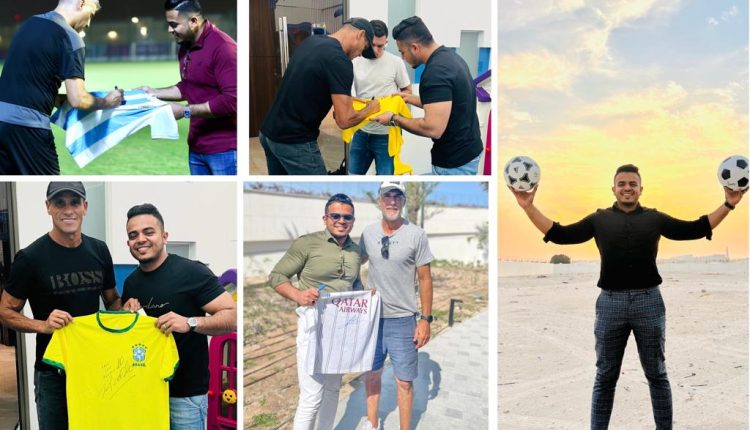 Ramees TC is getting viral for sharing a video over social media with Messi, Check out the full details
Ramees TC, who has establishes a reputation for himself thanks to his keen understanding of all branding and marketing, is a native of God's own country and Kozhikode. He is Incharge of marketing & branding of Clikon in Qatar and has assisted numerous firms in achieving their objectives. His work is recognised and applauded not only in India but also outside. He has always promoted positivism and motivation through his platform as an influencer. He is revered as a role model by many, who are enthralled by his way of life and attitude.
The world of today moves at a quick pace. We live in a fast-paced world where the young generation is surrounded by media and digital platforms where popularity can be acquired with the flick of a finger. Fitness and the emphasis on marketing go hand in hand. The contemporary generation places a high value on success and fitness.
Ramees abdul kareem (TC) is a young businessman who has adopted the digital platform as his secret weapon for success. His path to achievement began a while back. Ramees TC, who founded his business as a owner and partner in the operations of the Shadow Fitness Center and KURRA football Accademy and turf.
Ramees TC wants to connect with as many children as possible who look up to him and admire him. Ramees TC wishes to assist and inspire them in their pursuit of their goals. His basic tenet is that he was supported and encouraged by numerous mentors in order to achieve his high goals.
He enjoys collecting signatures from international athletes. He currently has over 140 signatures in his collection and is continually adding. On his social media platforms, collecting autographs, video reels, and photos with football players are becoming viral. He makes every effort to interact with players. He wants to stand out and be distinctive in his hobby and interest by making a record of it. Some days ago, he posted a reel with Messi from Kerala, and the same is getting viral over social media platforms like Facebook, Instagram and TikTok. The video has been views more than 2 millions times in just 3 days.
Ramees TC has the Midas Touch, turning anything he comes in contact with into gold. He has vowed to get things moving in 2023 and use his platform as an enlightening and empowering venue. We will be closely observing Ramees TC's ascent, as he has admirers and followers all around the world.
Football is one of the most popular sports in the world, and as a result, it is one of the most beloved games among its supporters everywhere. Football players are practically worshipped and idolised by their fans.
Click here for the latest news from Bollywood, Hollywood, South Film Industry, Bhojpuri and TV world… Click here to join the Facebook Page, Twitter Page, YouTube page, and Instagram of Bollywood Mascot!