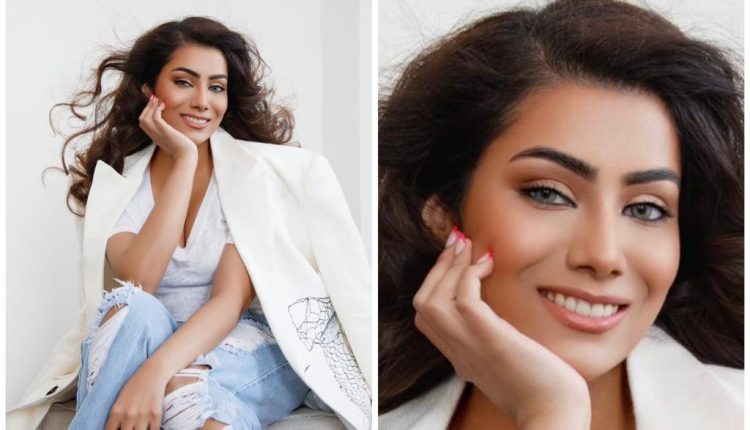 Know What Gen Z Actor and Supermodel Ishita Gupta Says after blocking Kangana Ranaut
Kangana Ranaut, who frequently criticises other celebrities on social media, is now focusing on Gen Z, who appear to irritate the actress. She claims that the Gen Z are too lazy to even have se*, can't afford to buy homes, and detest marriage. She labelled them as "gajar muli" as well. On her Instagram Story, she wrote, ""Gen Z… HA HA their limbs and legs are like sticks, they spend most of their time on phones than actually interacting, observing or reading, they are incapable of consistency and seriously believe that they should simply be given the post of Boss who they don't respect because their Boss believes in discipline and came up hard way and GenZ only respect quick success." Added her, " "GenZ loves starbuks and Avocado toast but can't afford to buy a home, they can rent branded clothes to impress on SM but loathe to commit or marriage, studies even suggest that they are too lazy to have se* as well, the awake worm GenZ are literally like gajar muli.." "EYES ROLLING AND SILLY SLANG GENz are simple to manipulate, even with brainwashing. well!! Millennials are the best generation yet; we rule! GenZ, how about some yoga, sports, and physical activity?"
Ishita Gupta, a renowned Gen Z supermodel and actress, then declared that she was purchasing her first home in Mumbai. The actress lavishly paid for the one-bedroom apartment in Mumbai's Andheri West neighbourhood. Soon after, she was spotted at Julianos Cafe in Mayfair enjoying her first temporary residence. She flaunted dancing to the famous song from the movie Pathaan, "Besharam Rang," while holding a mouthwatering seafood pasta dish topped with avocado slices and a Starbuck's reusable coffee cup. "Celebrating buying my first house in Mumbai with Starbucks + Avocado, in my own clothing because the brands I wear don't rent," she said as the caption for the photo.
After that, she offered her admirers a tour of her home in London's opulent Mayfair neighbourhood, which is right next to the Dunhill House.
Even her social media bio was modified to read: "Gen Z | Boss + Apple + Starbucks forever | Committed to Amardeep Ranaut | Step Children – Kangana, Rangoli, Akshat."
Soon after, Kangana retaliated against her by releasing a video on Twitter honouring her designer Neeta Lulla's birthday with the description, "Surprise iconic fashion designer Neeta Lulla on her birthday today.
Worked with icons such as Sridevi, Juhi, and Aishwarya for decades, earning prizes and recognition for films such as Darr, Hum dil de chuke sanam, Devdaas, Akbar Jodha, Manikarnika, Thalaivii, and countless others. Gen Z can never understand the addiction of such unrelenting commitment, passion, sacrifice, and selflessness for Art; it goes beyond name celebrity or financial benefits. Even on her birthday, she is still the first person to reach the sets. These are the last of the legends. Ma'am, happy birthday. Ishita quickly posted her educational background. The actor, who graduated from the esteemed Symbiosis Centre for Media and Communication, is currently enrolled in a master's programme at the London Academy of Music and Dramatic Arts, one of the best acting schools in the world, to which Kangana replied by posting a throwback image from her film Queen. She even uploaded images from NYFA, where she took a 2014 direction course. "After almost a decade of effort, I was informed that I am too talented of an actor to be a leading lady in Bollywood. My curly hair and vulnerable voice made it worse, so I signed Queen expecting it would never be released. I did it for money, and with that money I travelled to China."
Ishita responded by posting some images of her business endeavour, a travel agency that provides supercar, boat, and limousine rentals to the Uber wealthy. As soon as Kangana insulted her once more on Twitter, Ishita was ready to show us all how it's done by banning Kangana Ranaut. She finished the discussion with grace and dignity.
Kangana attempted to get her to react tweeting "Those who are still struggling to understand yeh liberals kya hote hain and now there is another keeda called wokism, let me tell you what is the difference, to be a liberal one must grow intellect/study literature, lekin GenZ who are too lazy to do that lekin shaitano Ki sena ko kaise join kiya jaye , toh GenZ ke liye alag battalion banayi gayi hai,inko woke bana diya gaya hai, they are liberals minus literature. You could at least debate with socho liberals because they had brain muscles, but these woke people are like zombies.
Ishita kept it professional after that by sharing her A level transcripts, showing that she received straight As in Literature, History, and Geography, as well as a link to a blog post from the UK government's website on the significance of implementing sex education, which reads: "Relationships Education has been made mandatory for all students receiving primary education, and Relationships and Se* Education (RSE) for all students receiving secondary education. All schools must now provide health education.
She quickly barred Kangana from all of her social media accounts and published a post on her official Instagram account with screenshots and the same message. Today I'm going to demonstrate how to deal with negative energy vampires by simply blocking them on Facebook, Twitter, and Instagram. Enjoy Azkaban, my love," she continued.
Ishita chose to avoid responding to Kangana's attacks and ended the conversation by pressing the block button to show that she is clearly not interested in debating with her. Oh, attitude? We are awestruck.
Click here for the latest news from Bollywood, Hollywood, South Film Industry, Bhojpuri and TV world… Click here to join the Facebook Page, Twitter Page, YouTube page and Instagram of Bollywood Mascot !