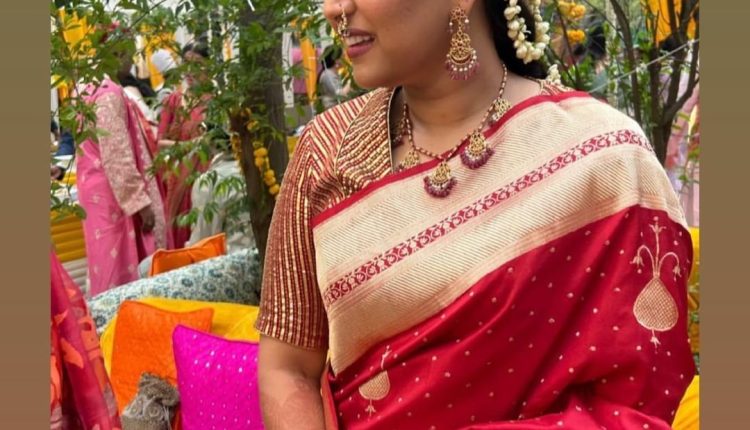 Swara Bhasker was spotted dressed like a South Indian bride in her wedding
On Monday, Swara Bhasker wed Samajwadi Party leader Fahad Ahmed following elaborate rites. On social media, wedding photos are becoming more popular.
The Bollywood actress Swara Bhasker is getting married once more. The actress and Samajwadi Party leader Fahad Ahmed got married in court in February. The marital rites are being carried out one by one concurrently. Her Haldi and Mehendi rites have recently been documented in photos and videos. On the other hand, on Monday, some fresh images of Swara Bhasker also appeared online.
Swara Bhasker dressed like a bride from South India
These images of the actress, who is wearing a golden saree and Mehroon, were posted on her Instagram story. She has been carrying jewellery owned by Mehroon. Mehendi, crimson bangle, nose ring, forehead band and gajra are seen in hair.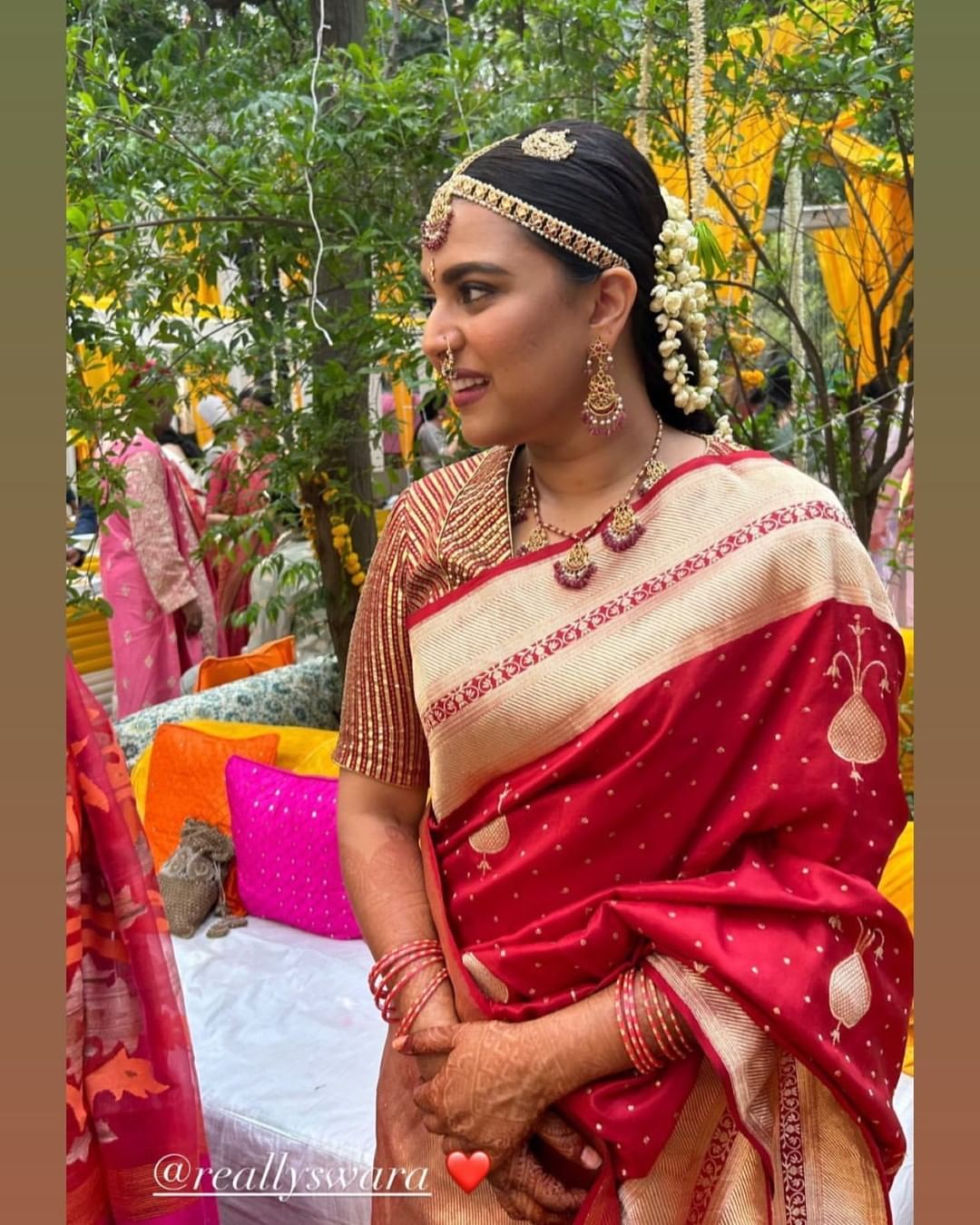 Swara Bhasker was seen with husband Fahad Ahmed
Swara Bhasker is pictured here with her hubby Fahad Ahmed. They both had a broad smile on their faces. Let me tell you that the actress wed in her grandmother's home in Delhi, in the presence of her loved ones.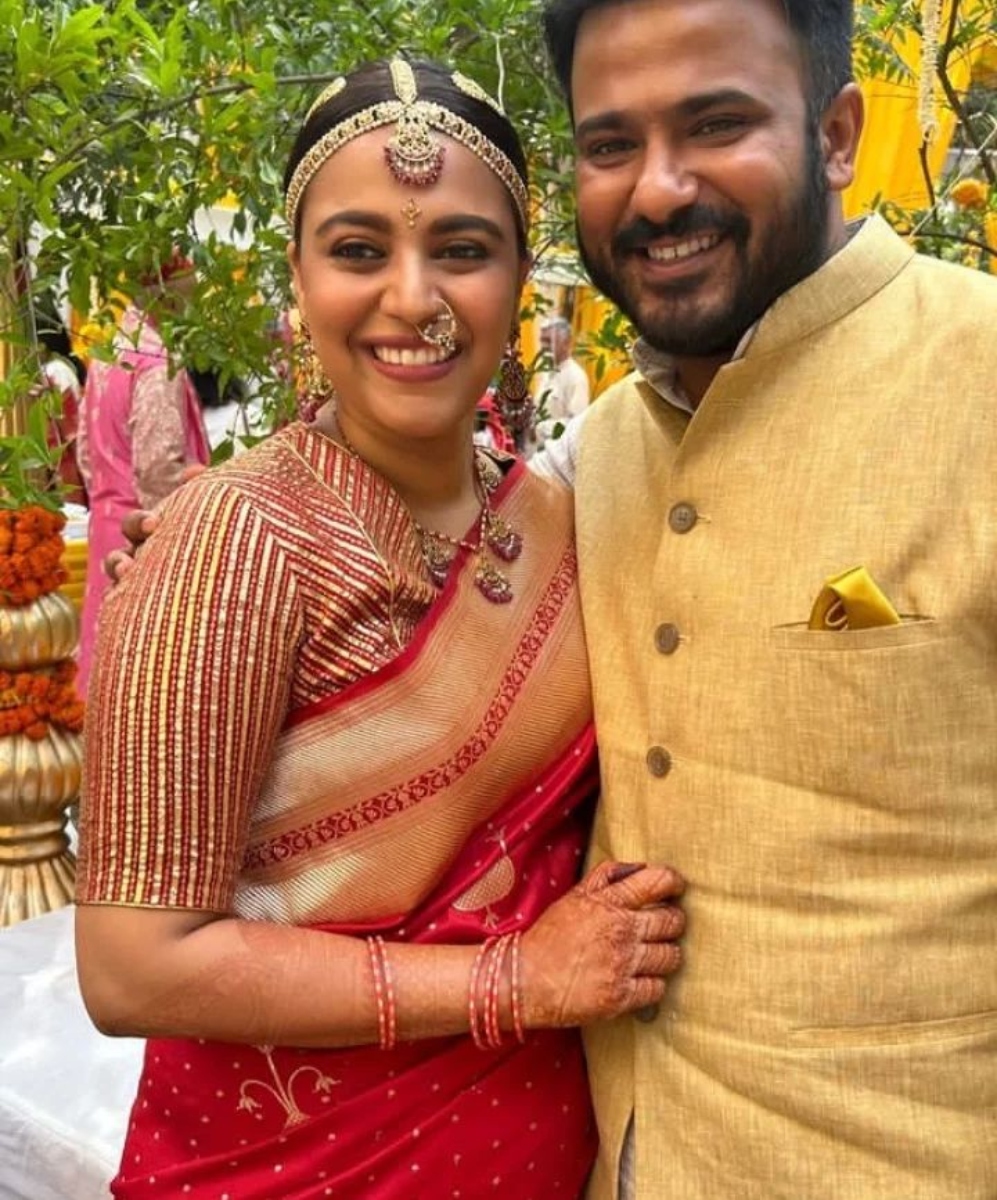 Recently, a court marriage was completed
This couple shocked everyone by getting married in court in February. The actress wore her mother's saree and jewellery for this scene. The disclosure was made around 40 days after Swara-Fahad registered, which was on January 6 itself.
On March 16, there will be a reception
Let me tell you that on this memorable wedding day, a Carnatic music event was also planned. Her close friends and family will attend a Qawwali ceremony on March 15 and a reception will be hosted in Delhi on March 16.
This is how the romance began
According to the report, both met during the movement in the years 2019–2020. Swara Bhasker was yelling out phrases to the students. The two of them met here and exchanged ideas. Because of this, Swara had fallen in love with Fahadh's progressive outlook. Swara was also invited by Fahad to attend his sister's wedding in March 2020, but she was unable to travel because of her shooting commitments.