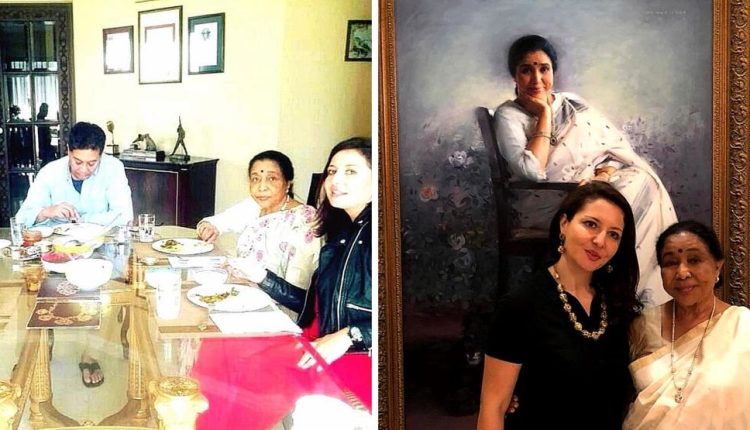 Asha Bhosle and Gioconda Vessichelli: When 2 classical music legends have lunch together
Asha Bhosle and Gioconda Vessichelli have recently had lunch together at Asha Ji's home. We asked Gioconda about the experience she had having lunch with legend singer like her. There are few questions we asked Gioconda and let us see how she answered them.
What was it like meeting Asha ji at her home?
Amazing experience because as all the REAL BIG people of the world I have met and worked with so far in my life (Ennio Morricone grammy award Hollywood movies composer, Luciano Pavarotti, the biggest opera singer of the world, and many others), the bigger they are, the more grounded on earth they are.
There is always a good energy connection and somehow the vibrations of the world make us recognise each other and to end up eating at the same table! She has her house in prabhu kunj, but she stays with her granddaughter.
Where was the lunch arranged?
Prabhu ji with all the amazing family, the son, the daughter in law, and coincidence her granddaughter s birthday is on 16th January, like my birthday! So we even had birthday party together once. And this matching of 16 January date is a signal that maybe we were belonging to the same family in a previous life!
How was she looking?
Shining and gorgeous as always.. That beauty that only people with a strong inner light can emanate!
What did she say about your popularity ad songs.
She hugged me and she said she's proud of me! Those warm hugs that stick in your soul forever, that only those people who have done the same classic al music path, the one closest to the absolute, can understand and deeply feel..
What was special in the menu?
All the amazing Indian food whose names I am unable to remember.. But I really remember the amazing taste.. And vegetarian of course.. Me I am vegan actually!
And then she came with a beautiful surprise for me.. Some amazing top class dates she had brought from Dubai for me.. She s a Connoisseur Of Dates, she has boxes and boxes like a collection! But the nicest thing was the way she put the date in my hand.. Like a kid she took my hand and said "close your eyes" she put the date in my hand and then closed my hand. Then I opened and I found this date in my hand.. It reminded me some magic games I used to do during my childhood with my friends.. It made me travel far back to those days and to those kind of atmospheres!
The beauty of Asha is that I can feel free with her, with no barriers, we can understand each other on a superior level that we don't need to get lost in formalities. I remember we were jamming sitting on the sofa. Then at a certain point as I m a wild nature spirit, I felt that I was more comfortable to sit on the carpet and do some legs exercises while singing.. Cause music creation process should be always fun! And in that way I could have been closer to Asha to see her lypsinc and to understand the Hindi lyrics of the song and to give her my English lyrics.. We were in a magic creative process! At a certain point the daughter in law entered the living room and she got shocked :)) cause she had been seeing us starting the conversation in a very royal way, using gold cuttlery and silk towels, and after few hours she entered back the room and she found that the climax of art, spontaneity and free ideas stream had been reached, all the formalities defeated! So Asha with a beautiful smile told her"let us be how we are "we are comfortable like that!
What did you learn from her and what did she learn from you? I could write a book on this and she told me also lots of things that she has learned from me, that I never thought I had inside myself, and instead she made me realise I have, and that I was unconsciously teaching to the world.
Did you both talk about any personal issue?
She s a good palm reader 😉
Click here for the latest news from Bollywood, Hollywood, South Film Industry, Bhojpuri and TV world… Click here to join the Facebook Page, Twitter Page, YouTube page, and Instagram of Bollywood Mascot!