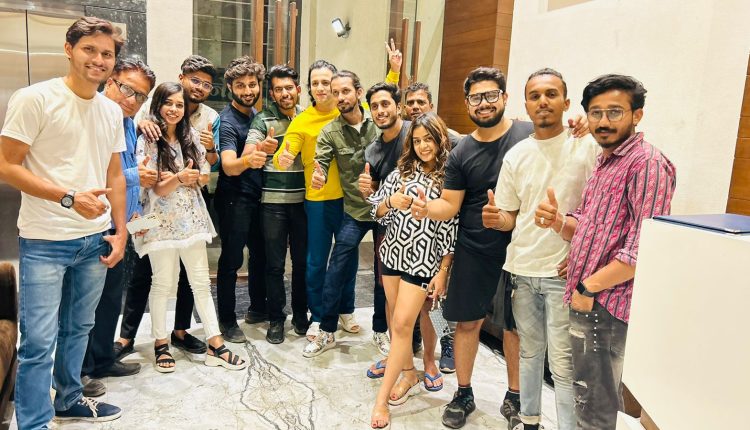 Ahmiyat An Upcoming Film Weaving the Threads of Significance and Emotions
Excitement is brewing in the world of cinema as the much-anticipated film, Ahmiyat, takes shape during its shooting phase. Led by the talented duo Lata Sabharwal and Kamlesh Patidar, this movie promises to captivate audiences with its compelling storyline and remarkable performances.
Under the direction of Himanshu Shrivastav, Ahmiyat brings together a talented ensemble cast, including Anjali Jain, Sumit Arora, Shaurya Saxena, Himanshu Shrivastav, and Ravina Patel. The film also features a group of promising actors, each adding their unique flair to the narrative. With names like Akshat Jain, Himanshu Bohara, and Shailendra Singh Katariya, the cast is brimming with talent and potential.
Kamlesh Patidar takes on the role of the film's producer and writer, lending his expertise and vision to create a compelling and thought-provoking screenplay. The music of Ahmiyat is orchestrated by Seshaan Sharma, promising a melodic journey that beautifully complements the storytelling.
Behind the scenes, the choreography and production team, led by Ravina Patel of The Vision Dance Studio Ratlam, ensures that each dance sequence and production element is flawlessly executed. The film's visuals are brought to life by the skilled DOP duo, Subhash Patel and Surendra Singh Dodiya of Patel Films, capturing the essence of the story with their keen eyes.
Ahmiyat's shooting locations include the picturesque Shri Yogindra Sagar Institute of Technology Science in Ratlam, a serene setting that adds depth and authenticity to the film's narrative. The film aims to transport audiences into a world where emotions run deep, relationships are tested, and the significance of every moment is explored.
With the soulful vocals of Happy Shrivastava, the film's songs promise to stir the hearts of listeners, adding an extra layer of emotion to the storytelling. The budget of Ahmiyat stands at a remarkable 50 L, a testament to the commitment and dedication of the entire production team.
Ahmiyat is a production of UDAAN CINE FILMS, spearheaded by Shailendra Singh Katariya as the project head and Rohit Kumar Mali as the project manager. Together, they ensure that the film stays on track and becomes a memorable cinematic experience for audiences.
As Ahmiyat continues its journey from script to screen, anticipation grows for this poignant tale of significance and emotions. With a stellar cast, a talented crew, and a captivating storyline, the film promises to leave a lasting impression on viewers.
Click here for the latest news from Bollywood, Hollywood, South Film Industry, Bhojpuri and TV world… Click here to join the Facebook Page, Twitter Page, YouTube page and Instagram of Bollywood Mascot !