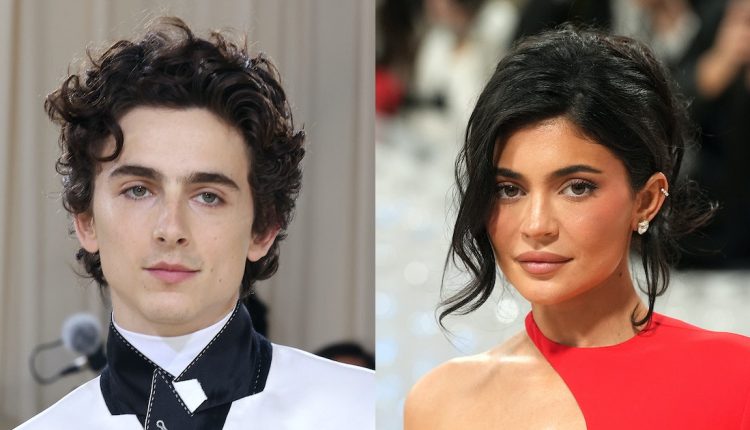 Timothee Chalamet and Kylie Jenner Public Display Fuels Dating Rumors
The rumor mill has been buzzing with speculation about the alleged romance between Hollywood heartthrob Timothee Chalamet and reality TV star Kylie Jenner, and recent viral videos of the two sharing a passionate moment in public have only intensified the dating rumors.
Reports of their budding relationship began circulating back in April, but it wasn't until a recent public makeout session that fans had concrete evidence of their apparent affection. Prior to this PDA-filled display, the rumored couple was spotted enjoying each other's company in the VIP section at Beyonce's Renaissance Tour concert in Los Angeles. This marked their first public appearance together.
The videos capturing Timothee Chalamet and Kylie Jenner's intimate moment quickly went viral, leaving fans and onlookers stunned by the unexpected pairing. While some were excited to see the two together, others couldn't help but notice a different aspect of the footage – Timothee Chalamet was seen smoking during the event, and this did not sit well with many netizens.
Taking to social media, particularly Twitter, concerned fans expressed their disappointment over the actor's smoking habits in a public and enclosed space. One user mentioned that smoking held negative connotations for them due to personal experiences, while another questioned why Timothee was smoking indoors and ashing the cigarette on people below him.
Take a glance:
Mark your calendars: On Beyoncé's 42nd birthday, Timothèe Chalamet and Kylie Jenner made their public debut at SoFi Stadium to see Bey's Renaissance stop on Sept. 4. Where there's smoke… 🔥 pic.twitter.com/NUUkqIY8vi

— Chris Gardner (@chrissgardner) September 5, 2023
Criticism continued to pour in, with some fans feeling that the actor was trying to impress with his smoking, and security should have intervened. Others mentioned their disillusionment with the actor's behavior and how it clashed with their previous perceptions of him.
Beyonce's Renaissance Tour concert, where this incident occurred, saw the attendance of numerous other celebrities, including Zendaya and Tom Holland, Justin and Hailey Bieber, Adele, Lizzo, Katy Perry, and Kate Hudson.
As the dating rumors between Timothee Chalamet and Kylie Jenner continue to swirl, it seems that the public display at the concert has sparked not only intrigue about their relationship but also some controversy surrounding the actor's smoking choice.