Millie Bobby Brown and Jake Bongiovi Celebrate Engagement with Glamorous Party
Newly Engaged Couple Throws Lavish Engagement Party
Millie Bobby Brown and Jake Bongiovi, the young couple who recently announced their engagement, commemorated their forthcoming union with a stylish and jubilant engagement party. The celebration, attended by their close friends and family, exuded happiness and excitement as the couple marked this significant milestone in their relationship. Millie Bobby Brown, renowned for her acting prowess and recognized for her role in "Stranger Things," radiated bridal vibes in a stunning white ensemble as she and Jake posed for the camera.
A Glimpse into the Celebration
The engagement soirée, which took place nearly two months after Jake Bongiovi's heartfelt proposal, was a gathering filled with love and joy. Photos from the event shared on social media showcased the couple's affectionate bond as they posed under an elegant arch of white balloons. The celebratory atmosphere was further accentuated by a neon sign that boldly displayed the words "Mr. and Mrs. Bongiovi," symbolizing the future they are embarking on together.
Millie Bobby Brown 's Bridal Elegance
Millie Bobby Brown, who is merely 19 years old, showcased a bridal aura at the engagement party. Dressed in a chic white crop top and skirt ensemble, she exuded timeless elegance and radiated happiness as she stood beside her fiancé. Her choice of attire left no doubt that she is eagerly anticipating her walk down the aisle. Jake Bongiovi, on the other hand, donned a distinguished green suit, paired with a crisp white button-down shirt, showcasing their impeccable style and compatibility.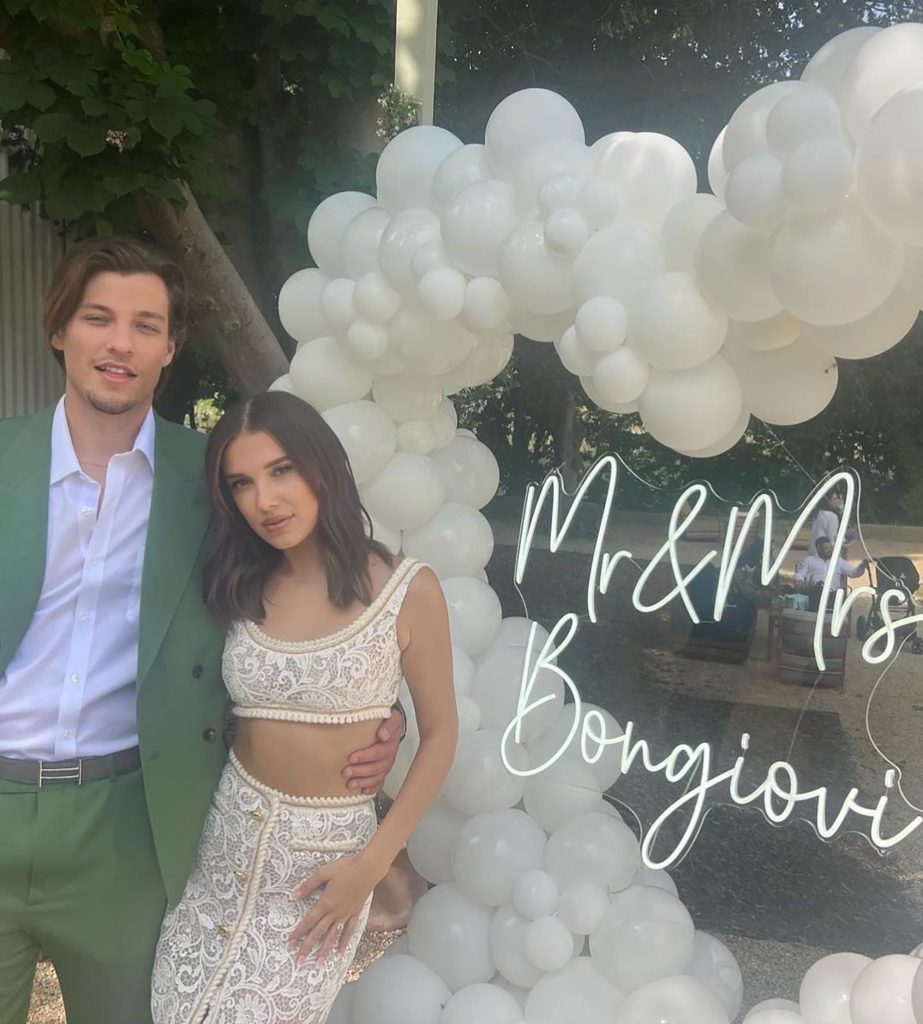 The couple's Love Story
Millie and Jake's journey of love began in 2021, culminating in Jake's romantic proposal in mid-April 2023. The engagement was met with overwhelming joy, as Millie shared the news on her Instagram account. The couple's engagement photos captured an emotional moment, with Millie and Jake embracing, her radiant diamond ring stealing the spotlight.
Jake Bongiovi's well-known father, legendary musician Jon Bon Jovi, has offered his seal of approval to the young couple. Jon's perspective on relationships and growth has provided valuable insight to the pair. He emphasized the importance of growing together as partners, drawing from his own enduring relationship with wife Dorothea. Jon's words of wisdom stand as a testament to the strength of Millie and Jake's commitment.
Millie Bobby Brown and Jake Bongiovi's Shared Moments
In addition to the engagement party, Millie and Jake have been seen spending time with Jon and Dorothea. Their shared outings suggest a harmonious connection, with the elder couple possibly lending their support to the younger duo. While details of the engagement party remain largely private, it is reasonable to assume that Jake's parents were present to share in the festivities.
Millie Bobby Brown and Jake Bongiovi's engagement celebration encapsulated the promise of their shared future, surrounded by loved ones and marked by moments of joy and affection. As their journey unfolds, their union serves as a testament to youthful love and the potential for growth as they embark on the path toward marriage.