Ghoomer Movie Review: Details, Star Cast, Full Story, and more
A promising young batsman named Anina faces a tragic accident resulting in the loss of her dominant hand. Despite encountering a disheartening lack of compassion, an unsuccessful former cricketer becomes a beacon of hope for her. He embarks on an unconventional training journey, instilling fresh determination within her to reshape her destiny. Together, they develop an innovative bowling technique named "Ghoomer" while charting a remarkable comeback story.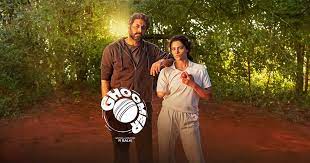 Ghoomer Movie Details
| Aspect | Details |
| --- | --- |
| Release Date | 18 August, 2023 |
| Genre | Sports, Drama |
| Producer | Abhishek Bachchan, Ramesh Pulapaka |
| Star Cast | Abhishek Bachchan, Saiyami Kher, Shabana Azmi, Angad Bedi, Amitabh Bachchan (Special Appearance), Shivendra Singh Dungarpur, Piyush Raina, Akshay Joshi, Ivanka Das, Bishan Singh Bedi (Himself) |
| Writer | R. Balki, Rishi Virmani, Rahul Sengupta |
| Background Music | Amit Trivedi |
| Choreographers | Bertwin Ravi D'souza, Shampa Gopikishna |
| Publicity PRO | Raindrop Media |
| Censor Details | Censor Dates: 2023/08/09, Censor Certificate No: DIL/2/374/2023 |
| Runtime | 2h 14min |
| Certification | U/A |
| Music Director | Amit Trivedi |
| Language | Hindi |
| Director | R. Balki |
| Lyricist | Kausar Munir, Swanand Kirkire |
| Editor | Nipun Ashok Gupta |
| Cinematographer | Vishal Sinha |
| Screenplay | R. Balki |
| Dialogue | R. Balki |
| Publicity Design | Himanshu Nanda, Rahul Nanda |
| Shooting Location | India |
| Sound | Debasish Mishra |
| Music Company | Zee Music Company |
| Production Designer | Sandeep Sharad Ravade |
| Casting Director | Shruti Mahajan |
| Action Director | Vikram Dahiya |
| Executive Producer | Anirudha Sharma |
| Playback Singers | Altamash Faridi, Dipakshi Kalita, Mika Singh, Varun Jain, Rupali Moghe, Amit Trivedi |
Ghoomer full story
"Ghoomer" unfolds the tale of Anina, an ardent aspirant of the Indian National Women's Cricket Team. However, her aspirations are shattered by a tragic accident that robs her of her right arm, radically altering her life's course. Plunged into despair and grappling with thoughts of suicide, she finds a glimmer of hope in an unexpected source: Paddy, a once-failed cricketer now grappling with alcoholism. In this twist of fate, Anina's journey takes an unforeseen turn, with Paddy emerging as her unlikely mentor and coach. Guided by his unconventional approach, Anina, previously a batter, transforms into a left-arm bowler, reigniting her dreams.
The directorial brilliance of Balki is at its peak, effortlessly establishing a profound connection between the characters and the audience. The collaborative writing of Balki, Rahul Sengupta, and Rishi Virmani injects robustness into the narrative, resulting in an uncomplicated yet impactful screenplay. At its core, the film champions the themes of 'Self-belief' and an unrelenting 'Never Give Up' attitude, leaving an indelible message. Vishal Sinha, the Director of Photography, presents a captivating visual panorama through his cinematic lens, while Amit Trivedi enriches the film with his musical compositions and evocative background score.
Ghoomer Trailer
Ghoomer Movie Review
"Ghoomer" embraces noble intentions, aiming not for sympathy but empathy. While it strives to celebrate resilience over pity, its depth remains surface-level. The narrative relies heavily on suspension of disbelief, particularly in the climactic moments that prioritize Anina's individual prowess over teamwork, missing the emotional resonance intended. The screenplay's structure falters, juggling between the stadium's fervent chants and Anina's backstory, which disrupts immersion. Saiyami Kher's portrayal showcases commitment and technical accuracy, yet her vulnerabilities feel underwhelming. Abhishek Bachchan shines as Paddy, infusing the role with humor and determination. Shabana Azmi and Amitabh Bachchan leave notable marks, though their characters' trajectories vary. The music aptly complements the emotions. Despite Balki's signature touches, weak writing, screenplay, and performances limit the film's impact. "Ghoomer" earns 2.5 out of 5 stars, its admirable lineup unable to elevate the lacking top-order elements.
Click here for the latest news from Bollywood, Hollywood, South Film Industry, Bhojpuri and TV world… Click here to join the Facebook Page, Twitter Page, YouTube page and Instagram of Bollywood Mascot !
Great
Its a must watch movie