Bollywood News : Controversial Filmmaker Vivek Agnihotri Takes Aim at Bollywood Industry
Challenging Norms and Sparking Debates: Vivek Agnihotri's Bold Statements Shake Up Bollywood News
Bollywood News: In the dynamic world of Bollywood news, renowned filmmaker Vivek Agnihotri is no stranger to making waves with his unapologetic viewpoints. Once again, he has thrust himself into the limelight by directing scathing remarks towards superstar Shah Rukh Khan and other prominent celebrities in the industry. Agnihotri's candid comments have stirred intense discussions, shedding light on his critical perspective on the state of Bollywood. With a reputation for speaking his mind, Agnihotri is unafraid to voice his opinions, even if they ruffle feathers.
In a recent interaction with India.com, Agnihotri did not mince his words as he criticized Shah Rukh Khan for what he perceives as detrimental politics and excessive self-promotion. Agnihotri pointedly asserted that Khan is responsible for the erosion of Bollywood's core values. He opined that Khan's focus on public relations, glamour, and stardom has overshadowed other crucial aspects of filmmaking. Agnihotri's remark, "It's only PR, hype, glamour, and stardom, and anything that is not stardom is not accepted; that's my problem," underscores his concerns about the direction in which the industry is heading.
Bollywood News: Agnihotri's Offer to Collaborate with Khan
Surprisingly, Agnihotri expressed his willingness to collaborate with Shah Rukh Khan, albeit under his terms. He suggested that if Khan were to work on Agnihotri's project, the focus would be on the writer and director, with Khan assuming a secondary role. Agnihotri candidly admitted that this proposition would likely be unpalatable to Khan, leading to an impasse in their potential partnership.
Agnihotri's critique extended to Khan's attitude towards the audience. He asserted that Khan's success is built on the presumption that the audience is gullible, a notion Agnihotri vehemently rejects. Drawing a sharp distinction between his own filmmaking philosophy and Khan's approach, Agnihotri stated, "When their film is successful, it's a Shah Rukh Khan film. When my film is successful, it's the people's film that is successful."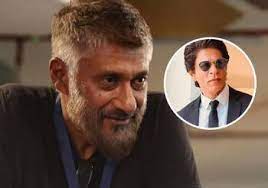 Karan Johar's Star-Centric Ecosystem Under Fire
Agnihotri did not reserve his scrutiny solely for Khan. He also took aim at filmmaker Karan Johar for his apparent overemphasis on stardom and the propagation of imported values. Agnihotri lamented the perceived marginalization of homegrown, talented individuals from middle-class backgrounds in the industry.
In defense of his outspoken stance on Bollywood, Agnihotri revealed a deeper motivation. He asserted that his intention is not to harbor grudges but to instigate change. He yearns for Bollywood to reinvent itself as a global cinematic force, shedding its reputation as a mere source of amusement.
In an industry where outspoken opinions are often met with a mix of admiration and criticism, Vivek Agnihotri remains a distinctive voice unafraid to challenge the status quo. As his statements reverberate throughout the Bollywood landscape, they serve as a reminder of the power of dissent in shaping the industry's future. With his forthcoming release, Agnihotri once again demonstrates his commitment to thought-provoking storytelling that pushes boundaries and sparks conversation.
Click here for the latest news from Bollywood, Hollywood, South Film Industry, Bhojpuri and TV world… Click here to join the Facebook Page, Twitter Page, YouTube page and Instagram of Bollywood Mascot !