Anushka Sen 's Luxurious US Family Trip: Shares Pictures on Social Media
Indian TV star and social media, influencer Anushka Sen recently marked her 21st birthday in an opulent manner, embarking on an enchanting journey to the United States along with her parents. The young star, who boasts substantial popularity on social media, provided her fans with glimpses of her extravagant birthday celebrations, showcasing luxury and elegance at its finest.
Anushka Sen's Grand Birthday Getaway
On August 4, Anushka Sen, renowned for her presence on platforms like Khatron Ke Khiladi, made the decision to commemorate her milestone birthday in grand style. Venturing to picturesque locales across the US, accompanied by her parents, the actress embraced the opportunity to create unforgettable memories.
Anushka Sen's social media feed served as a virtual window into her lavish escapade. The actress spared no expense when it came to relishing her special day. A sumptuous birthday dinner, shared with her parents, formed a highlight of the celebrations. The gastronomic delights were captured in photos that found their way onto Sen's social accounts, accompanied by heartfelt expressions of gratitude towards her loyal fanbase.
True to her reputation as a fashion-forward personality, Anushka Sen exuded sophistication throughout her US sojourn. The actress exhibited an array of high-end attire, accessories, bags, and shoes, featuring esteemed brands such as Gucci, Prada, and Louis Vuitton. Notably, she was spotted with a Louis Vuitton Petite Malle clutch, rumored to carry a staggering price tag of around Rs 5 lakhs.
Among the highlights of Anushka Sen's American adventure was her presence in the vibrant streets of New York City. Adorned in an elegant blue gown, the actress radiated grace as she embraced the urban energy of the iconic city. Sharing glimpses of her explorations on her Instagram, Sen expressed her joy in experiencing the best of cuisine, scenic beauty, and the simple pleasures of life with her beloved parents.
Anushka Sen's birthday escapade took on a sentimental tone as she enjoyed precious moments with her family, who were visiting New York City for the first time. The actress captured her visits to landmarks like the renowned Friends cafe and the bustling gaming area, further underscoring the sense of togetherness and adventure that defined her journey.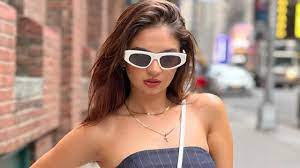 Anushka Sen's 21st birthday celebrations in the United States painted a picture of luxury, family bonds, and exploration. With her glamorous fashion choices, sumptuous dining experiences, and the sheer joy of experiencing new horizons, the actress shared a memorable milestone with her global fanbase. As her star continues to rise in the entertainment industry, Anushka Sen's extravagant birthday getaway serves as a testament to her exuberant spirit and unwavering connection with her supporters.
Click here for the latest news from Bollywood, Hollywood, South Film Industry, Bhojpuri and TV world… Click here to join the Facebook Page, Twitter Page, YouTube page and Instagram of Bollywood Mascot !