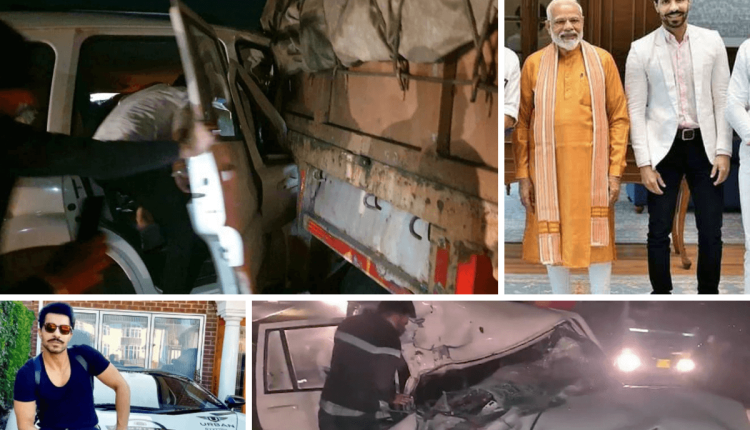 Actor Deep Singh Sidhu Death in Accident: What is the relation with Sunny Deol and Reena Rai is his wife?
There has been a lot of talk in the media and on social media about Deep Singh Sidhu death in a road car accident. On the one hand, there were plenty of people who adored Deep, and on the other hand, there were plenty of people who despised him. Instead of calling the road collision an accident, his admirers are saying something different after his death. We've answered all of these questions below for people who don't know who Deep Sidhu is, what he used to do, or how he got into the limelight.
Who is Deep Singh Sidhu Actor, When and how did he become famous?
Deep Singh Sidhu was a Punjabi actor, lawyer, and social activist who worked in the film industry. He had previously worked in a number of Punjabi films. Deep Singh Sidhu is an actor-activist, was previously arrested on February 9 last year by the Delhi Police in connection with an Archaeological Survey of India (ASI) FIR relating to damage to public property in the Red Fort complex during a tractor procession of farmers on Republic Day last year. The accused was granted bail on April 17 by Special Judge Nilofer Abida Parveen on a personal bond of Rs 30,000 and two sureties of the same amount. He was detained again the next day after being released on bond. He was later released on bond, though. Deep Sidhu is also connected with a political party.
His Relation with Deol Family or Dharmendra, Sunny Deol
Deep Singh Sidhu debuted in the Punjabi film Ramta Jogi. Dharmendra's film production company, Vijayta Films, produced the film. He had a close relationship with the Deol family, according to reports. He considered Sunny Deol as his elder brother. Not just in Ramta Jogi, but also Dharmendra has appeared in a number of his other films like Jora 10 Numbaria and Jora: The Second Chapter. The way Dharmendra Deol has acted with Deep Sidhu in other films and launched him by his banner Vijayta Films to give him a film push may be gauged from how close Deep was to the Deol family.
What Caused Deep Singh Sidhu Death in Car Accident?
Deep Singh Sidhu's death has triggered a wave of grief across Punjab, with everyone heartbroken by his untimely demise. In a road accident near the Kundli border, the actor perished. With his pals, he was returning from Delhi to Punjab. The Delhi Police has already released all of the information gathered during the inquiry into this accident. Deep Sidhu was driving a Scorpio car, according to the police. On the KMP near Pipli toll plaza near Kharkhoda, his car collided with a trolley. Deep Sidhu accident had such an impact that the vehicle's front end was severely destroyed. As soon as the collision was reported, police arrived on the scene. Deep Sidhu and his fiancee were apprehended by the police and taken to Kharkhoda CHC, where Deep Sidhu was found dead. His remains have been sent to the General Hospital. Reena Rai, on the other hand, has been admitted to Kharkhoda CHAC. Her health is well. The case is currently being investigated by the police.
Deep Singh Sidhu Movies and Cinema Career
Until now, Deep had appeared in roughly 5 to 6 films. His first film, Ramta Jogi, was a critical and commercial success. Dharmendra Deol under his film production house Vijayta Films produced Deep's first film, which was centred on a love story. Sidhu worked in the film Jora 10 Nambaria after Ramta Jogi. You can see what a wonderful actor he was just by watching the trailer for the film. Deep Sidhu's personality and acting in the film Jora were both improved in comparison to his first film Ramta Jogi. Thereafter, he worked in Jora: The Second Chapter, a sequel to Jora 10 Numbers, in which Dharmendra Deol has also appeared as an actor only. Check the following Deep Singh Sidhu Movies list:
Ramta Jogi
Jora 10 Nambaria
Rang Punjab
Saade Aale
Desi
Jora: The Second Chapter
Reena Rai, Deep Singh Sidhu Wife or His Girlfriend
Deep Sidhu had not been married. Reena Rai, with whom he was driving back to Punjab from Delhi, was his girlfriend or fiancée, not his wife. His most recent photo with his girlfriend is going viral on social media. A couple just celebrated Valentine's Day on February 14th, 2 days ago. Reena Rai also posted a photo to her Instagram account.
Also View: Ghatak 2 – Sunny Deol And RajKumar Santoshi