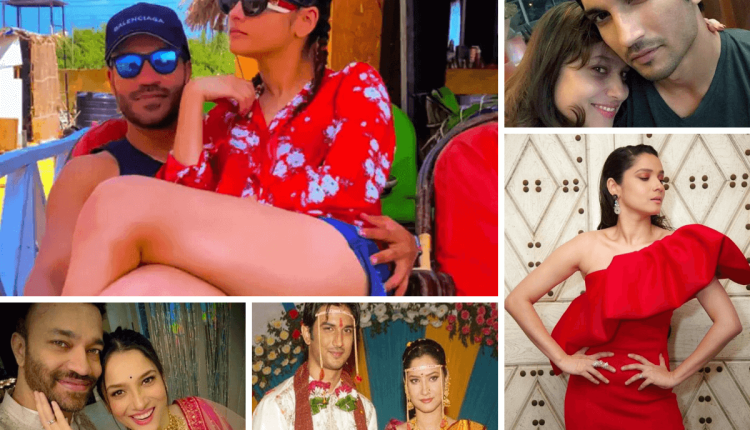 Who is Ankita Lokhande and Which Star in Pavitra Rishta 2?
Why is Ankita Lokhande's name often associated with Sushant Singh Rajput? Who is Ankita Lokhande, what does she do, why is she also known as Ankita Lokhande Singh Rajput? Maybe you've already figured out the answers to these questions. The wedding of Ankita and Vicky Jain is now in the headlines. Both have been seen on social media recently, and it appears that they will marry in the near future. It is said that this pair has been in a relationship for the past three years and that both of them have been posting things relevant to their marriage for quite some time.
Vicky, according to Ankita, has always supported her in both good and bad times, which is why she loves him more than herself. Let us tell you that the Hindi TV series 'Pavitra Rishta' helped Ankita Lokhande's acting career a lot. The news about Sushant Singh Rajput's romance with Ankita Lokhande had been circulating for quite some time. Following Sushant's move to Bollywood, reports of their breakup began to circulate in the film industry.
Sushant's supporters expressed their condolences for Ankita Lokhande even after Sushant Singh Rajput Death while making derogatory remarks against Sushant's new girlfriend Rhea Chakraborty. She was in a lot of trouble after the death of the actor.
Marriage Images of Ankita Lokhande and Vicky Jain is now a Trending News
The couple recently shared their pre-wedding video with their social media followers. As soon as the video was shared on social media, the couple's fans started commenting on the same which is the latest update on Ankita Lokhande.
On the video, they have received a wide range of responses. "Ankita Lokhande married in real life," one person said. "Ankita with her spouse," one person wrote. "Only Ankita Lokhande and Sushant Singh Rajput," many users remarked, tying Ankita's name to Sushant Singh Rajput, and "Pavitra Rishta only with Sushant Singh Rajput and Ankita Lokhande," one person wrote. Also Check: Ranbir Kapoor And Alia Bhatt Marriage Date
Not just his admirers, but also famous Bollywood stars, have expressed their joy at the wedding. If we're talking about the footage, Ankita Lokhande with her husband was seen walking on sand in Dubai. The duo is dressed in the same style as one another. This pre-wedding video of the couple would be highly thrilling for people who are interested in Ankita Lokhande's wedding or are her followers.
Ankita Lokhande Spoke About Pavitra Rishta 2 and Sushant Singh Rajput
Sushant Singh Rajput is well-known for his role in the television series Pavitra Risha. Alt Balaji released the Ankita Lokhande featured Pavitra Rishta 2 trailer on their official YouTube account last year. This trailer served as a reminder to not just Sushant devotees, but to audiences of all kinds. When certain members of the media inquired about Pavitra Rishta 2 and Ankita Lokhande commended Sushant. When I met Ekta, she was giving me another show, but I've always felt so strongly about Pavitra Rishta, the show with which I made my debut, that I told her we should do it again. I've been on this path for five and a half years, and it's brought up a lot of emotions. Also View: Actor Deep Singh Sidhu Death in Accident
Let us tell you that Pavitra Rishta 2 features Shaheer Shaikh as Manav and the same Ankita Lokhande as Archana in the lead roles. Most of the cast is the same as the first season of the show. Ekta Kapoor produced the show.