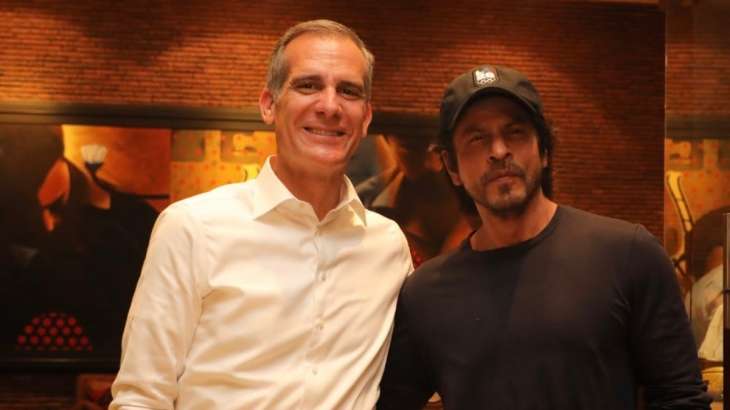 US Envoy Eric Garcetti Meets Shah Rukh Khan at Mannat, discussing the cultural impact of Hollywood and Bollywood
Eric Garcetti, the recently appointed US Ambassador to India, paid a visit to Shah Rukh Khan at his Mumbai residence, 'Mannat,' on Tuesday. During their meeting, they engaged in a conversation about Bollywood and its significant cultural influence worldwide.
US Ambassador Eric Garcetti Visit to Mannat
Eric Garcetti, the US Ambassador to India, took to Twitter to express his excitement about visiting Shah Rukh Khan's iconic residence, Mannat. In his tweet, Garcetti playfully questioned if it was the right time for his Bollywood debut. He further mentioned having a delightful conversation with the superstar, where they discussed the Mumbai film industry and the immense cultural influence of both Hollywood and Bollywood on a global scale.
Is it time for my Bollywood debut? 😉 Had a wonderful chat with superstar @iamsrk at his residence Mannat, learning more about the film industry in Mumbai and discussing the huge cultural impact of Hollywood and Bollywood across the globe. #AmbExploresIndia pic.twitter.com/SLRQyhhn8C

— U.S. Ambassador Eric Garcetti (@USAmbIndia) May 16, 2023
In addition to his playful caption, Eric Garcetti also shared photographs on social media, capturing memorable moments with Shah Rukh Khan. One picture shows them posing together for the camera, radiating a sense of camaraderie. In another photo, Garcetti holds a yellow football, with Shah Rukh's manager Pooja Dadlani and his wife, Gauri Khan, surrounding him. The pictures showcase the warmth and friendship shared during the visit.
Garcetti's Gujarat Welcome and Credential Presentation at Rashtrapati Bhavan
Garcetti's visit to Mumbai followed his recent trip to Sabarmati Ashram in Ahmedabad, Gujarat. During his visit to the ashram, locals warmly received him by presenting garlands as a gesture of welcome. Garcetti reciprocated the traditional Indian greeting, "Namaste," as he interacted with the people gathered there.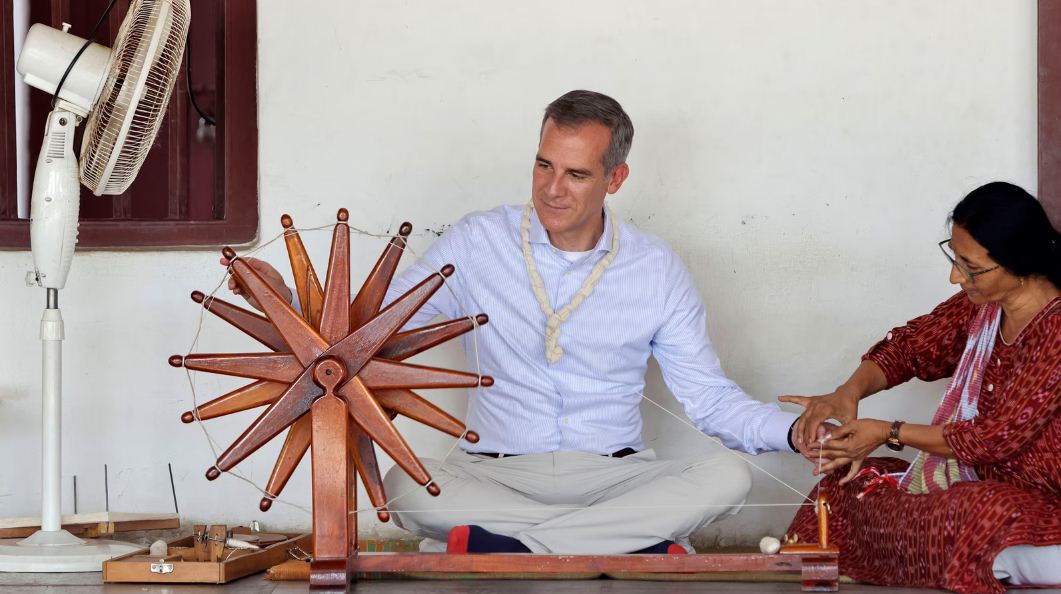 During a ceremony at the Rashtrapati Bhavan on May 11, Eric Garcetti and the ambassadors of Qatar and Monaco presented their credentials to President Droupadi Murmu. The President of India, in accordance with a release from the Rashtrapati Bhavan, accepted the credentials from the ambassadors of the United States of America, Qatar, and Monaco.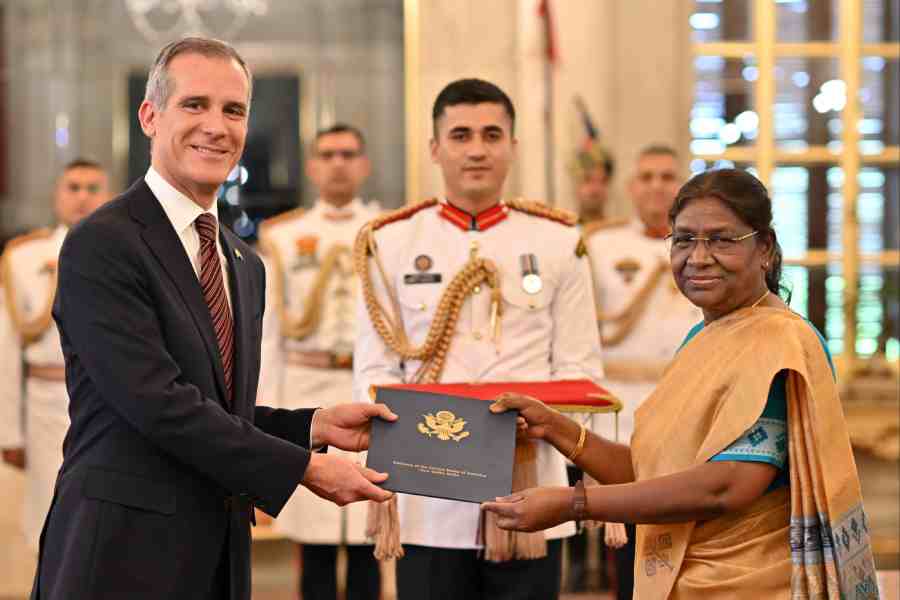 Garcetti Highlights US-India Partnership for a Prosperous Future
Following President Droupadi Murmu's acceptance of the credentials, Eric Garcetti conveyed his thoughts through a video message, emphasizing the importance of the partnership between the United States and India. In his message, Garcetti highlighted the shared values of the world's oldest and largest democracies and expressed optimism about the future collaborations between the two nations. He emphasized that India's partnership is instrumental in fostering a free and prosperous Indo-Pacific region and beyond.
Read Also: Rani Mukerji Hints At Reuniting With Shah Rukh Khan For A Romantic Film
Expressing his enthusiasm, Eric Garcetti stated that he is looking forward to collaborating and strengthening the pivotal relationship between the United States and India in the 21st century. He highlighted the joint efforts in tackling global health challenges, addressing climate change, and advancing critical technologies for the betterment of people's lives.
Garcetti expressed his excitement about being in India, making it their new home, and working together with Indian counterparts. He emphasized that by joining forces, the United States and India will demonstrate to the world the power of their partnership and how they can achieve greater outcomes together.
Read Also : RAW Chief Criticizes Bollywood For Exaggerating Bajrangi Bhaijaan And Copying James Bond
Garcetti Grateful for President Biden's Trust as US Ambassador to India
Garcetti expressed his appreciation to US President Joe Biden for entrusting him with the role of the 26th Ambassador to India.
Eric Garcetti, the former mayor of Los Angeles, assumed the role of the new US Ambassador to India in March this year after being sworn in by Vice President Kamala Harris. His appointment as the US ambassador to India had been previously confirmed by the Senate.
Click here for the latest news from Bollywood, Hollywood, South Film Industry, Bhojpuri and TV world… Click here to join the Facebook Page, Twitter Page, YouTube page and Instagram of Bollywood Mascot !