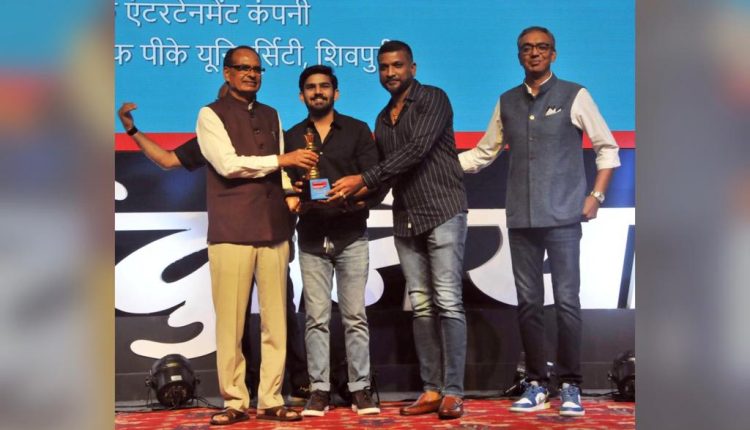 Producer Suraj Sharma of PK Entertainment Honored by CM Shivraj Singh Chauhan at Captains of Industry Event
Suraj Sharma, the accomplished producer of PK Entertainment, was bestowed with a prestigious honor at the "Captains of Industry" event, organized by Naidunia and Navdunia Madhya Pradesh, and graced by the esteemed presence of Chief Minister Shivraj Singh Chauhan. The event, held at a revered venue in Madhya Pradesh, witnessed the gathering of distinguished personalities, government officials, and enthusiastic investors.
PK Entertainment, known for producing exceptional cinematic works that resonate with audiences, is a sister company of the renowned PK University in Madhya Pradesh. Suraj Sharma's unwavering dedication and creative vision have contributed significantly to the growth of the entertainment industry in the region. His recent announcement of the much-awaited film "1770 movie" has further amplified the anticipation among cinema enthusiasts.
"1770 movie," a cinematic adaptation of Bankim Chandra Chattopadhyay's literary masterpiece "Anandmath," has already garnered attention across the nation. The novel's poignant narrative, set against the backdrop of India's historic Bengal famine of 1770 movie, presents a tale of resilience, patriotism, and sacrifice. With Suraj Sharma at the helm of production, the film is poised to captivate audiences with its authenticity and artistic finesse.
Speaking about "1770 movie," Suraj Sharma expressed, "We are thrilled to bring '1770 movie' to the silver screen. It is a story that reflects the indomitable spirit of our nation and holds relevance even in contemporary times. We are dedicated to presenting this epic saga with the utmost reverence to the source material and delivering a memorable cinematic experience."
Chief Minister Shivraj Singh Chauhan applauded Suraj Sharma's contributions to the entertainment industry in Madhya Pradesh and emphasized the significance of promoting local talent and stories on a global platform. The recognition bestowed upon Suraj Sharma at the event further solidifies his reputation as a visionary producer committed to producing compelling narratives that leave a lasting impact.
The "Captains of Industry" event provided an opportunity to recognize the exceptional achievements of individuals like Suraj Sharma, whose dedication and passion continue to uplift the film industry in the region. As "1770 movie" prepares to grace the silver screen, it is evident that Suraj Sharma's creative endeavors will continue to resonate with audiences and strengthen the cultural fabric of Madhya Pradesh.
Click here for the latest news from Bollywood, Hollywood, South Film Industry, Bhojpuri and TV world… Click here to join the Facebook Page, Twitter Page, YouTube page and Instagram of Bollywood Mascot !