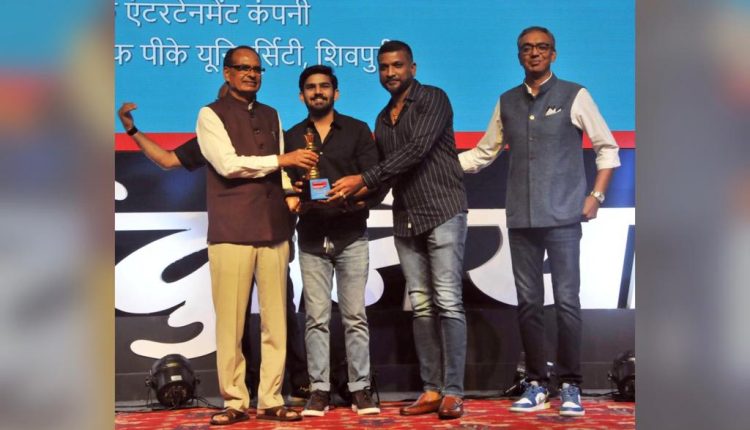 Filmmaker Krishna Kumar Receives Honors from CM Shivraj Singh Chauhan at Captains of Industry Event
The renowned filmmaker, Krishna Kumar, was among the distinguished awardees at the prestigious "Captains of Industry" event organized by Naidunia and Navdunia Madhya Pradesh. The ceremony, graced by the esteemed Chief Minister Shivraj Singh Chauhan, celebrated Krishna Kumar's significant contributions to the entertainment industry.
Krishna Kumar's critically acclaimed movie, "Rocketry," earned him widespread recognition for its compelling narrative and exceptional portrayal of the life of scientist Nambi Narayanan. The film captivated audiences with its gripping storytelling and brought to light the incredible journey of the legendary scientist.
The "Captains of Industry" event served as a platform to acknowledge and appreciate Krishna Kumar's dedication to impactful storytelling. As a filmmaker, he has demonstrated an uncanny ability to craft narratives that resonate with audiences on an emotional level while presenting thought-provoking themes.
Speaking about the honor, Krishna Kumar expressed his gratitude, saying, "I am humbled by the recognition bestowed upon me by the esteemed Chief Minister and the organizers of this event. 'Rocketry' was a labor of love, and I am grateful to have had the opportunity to bring Nambi Narayanan's inspiring story to the screen. This recognition motivates me to continue exploring compelling stories that evoke emotions and provoke thought."
Chief Minister Shivraj Singh Chauhan praised Krishna Kumar for his exceptional storytelling prowess and his contribution to promoting impactful cinema in Madhya Pradesh. The recognition accorded to Krishna Kumar at the event highlights the state's commitment to nurturing talent and fostering an environment conducive to cinematic excellence.
Krishna Kumar's presence at the "Captains of Industry" event added to the occasion's prestige and served as an inspiration to young filmmakers and entrepreneurs looking to make their mark in the entertainment industry. His dedication to promoting authentic stories and unique narratives has garnered admiration from audiences and industry peers alike.
As Krishna Kumar's journey continues to unfold, the success of "Rocketry" and the recognition at the "Captains of Industry" event cement his position as a celebrated filmmaker with a distinctive vision. His contributions to the entertainment industry exemplify the potential for remarkable storytelling to transcend borders and touch hearts, leaving an indelible mark on the cinematic landscape of Madhya Pradesh.
Click here for the latest news from Bollywood, Hollywood, South Film Industry, Bhojpuri and TV world… Click here to join the Facebook Page, Twitter Page, YouTube page and Instagram of Bollywood Mascot !