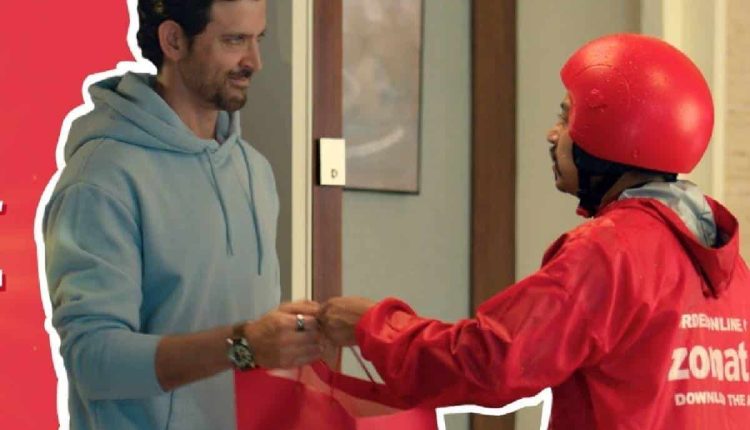 People are demanding that Hrithik Roshan apologise for Zomato's ad.
Hrithik Roshan's Zomato advertisement has caused quite a stir across the country. On social media, enraged fans are demanding an apology from the superstar. Hrithik is accused of inciting religious feelings.
App for food delivery Zomato, in collaboration with Bollywood star Hrithik Roshan, has launched a new advertising campaign. However, this advertisement is now mired in controversy. Zomato withdrew its campaign after seeing the uproar, but people's rage against Hrithik Roshan has erupted on social media. They are constantly demanding an apology from Bollywood's "Greek God." Although Hrithik has yet to respond to the entire controversy.
Mahakal priest condemns Zomato and Hrithik Roshan
Actually, Hrithik Roshan was recently signed as a star in Zomato's ad campaign. Hrithik Roshan says in the commercial that he was hungry and asked Mahakal for a plate. The uproar has only recently begun. The priests of the Ujjain Mahakaleshwar temple filed a protest and demanded that Zomato and Hrithik Roshan apologise immediately. Given the gravity of the situation, Zomato withdrew all of the ads and issued a new name on its behalf.
Ujjain: Mahakal priest condemns Zomato's 'thali' ad featuring Hrithik Roshan, seeks withdrawal, apology

Read @ANI Story | https://t.co/AnUUfeJMuc#Zomato #Mahakaltemple #HritikRoshan pic.twitter.com/lQUCN5W9wD

— ANI Digital (@ani_digital) August 21, 2022
Zomato gave this clarification on ad controversy
According to Zomato, the plate mentioned in the advertisement is from the Mahakal restaurant in Ujjain, not the Mahakaleshwar temple. This advertisement has nothing to do with the temple. It was also stated that this restaurant was mentioned in the advertisement because it is the largest order receiving restaurant in Ujjain. Thali is the most popular item on their menu.
Zomato has made its stance on the ad controversy clear. People are now waiting for Hrithik to apologise on social media. Hrithik was seen on a dinner date with his girlfriend last evening, unbeknownst to him. People are even more enraged as a result of this. Hrithik Roshan recently urged people to watch the film following Lal Singh Chaddha's Boycott on social media. People were already enraged at the superstar as a result of this.
#Boycott_zomato@Zomato, which serves non-veg, wants to run its business by ironing the Prasad Thali of the holy Mahakal temple of Hindus.
Now..
So wake up my Hindu brave brothers..
And show Zomato and Hrithik Roshan their rightful place

"हिंदुओ से दुनियादारी
बन जाओगे भिखारी" pic.twitter.com/hwSlpCkzi3

— Raghunath Dhobale (@hindus_right) August 21, 2022
In Zomato ad Hrithik Roshan links Ujjain's Mahakaleshwar temple to food delivery And Disrespect Hindu Gods

My Hero South Indian Star #AlluArjun𓃵 Plays the Hindus character with Dignity.#Pushpa #Boycott_Zomato❌#Boycottbollywood❌#Zomato_Insults_Mahakal#रितिक_रोशन_माफी_मांग pic.twitter.com/V33vd1SSFC

— ℝ𝕒𝕞 𝕔𝕙𝕒𝕣𝕒𝕟 📿🚩🚩 (@Boss42265174) August 21, 2022
Click here for the latest news from Bollywood, Hollywood, South Film Industry, Bhojpuri and TV world… Click here to join the Facebook Page, Twitter Page, YouTube page, and Instagram of Bollywood Mascot!