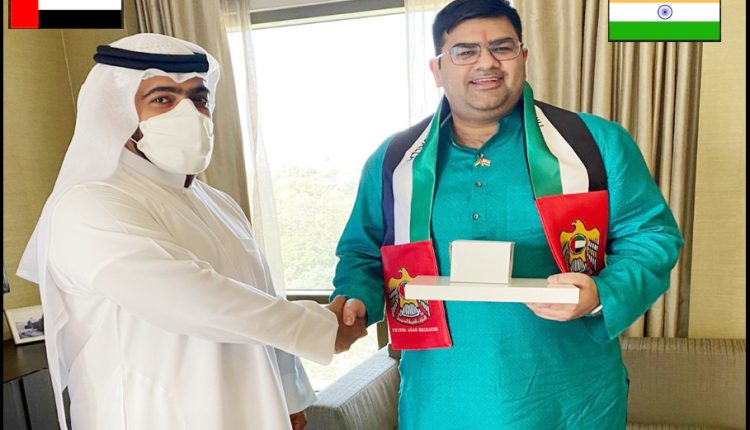 Sheik Majid Rashid Al Mulla has showered his supporter to Prof. Nabhit Kapur and quoted him as "Afrenaissance Epitome"
Dr. Nabhit Kapur, an Indian advocate of mental peace just after the announcement of his candidacy for United Nations Secretary-General Elections 2026, called on a meeting with His Highness Sheikh Majid Rashid Al Mulla, the member of the royal family of Umm Al Quwain, UAE, and discussed various projects and expansions of the private office to Africa.
He further discussed the dire need for sustainable development in the whole world and the requirement of mental well-being. Nabhit Kapur has always maintained a thread of faith and devotion towards the verdant land of Africa. He has always been on the front foot and for the mental well-being of the African continent.
Additionally, has been vocal regarding the resources of the region and has taken initiatives to preserve them for the present as well as future generations. Sectors like education, health, pharmaceuticals have always been his focal point, and he has been exhaustively working upon them on the grassroots level.
Dr. Kapur is keeping his eagle eyes on the condition of the continent and has been preparing a blueprint for the same. A plan which will pass on not only the legacy of abundant resources but also mental peace & well-being.
Introduction of Prof Nabhit Kapur
 Nabhit Kapur, an Indian advocate and persistent campaigner for mental health wants the world free of mental health problems and superstitions.
He has been able to create significant transformative changes in many parts of the world by his excellent effort, inexhaustible energy, and enthusiastic aspirations.
An author, TEDx speaker, and internationally recognised Ambassador for Diplomacy and Peace who has received multiple awards as a glimpse: BW Well Being 40 Under 40, Order of Kentucky Colonel and Chartered Peace Ambassador.
He formally served as the Honorary Consul to Duke of Royan and right now he is associated as Social Impact Advisor to the Vice-President of Somaliland, Advisor to the Vice-President of Liberia and Social Investment Advisor to the Royal Private Office, UAE.
Nabhit Kapur is a well-known psychologist in the modern world, as well as an Indian, who is spearheading this incredible initiative to make mental health a common topic.
For fellow students sitting in exams tomorrow onwards

If you #anxiety around exams (any kind of exam).. if it over powers you .. follow some basic handles@Kevin_Healey #cancelboardexams2022 #BoardExams2022 pic.twitter.com/iwPOgXToOR

— Nabhit Kapur (@nabhit_kapur) March 3, 2022
Aim of Nabhit Kapur
 We have certain aim to perform to make the world a great place to live, that is:
Well, Being Diplomacy,
Last Person in the Long Line of Humanity,
Benevolent Diplomacy,
To Secure the Rights of Humans.
Introduction to Majestic Investment
Majestic Investments (Office of Sheikh Majid Rashid Al Mualla) has been working in tandem with the business organizations and administrative bodies to discover venture openings that improve the business climate in Dubai and make the ideal financial conditions, and this participation has provoked the United Arab Emirates to make viable strides in proposing activities that will make an imaginative and available monetary framework that permits organizations to flourish and develop.
​Leveraging on the abundance of aptitude of the Private Office's supervisory group, we aim to pull in brilliant and eager business ventures, altogether assess their market potential and completely evaluate their latent capacity and risks.
Majestic Investments was set up by Sheikh Majid Rashid Al Mualla to profit from the odds in potential business openings universally.