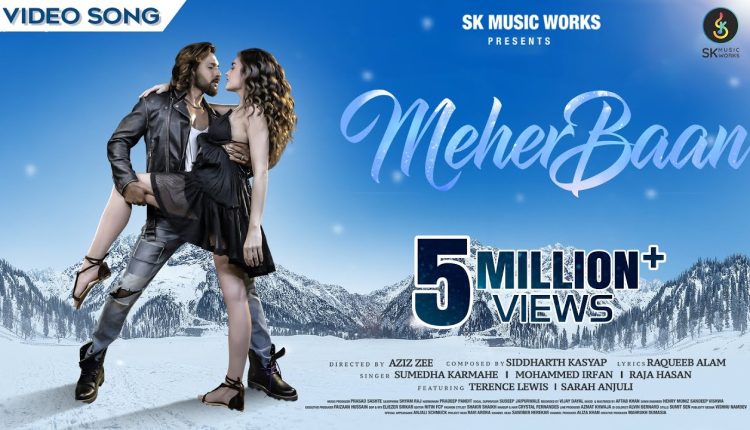 MeherBaan Official HD Video Song 2022 by Terence Lewis
The renowned choreographer Terence Lewis appears in a new music video called 'Meherbaan'. The video dropped on Friday. The track, he says, is as warm as a cup of tea on a rainy day because it's cozy, inviting, warm and intimate. The track was composed by Sidharth Kashyap and is recorded through SK Music Works, written by Raqueeb Alam. It is performed with Mohammed Irfan, Sumedha Karma, and Raja Hasan. Lewis explained his involvement in this video in the role of an actor: "I'm honored and overwhelmed working with Siddharth Kashyap. He's an innovator. It's not often that I meet those who are so passionate about their work. Siddharth is among the few. Making the track was an amazing experience. "Meherbaan" is like a warm cup of tea, comfortable, friendly, and serene on a cold day. "The Music video was produced by Aziz Zee, including the actress Sarah Anjuli.
The music was made in the stunning locations of Kashmir and had a smooth texture and stunning scenery captured in the gorgeous valley. Music composer Kashyap stated, "'Meherbaan' is a memorable song. Musically we have experimented with fusions of two genres that blended very well in harmony. The specialty of this song is that every singer is singing in different ranges." When discussing the music, Irfan, the singer who contributed his voice to the song's track, He's a highly skilled musician, and his versatility is evident in his latest couple of albums.
MeherBaan Official HD Video Song Lyrics:
Meherbaan Meherbaan
Meherbani Teri
Tu Fasana Mera
Tu Kahani Meri
Also Read: Good Newwz 
Meherbaan Meherbaan
Meherbani Teri
Lamho Ki Sargosiyan
Palko Ki Madhosiyan
Dil Ki Ye Betabiyan Tere Liye
Ye Simti Simti Wafa Se Lipti
Teri Nazar Ki Jo Pyaas Hai
Ke Rafta Rafta Milenge Rafta
Hua Hai Jiski Talash Hai
Tere Paas Hai, Ho Ho
Tere Paas Hai, Haan
Meherbaan Meherbaan
Meherbani Teri
(Music)
 Mere Mukabil Hai Tu
Jaise Ke Sahil Hai Tu
Aarziyan Marziyaan
Aab Ye Tere Hawale
Hai Tu Jane Naa
Also check: Hollywood Movies 2021
Meri Duaon Main Dil
Dil Main Shamil Hai Tu
Hothon Ke Darmiyan
Aab Rahe Naam Tera
Ye Tu Jane Naa
Lamho Ki Sargosiyan
Palko Ki Madhosiyan
Dil Ki Ye Betabiyan Tere Liye
Meherbaan Meherbaan
Meherbani Teri
Ye Simti Simti Wafa Se Lipti
Teri Nazar Ki Jo Pyaas Hai
Ke Rafta Rafta Milenge Rafta
Hua Hai Jiski Talash Hai
Ye Simti Simti Wafa Se Lipti
Teri Nazar Ki Jo Pyaas Hai
Ke Rafta Rafta Milenge Rafta
Hua Hai Jiski Talash Hai
Tere Paas Hai, Oh Oh Oh
Tere Paas Hai
Tere Paas Hai, Oh Oh Oh
Tere Paas Hai, Oh Oh
Meherbaan Meherbaan
Meherbani Teri
Meherbaan Meherbaan
Meherbani Teri
Also Read – Ayushmann Khurrana Movies
MeherBaan Official HD Video Song Credits:
Song: MeherBaan
Composer: Siddharth Kasyap
Lyrics: Raqueeb Alam
Singer: Sumedha Karmahe, Mohammed Irfan & Raja Hasan 
Featuring: Terence Lewis, Sarah Anjuli  
Special Appearance: Anjali Schmuck
Video Director: Aziz Zee
Produced: SK MUSIC WORKS   
Story: Aziz Zee 
Creative Director: Mahrukh Dumasia
Cinematographer: Eliezer Sircar
Choreographer: Terence Lewis
MeherBaan Song Available on:
iTunes – https://apple.co/3IOu50J
Apple Music – https://apple.co/3aA0Ba1
Gaana – https://bit.ly/3zbhL7z
JioSaavn – https://bit.ly/3z2ENNR
Wynk – https://bit.ly/3ATxadA
Hungama – https://bit.ly/3AJGH76
Spotify – https://spoti.fi/3PppLXK
Amazon – https://amzn.to/3PqzyfU
Resso – https://bit.ly/3c4ykc1
Related Article: Indori Ishq & Bollywood Box Office