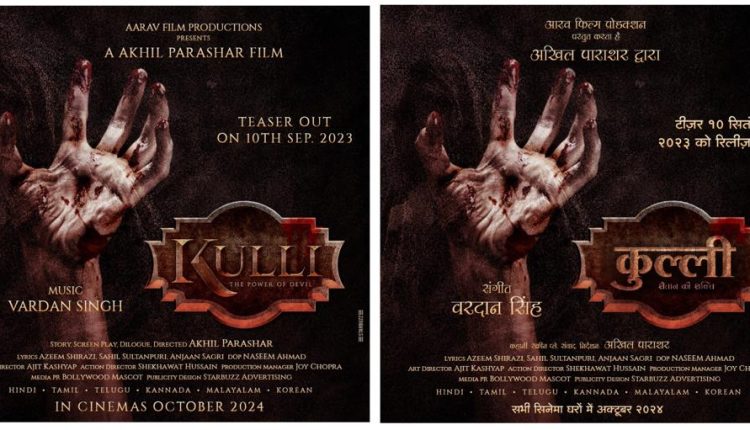 Kulli: The Power of Devil Unveils Intriguing First Look Poster, Teaser Release Date Set for September 10, 2023
Get ready for an electrifying cinematic experience as "Kulli: The Power of Devil" promises to captivate audiences across languages.
Mumbai: In an exciting development for movie enthusiasts, the first look poster of the highly anticipated film "Kulli: The Power of Devil" has been officially revealed, leaving fans in awe and anticipation. The poster, which features a chilling depiction of a devil's hand, exudes an air of mystery and sets the tone for a riveting cinematic journey into the world of supernatural forces and uncharted realms.
Directed and penned by the visionary filmmaker Akhil Parashar, known for his ability to merge intriguing narratives with exceptional visuals, "Kulli: The Power of Devil" is poised to be a multi-lingual cinematic extravaganza. The movie is set to be released in languages including Hindi, Tamil, Telugu, Kannada, Malayalam, and even Korean, further highlighting its global appeal and ambition.
The film boasts a stellar cast and crew, with music composed by Vardan Singh, whose compositions are expected to enhance the film's mood and elevate its storytelling. The lyrics, crafted by wordsmiths Azeem Shirazi, Sahil Sultanpuri, and Anjaan Sagri, are anticipated to add depth and emotion to the already captivating narrative. Accompanying the mesmerizing visuals is the expertise of Director of Photography Naseem Ahmed, ensuring a visually stunning experience that complements the gripping storyline.
Production responsibilities are shouldered by the esteemed Aarav Film Productions, a name synonymous with quality and innovation in the realm of cinema. The production manager, Joy Chopra, brings his proficiency to the project, ensuring a seamless execution that meets the highest standards of filmmaking.
Mark your calendars for an important date: September 10, 2023. The creators have announced that the teaser for "Kulli: The Power of Devil" is set to be unveiled on this day, heightening the excitement surrounding the film. As the release of the teaser approaches, fans and critics alike are abuzz with speculations about the tantalizing glimpse into the world of darkness and supernatural prowess that this teaser is expected to provide.
Bollywood Mascot, responsible for media and public relations, is poised to strategically position "Kulli: The Power of Devil" in the minds and hearts of audiences. The unveiling of the first look poster has already generated significant buzz, with social media platforms abuzz with discussions about the film's potential to redefine the supernatural genre.
With the stage set for an enthralling cinematic experience, "Kulli: The Power of Devil" promises to be a visual and narrative treat that transcends linguistic barriers. As the countdown begins for the teaser release on September 10, 2023, movie enthusiasts and critics alike are gearing up to witness the power of darkness unfold on the silver screen like never before.
Click here for the latest news from Bollywood, Hollywood, South Film Industry, Bhojpuri and TV world… Click here to join the Facebook Page, Twitter Page, YouTube page and Instagram of Bollywood Mascot !