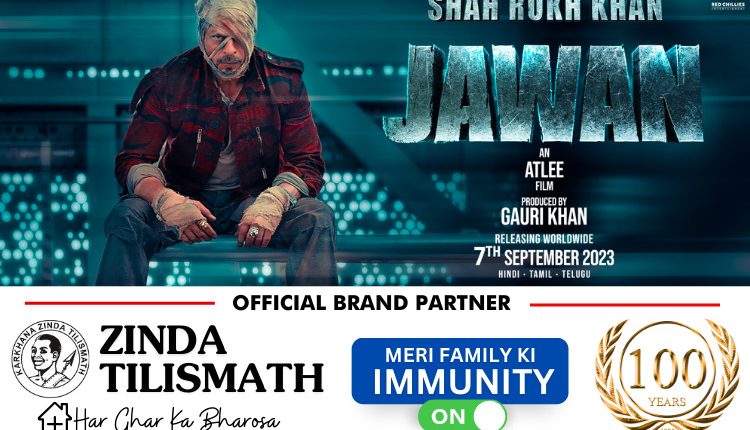 Zinda Tilismath Aligns with Shah Rukh Khan's Most Anticipated Spectacle, 'Jawan'
Mumbai, India – In a historic move, Zinda Tilismath, a beacon of trust and heritage in the herbal wellness sector since 1920, proudly announces its collaboration with the cinematic marvel of the year, "Jawan". This partnership signifies a colossal blend of tradition and cinematic innovation, aligning with Shah Rukh Khan's grand return to the big screen, creating waves of palpable excitement across the nation.
As the clock ticks down to unveil what is considered to be Shah Rukh Khan's most illustrious project till date, "Jawan" stands as a beacon of unmatched grandiosity and cinematic brilliance. Directed by the visionary Atlee, this film promises to be a cultural phenomenon, painting a riveting canvas of love, valor, and social awakening.
The star-studded cast guarantees riveting performances with Shah Rukh Khan in a dual role that is set to mesmerize fans globally. Marking her Bollywood debut, South superstar Nayanthara joins the cast, adding to the film's charismatic allure. The antagonist's role, portrayed by Vijay Sethupathi, promises to be a performance of a lifetime, enriching the film's depth and intrigue. The ensemble cast also features talented stars such as Sanya Malhotra, Priyamani, Sunil Grover, and Yogi Babu, creating a concoction of stellar performances and cinematic magic. The screen will also sparkle with a special cameo from the dazzling Deepika Padukone.
Music sensation Anirudh Ravichander orchestrates the soulful soundtrack of "Jawan", promising an auditory experience that mirrors the film's epic narrative.
This monumental collaboration between Zinda Tilismath and "Jawan" echoes a century-old legacy of wellness and cinematic grandeur coming together to create history. As the countdown begins, the nation holds its breath, ready to be swept off its feet by the immersive experience that "Jawan" promises to deliver.
Join us as we step into a new era of cinematic excellence and heritage wellness, celebrating the grand release of "Jawan" on September 7th, 2023.
Click here for the latest news from Bollywood, Hollywood, South Film Industry, Bhojpuri and TV world… Click here to join the Facebook Page, Twitter Page, YouTube page and Instagram of Bollywood Mascot !