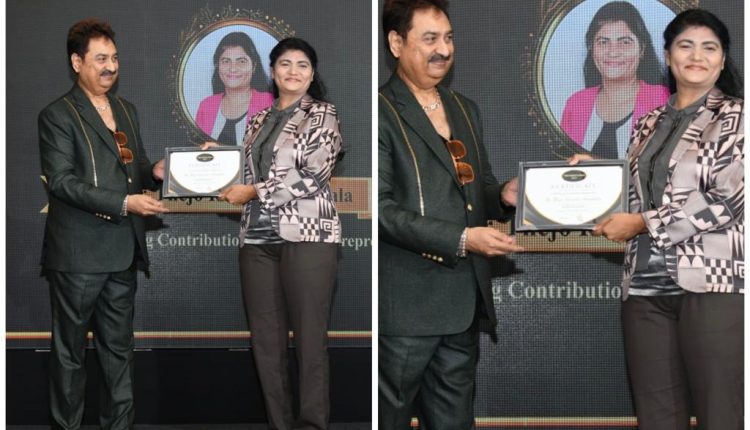 Versatile Personality and Women's Inspiration: Dr. Thejo Kumari Amudala received the "Trend Setter Award 2023" from Bollywood singer Padmashri Kumar Sanu
Women today are breaking barriers in every sector of the economy, and their influence goes far beyond that of just an independent individual. The trend setter, Dr. Thejo Kumari Amudala, finally received the reward exactly in line with her performance in various sectors. For setting unmatchable trends and serving as an inspiration to others, she received the "Trend Setter Award 2023" from Bollywood singer Padmashri Kumar Sanu.
Times Applaud organized this spectacular event at the Villa Parle Orchid Hotel in Mumbai. The purpose of the trendsetter awards was to honor and inspire those who had made significant strides in their respective fields through exceptional creativity, innovation, and originality. Dr. Thejo Kumari Amudala was the chief guest cum guest of honor and brought her positive vibes and upbeat energy to the award show.
The medals and accomplishments of Dr. Thejo Kumari Amudala cover everything from business to fashion to social activism. Her primary drive was to make the world a better place and facilitate the success of others. She started from zero and flourished her business to the extent that she was rewarded with the Most Inspirational Woman Award, the Super Woman Social Entrepreneur Award, the International Business Entrepreneur Award, the Indian Glory Award, the Business Excellence Award 2023, Global pride award, and many others.
There's more to her praise than this: She showed the world that age is merely a number—not just in the workplace but also in the world of high fashion. She won the titles of Taj Mrs Universe 2022, Ms India 2022, Ms Glam India Icon 2022, Miss India International, Divalicious Universe 2022, and Femina Mrs Asia Super Model 2022 for her undying charisma and inner beauty in her 40s.
Here is the final list of her accomplishments, which is also the one that means the most to her. She kept on being praised for the charitable work and social activities she has been doing for several years and is still continuing. She was awarded the Nelson Mandela Noble Peace Award,Mahathma Gandhi International Noble Peace Award, Jawahar Lal Nehru Global Peace Award, Indira Gandhi International Seva Ratna Award 2022, Rajiv Gandhi Excellence Award, Attal Bihari Vajpayee Samman Award, Rashtriya Prathista Puraskar Award, bharath bhushan award, bharath gourav award, bharathiya nari rathna award Nari Samman Award, Netaji Subhash Chandrabose award, Real Life Super Hero Award Ravindranath Tagore's Literary Pride Award, and many others.
Dr. Thejo Kumari Amudala has had a difficult life beginning in her childhood; therefore, she understands the importance of putting others before herself. She made the decision to support underprivileged communities by providing them with resources to improve their standard of living and eventually become self-sufficient. She provided food, clothing, and other necessities (especially in the pandemic) to underprivileged children, dependent women, and weaker sections of society.
She began offering free IT classes to students, funded initiatives to reduce illiteracy, and started creating more career opportunities for the youth. She believes youth is the future, and empowering youth with education will definitely improve the lives of various unprivileged people. In addition to this, she fought for women's empowerment, human rights, and many other sensitive topics in society. She organized various campaigns and programs to create awareness about serious health issues like AIDS. She possesses a versatile personality with the inner capabilities of setting benchmarks for people as well as for society.
Click here for the latest news from Bollywood, Hollywood, South Film Industry, Bhojpuri and TV world… Click here to join the Facebook Page, Twitter Page, YouTube page, and Instagram of Bollywood Mascot!