Singer Sonu Nigam attacked during live event in Mumbai, video went viral
The son of a Shiv Sena MLA shoved musician Sonu Nigam and misbehaved with the team manager during a live concert in Chembur on Monday.
Singer Sonu Nigam bodyguard and friend Rabbani was hurt during a fight between the singer's entourage and a Shiv Sena member. Currently, Rabbani is a patient at the medical facility. The police began looking into the issue as soon as this incident occurred. In this situation, the police have now filed a complaint against an unidentified person. Police have not yet made any arrests in this case, though.
It is well known that on Monday, Sonu Nigam and his band gave a live performance in the Chembur neighbourhood. The local Legislator allegedly started acting inappropriately with Saira, Sonu Nigam's team manager, at that point.
The MLA's son ordered the singer's manager to leave after climbing up on the stage to snap a selfie. But, when Singer Sonu Nigam tried to leave the stage, the actor shoved both the singer and his security, Rabbani. Rabbani was hurt multiple times during this incident.
Singer Sonu Nigam disclosed all.
Singer Sonu Nigam explained this situation to ANI, saying, "After the concert, as I was stepping off the stage, a man caught me. He then shoved the people who had come to save me, Hari and Rabbani. I then stumbled down the steps. Rabbani might have passed away today if there had been some iron rods there. Even I was close to fall when they were pushed like this, as you can see in the video.
After the concert, I was coming down from stage when a man Swapnil Prakash Phaterpekar held me. Then he pushed Hari & Rabbani who came to save me. Then I fell on steps. I filed a complaint so that people should think about forcefully taking selfies & causing scuffle: Sonu Nigam https://t.co/RVFONXeQ79 pic.twitter.com/JxtfCVIaQj

— ANI (@ANI) February 20, 2023
Why did Singer Sonu Nigam voice his displeasure?
Singer Sonu Nigam spoke about the individuals that pushed him in this situation. 'I submitted the case so that people might comprehend and contemplate what could be the consequences of forcibly clicking a selfie or picture,' he responded. There is a commotion and a fight when they try to accomplish something like this forcibly. People's egos are exposed.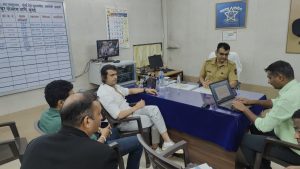 The attack on Sonu Nigam was captured on video and went viral.
A person on Twitter posted the video of Sonu Nigam's assault. The footage makes it abundantly evident that some individuals are pushing Sonu Nigam as he exits the stage. One of them stumbled off the stage. Instantly, this video became viral. Sonu Nigam's bodyguards and buddies, Hari and Rabbani, on the other hand, were admitted to the hospital right away.
Singer Sonu Nigam who raised his voice about Azan Loudspeakers attacked by Janab Uddhav Thackeray MLA Prakash Phaterpekar and his goons in music event at Chembur. Sonu has been taken to the hospital nearby. pic.twitter.com/32eIPQtdyM

— Sameet Thakkar (@thakkar_sameet) February 20, 2023
Click here for the latest news from Bollywood, Hollywood, South Film Industry, Bhojpuri and TV world… Click here to join the Facebook Page, Twitter Page, YouTube page, and Instagram of Bollywood Mascot!