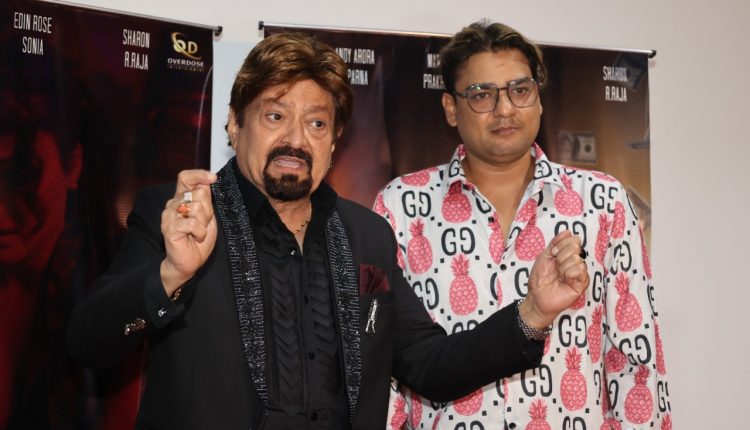 The character of the film Addiction was very challenging, but director Ram Raja Dwivedi made it successful : Andy Arora
Recently the trailer of Bollywood film Addiction was released. During the press conference, the film's lead actor Andy Arora told that his character in the film Addiction was very challenging. He rehearsed for several months to give real feel to this character. The actor told that director Ram Raja Dwivedi has worked hard to make this film and his character a success.
The Trailer can be watched by visiting the Official YouTube Channel Of Overdose Entertainment by clicking the link given below
https://www.youtube.com/channel/UCtD–kZdkc8WgaJ1T6mTSvg
The writer director of the film Ram Raja Dwivedi told that, he does research on each character to give a real experience to any story. When he met actor Andy Arora for the film Addiction, he found him fit for his role. The director said that the story of the film revolves around the dark web, dr*gs and addiction of girls.
What the actress Say about the film Addiction
The film's producer and lead actress Aparna Paranjape told that she is very excited about the film. She is sure that the audience will like this film very much. She is playing the role of Maaya in this film. She said that this role has been the most challenging for her in her acting career so far. The actress told that Maya's character is the character of a bold girl, who is indulging in dr*gs and other habits. She enjoyed this film a lot during the shooting. She told that hard work has been done by the entire team in this film.
Since the release of the trailer of the film Addiction, good reviews from the audience have started going. Seeing the trailer, it can be guessed that this is a dark film. Both Andy Arora and Aparna Paranjape have given excellent performances in the lead roles of the film. Apart from these, actors like Edin Rose, Mansi Vitankar, Sharon, Soniya Kashyap, Prakriti, Mridula Oberoi, Riva Desai, Nishu Agarwal, Nawesh Khan, Namruta, Kamaljeet Singh, Anil Chandani will be seen in the film.
Click here for the latest news from Bollywood, Hollywood, South Film Industry, Bhojpuri and TV world… Click here to join the Facebook Page, Twitter Page, YouTube page, and Instagram of Bollywood Mascot!