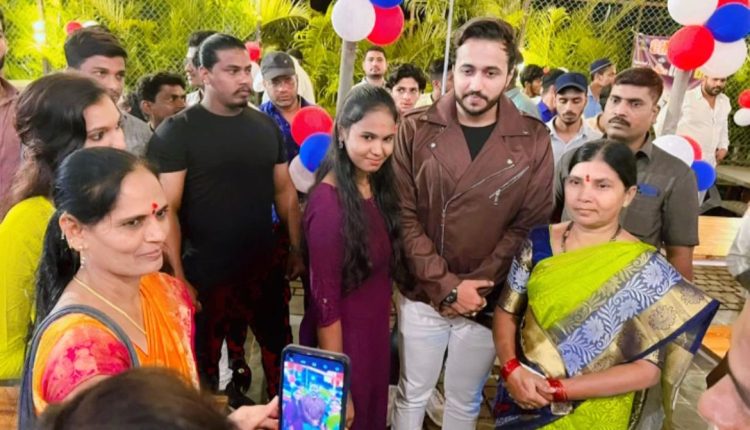 "Actor Ayaan Khan expresses gratitude for his Successful Debut in Bollywood"
Ayaan Khan express his feelings after he garners 1 million plus views on his latest released album #Tujhpe Yakeen at ZeeMusic Label on YouTube; says, 'Grateful for each one of you'
Tujhpe Yakeen Fame and lead Actor Ayaan Khan has million reasons to smile as his debut as an Actor & Singer in the album has turned out to be successful. He received great appreciation from the B-Town celebs and his fans across the globe.
His Fans and Friends surprised him in style by throwing a Success Party of his album at Bidar, Karnataka. Ayaan Khan was welcomed with great Felicitation & Applause by thousands of fans awaiting to meet and get a selfie with him.
He was accompanied by his Mama Mr. MD Nawaz Khan who is an Honourable & Well-Known Politician of Bidar, Karnataka; and also a favourite politician among the youth for his Friendly & encouraging nature. To add a cherry to the event Ayaan's brother Feroz Khan, an active youth leader and Imran Khan too attended the event.
On social media, Ayaan Khan has a huge fan base. He celebrated the day by expressing gratitude to his followers for their endless love and support. He shared a few snaps from his celebration. In the pictures, he was seen in a Classy Stylish look. He was Felicitated with Bouquets, Shawls & Garlands which must have surely made him feel the success of his album.
The youth icon is very active on social media and often shares his day-to-day life updates. On asked about his further plans, he mentioned that his next album is also in line to release soon, and he shall soon then be announcing an other surprise for his fanfam.
In an exclusive interview with us, he shared that it was his childhood dream to become a Bollywood Actor since he feels inspired by the great Superstars Salman Khan and Shah Rukh Khan, whose journey as an actor and the Never Give-up positive attitude towards career is the key to the success and fame in B-Town.
https://instagram.com/ayaanofficial01?igshid=NmNmNjAwNzg=
He added that, his mother who is an Educationist; always blesses him for his success in everything and dreams to come true. Having a great family background yet Ayaan Khan chose to become a Self-made Man who made his name in Bollywood leaving behind luxury lifestyle,security around him and also moving to a Aamchi Mumbai.
"I am fulfilling my dream. I'm mentally very strong because I have a strong fan base whose love and support and my family's blessing keeps motivating me."