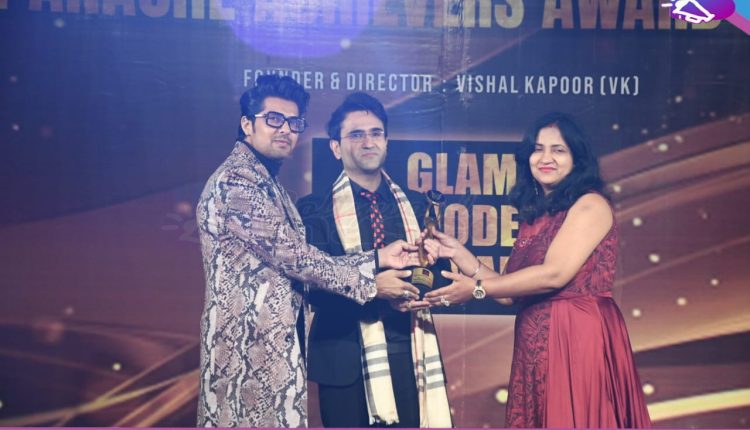 Sahil Seth IRS as a chief guest handed out awards to the winners of Panache Achievers Awards 2022
Mumbai: India's most appreciated award ceremony Panache Achievers Awards 2022 and the Glam model award function held in Mumbai followed by the Panache runway fashion show. Mr. Sahil Seth IRS Joint Commissioner GST, Custom &Narcotics, ministry of finance, Government of India, Former President of Delphic Council of Maharashtra, Honorary Member of BRICS young leaders, Founder of Prasaracare NGO and youth influencer graced the ceremony with his presence as a chief Guest.
Leading Industry leaders related to the different categories of TV, Movies, Fashion, and many more were nominated for Panache awards and glam model awards 2022 and were present to win the trophy from the hands of Chief guest Sahil Seth.
The Panache Award ceremony is an initiative by Vishal Kapoor that specifically organized the ceremony to recognize the efforts and honor the achievers. The ceremony was filled with celebrities and achievers from all three worlds; entertainment, fashion, and beauty. Bollywood celebrities also glitz up the ceremony including Rajpal Yadav, Sudhanshu Pandey, Nivedita Basu, Taheer Shabeer, Shivani Gosain, Bandgee Kalra and Puneesh former Big Boss contestant and many more. Sahil Seth as a Chief Guest said, "It's my honor and great privilege to be a part of the Achievers awards. It's an opportunity to provide all the actors, models, and achievers with a platform to recognize their hard work. India is full of dynamic individuals, I always try to motivate and young generation and this platform is a perfect recognition to applaud impeccable achievers from various categories, who have helped in bringing the revolutionary transformation in their respective domains. I congratulate all the winners and also special thanks to Vishal Kapoor for inviting me as a chief guest of this memorable ceremony".
About IRS Sahil Seth
IRS Sahil Seth is known to encourage the youth about the current rights and duties that we follow in India as well as he is an active member of many social causes. As a young influencer, he is a true inspiration for the young generation of the country and influences them to stay healthy and to do better in the future. He was honored as a youth and inspirational male icon by 'Leamanah' for his contribution to the welfare of society.
The second season of Panache Achievers Awards 2022 followed by Glam model Awards glorified luminaries from different professional domains linked to films, Entertainment, Fashion, Social Work, Media, Sports, and Entrepreneur. All the awards were bestowed by Sahil Seth, which were related to Bollywood Actor par excellence, Veteran Bollywood Actor, Comedian Par Excellence, Life and Business coach par excellence, fashion, and many more.
Sahil Seth while talking about the ceremony also added, "The awards ceremony was filled with all the famous celebrities and the arrangement was amazing. Many achievers won the award and I congratulate them for their efforts and dedication also I really appreciate Panache for initiating such an event to inspire and compliment the young achievers. I hope in the future there will be more categories and nominees that will fill up this event and will glitz up the red carpet of the panache achievers award.
Click here for the latest news from Bollywood, Hollywood, South Film Industry, Bhojpuri and TV world… Click here to join the Facebook Page, Twitter Page, YouTube page and Instagram of Bollywood Mascot !