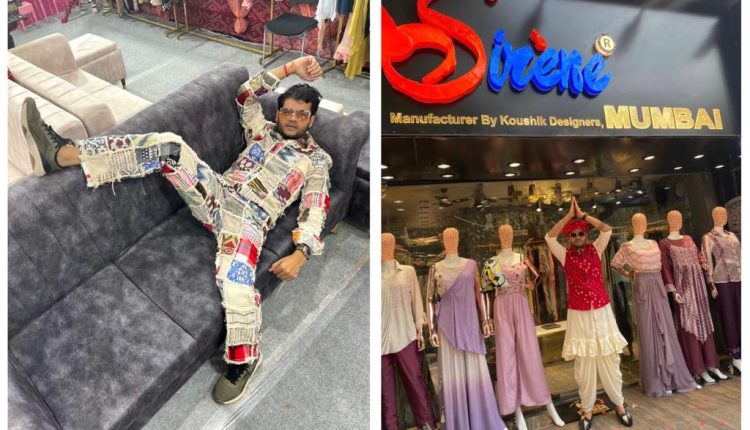 Ronak R. Bafna, A story that makes us believe that comebacks are always stronger than setbacks
It is stated that self-belief and hard work will always earn you success and proving that accurately, Ronak R. Bafna has emerged as a youth icon for so many people all over as he continues to shine in the world of fashion and apparels.
Ronak R. Bafna has put firmness on the fact that believing in yourself is the only way to reach greater heights in life. The journey from a homeless teenager to a self-made fashion entrepreneur is priceless as even though he had no ready-made roads for him set for the future, he fought hard and created roads for himself as he diversified in acquiring different important skills in his arena of survival which led him to pioneering the fashion brand and curating Sirène by Koushik designers.
Every person's journey is incomplete without a fair share of setbacks and challenges, Ronak R. Bafna had to face a stink of bad luck as he shut down his first outlet in Delhi in just a time span of three days. However, as the definition of solidarity and consistency, Ronak R. Bafna bounced back with opening a first outlet on 2nd January, 2021 at Katra Neel, Chandni Chowk, Delhi. The outlet became a breaking ground for the designer and led to opening 3 outlets all across Chandni Chowk in Krishna Gully and Nayi Sarak respectively.
Maintaining sustainability and balance as the key mantras, Ronak R. Bafna has opened the 4th outlet on 25th November, 2022 at ODS Amar colony, Lajpat Nagar. The company has received major growth in terms of curating everything in-house. From fusing to dyeing to functioning of nearly 90 machines and Karigars that can produce about 800 garment pieces each day.
Exporting to more than 57 countries in the world like the USA, Russia, Africa, Dubai, London, Mauritius and many more. The 12 years old company who is already excelling in the circle of manufacturing and wholesaling has also spread its hands to retailing. The brand also has a unique supply chain in many states of India like Gujrat, Rajasthan, M.P, Maharashtra, Karnataka, West Bengal, Jharkhand etc.
Ronak R. Bafna does not limit himself to maintaining formal relations with clients, he makes them an active participant by taking their feedback seriously. The brand has also grown into the online shopping structure making it more accessible to the people.
Ronak R Bafna says, "Clothes should be an extension of one's intellect" he with a vision of passing Mumbai fashion in all over the world now has made an impact as "Mumbaiwala"
Sirène by Koushik Designers has become a significant brand in recent times which has made its impact. They are offering franchise outlets across India and abroad.
Click here for the latest news from Bollywood, Hollywood, South Film Industry, Bhojpuri and TV world… Click here to join the Facebook Page, Twitter Page, YouTube page, and Instagram of Bollywood Mascot!