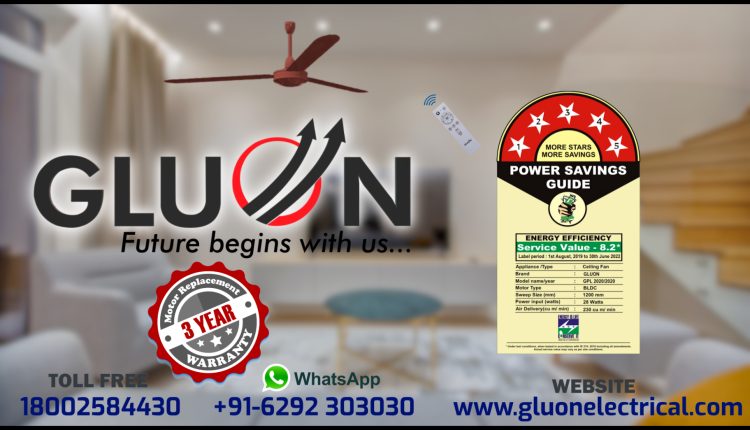 Gluon Electrical Introduces India's Most Energy Efficient Fan Saving Up to 60% Electricity
Gluon Electrical, the brain child of Sanjeev Pandey, a leading provider of electrical engineering and technology solutions, has recently introduced a revolutionary new fan that promises to save up to 60% of electricity compared to traditional fans. This innovative product is a testament to the company's commitment to sustainability and energy efficiency.
The Gluon Electrical fan is designed with advanced technology that allows it to operate at a significantly lower wattage than traditional fans, without compromising on performance. This means that customers can enjoy the same cooling effect while using significantly less energy, resulting in significant savings on electricity bills.
The fan's energy efficiency is due to its unique design and features, which include a high-efficiency motor, aerodynamic blades, and a smart control system that adjusts the fan's speed based on the ambient temperature. The fan is also equipped with a sleep mode that automatically reduces its speed during the night when the temperature is cooler, further reducing energy consumption.
India's Most Energy Efficient Fan Gluon Electrical
The Gluon Electrical fan is also designed with safety and durability in mind. It is made of high-quality materials that are resistant to wear and tear, and its motor is equipped with a thermal overload protection system that prevents overheating. The fan also comes with a 5-year warranty, giving customers peace of mind and ensuring that they get the most value from their investment.
What sets the Gluon Electrical fan apart from other fans on the market is its use of BLDC (brushless DC) technology. This technology is relatively new in India and is now mandatory for all fans to have a star rating since January 1st. Very few companies in India have adopted BLDC technology, but Gluon Electrical is the first manufacturing unit in the entire eastern region of India to produce such fans.
With its exceptional performance, durability, and energy efficiency, the Gluon Electrical fan is poised to become the go-to choice for customers looking for an eco-friendly and cost-effective cooling solution. Gluon Electrical's new fan is an example of the company's commitment to sustainability and energy efficiency. By introducing innovative products that help customers save energy and reduce their carbon footprint, Gluon Electrical is playing a significant role in promoting environmental responsibility.
The fan has already gained widespread recognition and appreciation from customers who have experienced its energy-saving benefits firsthand. As the world continues to prioritize sustainability and energy efficiency, Gluon Electrical's new fan is an excellent example of how companies can play a significant role in promoting these values.
In conclusion, the Gluon Electrical fan is a game-changer in the electrical industry. Its revolutionary design and features make it a highly energy-efficient and environmentally-friendly option, while also providing superior cooling performance. As more companies adopt BLDC technology and prioritize sustainability, Gluon Electrical is leading the charge in producing innovative products that benefit both customers and the environment.
Click here for the latest news from Bollywood, Hollywood, South Film Industry, Bhojpuri and TV world… Click here to join the Facebook Page, Twitter Page, YouTube page and Instagram of Bollywood Mascot !