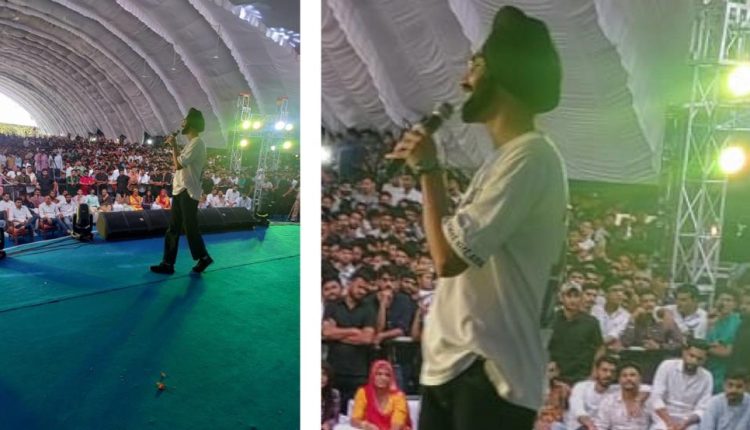 From a small town boy to a music sensation, Harman Kalsi shines bright in the industry
Everyone has some fantasies and desires in their minds, whether it's something they want to happen in the future or someone they want to be. However, a mere fixation on a dream in the mind does not work unless it is followed up with a strong dedication in the mindset to conquer the goal. With an optimistic attitude and perseverance for the cause of achieving the goal became the key factors behind the success of Harman Kalsi as an esteemed singer.
Harman, who was born and raised in a small town in Rajasthan, rose to prominence as a singer thanks to his self-assurance, which aided in his efforts and realization of his dream. His dedication, combined with the versatility of his voice and aptitude, allowed him to flourish at such an early age. There's no disputing that the world of music is blessed with a plethora of brilliant singers, but there are a select few who are truly exceptional, and Harman Kalsi is one of them.
Harman's accomplishment is encouraging, yet few people are aware of his struggle to attain this peak of achievement. However, his ambition to succeed in life has not been deterred by life's hurdles. His dedication, together with music that is nothing short of inspiring, has become an important part of his life.
In fact, the more dedicated Harman was to his goal, the more likely he was to put up the effort necessary to improve himself, increasing his chances of success. His love of singing provided him with new experiences and a sense of purpose in the quest of pleasure, motivating him to keep learning and aiming for mastery.
Claim to fame – Harman Kalsi
– Debuted on T-series Apna Punjab with Gajendra Verma's song Yaar Banalle.
– He has a number of other songs and poems to his credit, including Gallan Pyar diyan, Khyal Khani mere yaar di, Hoya Pyaar, and others.
– He contributed to the song Dooriya na Payi as a co-writer.
– He had issued an album called It's My Time, which contained seven tracks.
In the words of Harman Kalsi "I believe music stamps nearly every aspect of our lives and to celebrate this magical feeling that music can evoke in our lives, I am looking forward to collaborate with various other artists and compose originals and melodies that can instantly bring people back to specific moments and memories when they hear them even years later"
The latest songs by Harman Kalsi released include Photo, Oye hoye, Reej, and Kaala maal. There are various upcoming projects and Collab is in the pipeline with big labels and Artists says Harman.
Harman Kalsi appeared live show in Rajasthan University on 04-04-2023. Where famous artists of Punjab industry Parmish Verma and Laadi Chahal were also there. There Harman Kalsi entertained the students very well through his songs. After the conclusion of the show, Harman Kalsi also took out time for many students there and clicked photos, which shows that Harman Kalsi is a very humble person apart from being connected to the land.
Click here for the latest news from Bollywood, Hollywood, South Film Industry, Bhojpuri and TV world… Click here to join the Facebook Page, Twitter Page, YouTube page and Instagram of Bollywood Mascot !