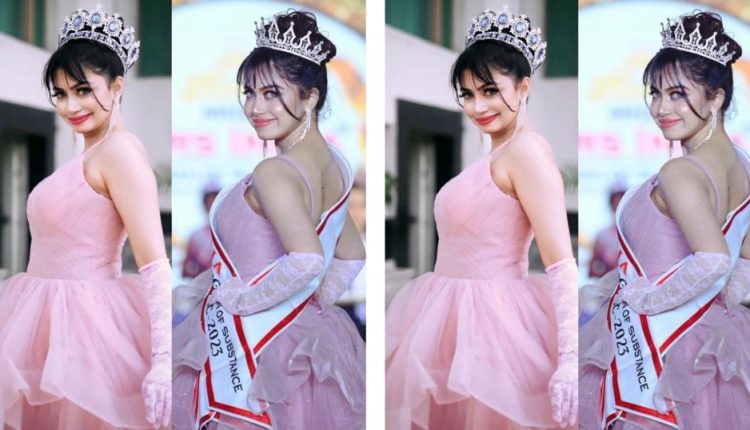 Deblina Sarkar, India's Proud Representative at "Woman of the Universe" 2023
In a remarkable journey that started in 2021, Deblina Sarkar has emerged as a shining star in the world of fashion and modeling. Her dedication and talent have earned her several accolades, and now, she is set to make India proud on the international stage as Mrs. India Woman of the Universe 2023.
Deblina's journey began with a bang as she secured the title of Mrs. India Australia Beautiful Face in 2021 while residing in Australia. Her striking beauty and modeling prowess soon caught the attention of Lakme Australia and numerous other renowned brands, leading to a successful modeling career.
The year 2022 witnessed Deblina Sarkar's triumph as Mrs. India Gorgeous, solidifying her status as a beauty queen. She continued to shine in 2023, adding the title of Mrs. Tech Diva to her list of achievements.
The crowning glory of Deblina's journey came in August 2023 when she participated in the Mrs. India Queen of Substance pageant in Delhi and emerged victorious as Mrs. India Women of the Universe. Her hard work, dedication, and unwavering commitment to her goals were evident, and this win earned her the opportunity to represent India at the Woman of the Universe pageant in Dubai in November 2023. Deblina Sarkar's success did not stop there; she also clinched the titles of Mrs. Best Ramp Walk and Mrs. Photogenic at the Mrs. India Queen of Substance 2023 event.
Deblina Sarkar is not only a beauty queen but also a woman with a heart of gold. She is a software engineer at a prestigious multinational company in Sydney, Australia, and a dedicated supporter of the Cancer Council in India and Australia. Her philanthropic efforts include hosting fundraising events and providing essential medications to cancer patients.
With a diverse background due to her defense upbringing, Deblina appreciates and respects various cultures across India. She is a trained Kathak and Bharatnatyam dancer, emphasizing the importance of dance in maintaining fitness and elevating one's mood. Health is a top priority for Deblina, and she advocates for proper nutrition and wellness for herself and her family.
Driven by her visionary outlook, Deblina aspires to establish her own NGO, focusing on women, children, and the elderly. She firmly believes in women empowerment and uniqueness. To her, empowerment means recognizing one's individuality and not comparing oneself to others. It's about supporting fellow women, voicing opinions, and pursuing dreams.
Deblina Sarkar's journey is a testament to her determination and authenticity. She encourages all women to embrace their talents and dreams, emphasizing the importance of being true to oneself. In her inspiring words, "BE YOU," she champions individuality and self-expression, showing the world that everything begins with self-belief and the courage to pursue one's aspirations.
Click here for the latest news from Bollywood, Hollywood, South Film Industry, Bhojpuri and TV world… Click here to join the Facebook Page, Twitter Page, YouTube page and Instagram of Bollywood Mascot !