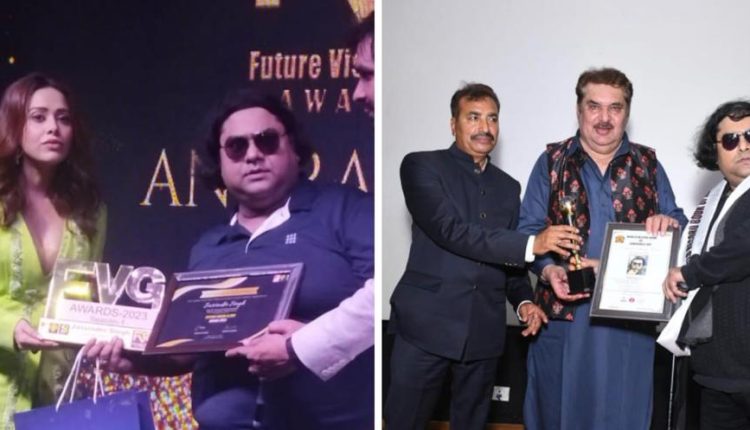 Anurag Jain aka AJ created a distinct identity for himself through hard work
In the realm of music and entertainment, the name Anurag Jain, affectionately known as AJ, stands as a testament to resilience, talent, and triumph. An exceptional writer, composer, and singer, Anurag Jain has not only carved a niche for himself in the industry but has also proven his mettle as an actor. His journey, marked by hits and accolades, is a captivating narrative of passion, perseverance, and the pursuit of dreams.
One distinctive aspect of Anurag Jain's identity is the inclusion of 'AJ' in his name, a nod to his admiration for wrestling icon AJ Styles. It also serves as a concise representation of his own name, reflecting both a personal touch and a connection to a source of inspiration.
The musical landscape has been enriched by Anurag Jain's contributions, with 8 to 10 of his songs becoming chart-toppers, capturing the hearts of audiences. The love and appreciation showered upon his work have translated into numerous prestigious awards. Notably, Sudha Chandran, Shamita Shetty, Raja Murad, and Nusrat Bharucha have all honored Anurag Jain for his outstanding achievements.
Behind the glitz and glamour, Anurag Jain's life took a tumultuous turn in 2016 when he faced the betrayal of love. The emotional turmoil led him to attempt suicide, resulting in severe injuries. However, defying the odds, he channeled his pain into artistic expression. Through the creation of poignant songs, Anurag not only healed his own wounds but left an indelible mark on the hearts of those who resonated with his music.
One such instance was the release of the song 'Hum Khud Chale Jayenge Tera Shehar' during a challenging period of his life. Despite being bedridden and on the verge of despair, the song soared to great heights, becoming a massive hit. This episode reflects not only the fragility of human emotions but also the strength that emerges from vulnerability.
In a recent program, Anurag Jain acknowledged the unwavering support of his family, emphasizing that his journey would not have been possible without them. He expressed his aspirations to continue making strides in the music and acting industry, a dream nurtured since childhood.
Anurag Jain's impact extends beyond his personal success. Through AJ Records, his production house, he provides a platform for emerging artists to showcase their talents to the world. This commitment to fostering new talent underscores his dedication to the growth and evolution of the entertainment industry.
As Anurag Jain faces the future, he stands as a symbol of triumph over adversity. His journey, marked by passion, perseverance, and a commitment to artistic expression, serves as an inspiration for aspiring artists and a testament to the transformative power of music and resilience.
Click here for the latest news from Bollywood, Hollywood, South Film Industry, Bhojpuri and TV world… Click here to join the Facebook Page, Twitter Page, YouTube page and Instagram of Bollywood Mascot !