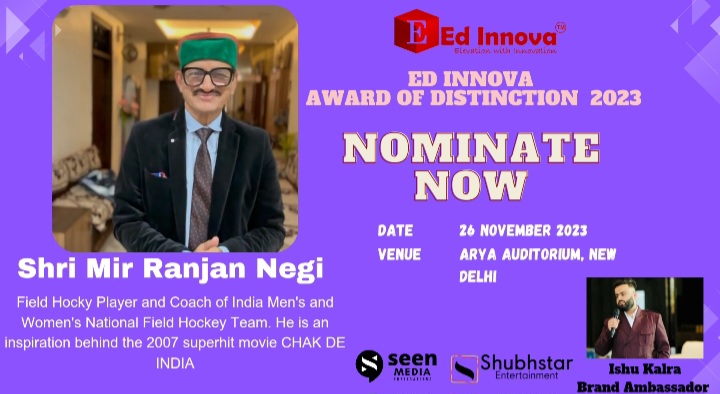 A Confluence of Talent: Ed Innova welcomes Mir Ranjan Negi and Ishu Kalra for Ed Innova Award of Distinction 2023
When two powerhouses of talent come together, magic is bound to happen. Ed Innova, India's leading Advertising Agency, has always been at the forefront of creative brand communication. Established by the illustrious Susmita Gupta, the agency has touched thousands of organizations with its top-notch branding services.
Now, in a move that has taken the industry by storm, Ed Innova has chosen Mir Ranjan Negi, the inspiration for the superhit movie "Chak De India", as the Chief Guest for the Ed Innova Award of Distinction 2023. Mir Ranjan Negi is a field hockey player and former coach of the India men's and women's national field hockey teams. Alongside, the renowned social activist and youth icon of Jalandhar Punjab Ishu Kalra also joins Ed Innova as the Brand Ambassador for Award of Distinction 2023.
The Award of Distinction symbolizes the pinnacle of achievement for every business, brand, and individual personality who has gone above and beyond. As the digital world continues to evolve, Ed Innova remains a stalwart, championing high-quality branding services and celebrating the best in the industry.
Speaking on the feat, Susmita Gupta founder of Ed Innova said "The writing and digital branding services is a complete package and it has been warmly received by our clients who have become a family of Ed Innova that further strengthened us and enhanced our sale value in this tough competitive market"
To make this milestone memorable, Ed Innova planned to host their first Award Event in New Delhi to take its vertical of Event Management at its peak and celebrate this success together with all stakeholders. Ed Innova has offered its services to lakhs of customers all across India and abroad. The campaign has been popularised through its reach among organic customers and intensified the buzz around the entire activity.
Ed Innova is a team of PR professionals, management professionals, and event managers with a long history of success. Ed Innova has been delivering services to its clients across many sectors of personal and corporate branding since 2021. Ed Innova has been recognizing various brands, businesses, and individual personalities since December 2022 and has created the platform 'Ed Innova – Award of Distinction' to promote and recognize such businesses, brands, and individual personalities who have engaged and impacted thousands of lives and more in society and made the nation proud.
Learn more – www.edinnova.online
Click here for the latest news from Bollywood, Hollywood, South Film Industry, Bhojpuri and TV world… Click here to join the Facebook Page, Twitter Page, YouTube page and Instagram of Bollywood Mascot !