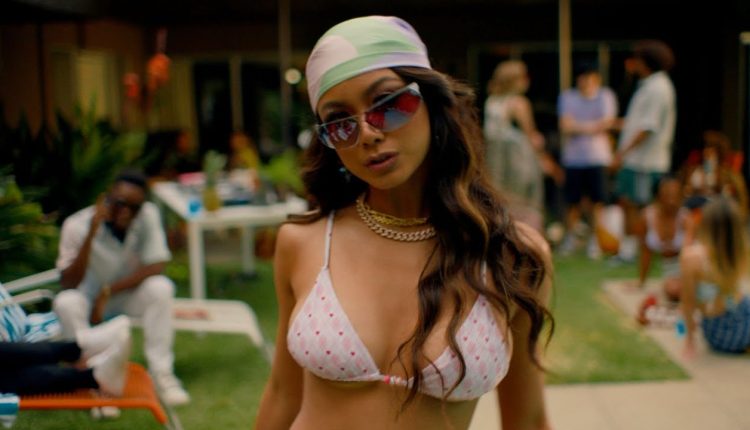 Vibin Official HD Video Song 2022 by Ylona Garcia
Ylona Garcia, a Filipino-Australian singer, has released the music video for her new single Vibin. The music video shows Ylona getting ready to go with her friends and then excitedly anticipating the party she will host with all her friends. Everyone is relaxing by the pool and listening to summer tunes. The party continues into the night, with Ylona changing her poolside outfit for a party gown. For a perfect house party, she dances with her crew, including Vibin.
"Vibin" is a memorable song for me," Ylona stated. "It captures my artistic state and where I want to go sonically." It's about meeting someone new and not feeling pressure to make a relationship work. We want to be vibing and enjoy every moment.
The 20-year-old's second album of the year, 'Vibin,' arrived last month. She said the single is "really special" in a press release. She said that the song captures her artistic vision and her plans.
Vibin Official HD Video Song Lyrics:
Situationships ain't got no correlation
2 relationships that's reaching what we chasin
And I ain't never had no patience don't like waiting
I know what I don't and what I wanna do
It don't matter what the signs say
Baby why you playin mind games
Can we for times sake
Get straight to the point cus hey
It don't matter if we lie and say
We only known each other 9 days
Don't say too much
Also Read: Kris Jenner Grandchildren
We ain't gotta tell em bout us cus we just Vibin
We ain't gotta call it love
Cus we just Vibin
Just cus you at my house 3 in the morning
You know what it is floating like this
Vibin
It's an open invitation
To late night conversations
Slow jams in rotation
Hands around your waist and hearts racing
Embracing
Catch waves of the
Sensation
No over compensations
I'm over complications
Ohhh baby cus
It don't matter if we lie and say
We only known each other 9 days
Don't say too much
Also read: Cicely Tyson Daughter
We ain't gotta tell em bout us cus we just Vibin
We ain't gotta call it love cus we just Vibin
Just cus you at my house 3 in the morning
You know what it is floating like this
Vibin (Vibin)
Ooohhh
(Vibin) oooh
If you need some reassurance
Lemme give you some insurance
Call me your lover your homie
I will never leave you lonely
Give it to me like you owe me
Tie it up like we in OT
Ooh Baby
We ain't gotta tell em bout us cus we just Vibin
We ain't gotta call it love cus we just Vibin
(We Vibin)
Just cus you at my house 3 in the morning
You know what it is floating like this
Vibin (Vibin)
Ooohhhh (Vibin)
Ooohhhh
Also Read – Peacock Premium Free Trial
Vibin Official HD Video Song Credit –
Singer: Ylona Garcia
Director: Mattias Russo-larsson
Producer: Lewis Atallah
Production Company: Coming Of Age
Dp: Dima Litvinov
Steadi: Connor Smyers
Ac: Nick Kubeck
Gaffer: Eric Sanchez
Bbe: Anthony Benitez
Key Grip: Bertha Estrada
Bbg: Araceli Milian
Pd: Lakyn Moore
Hair Stylist: Martha Phelan
Related Article: Sandra Bullock Boyfriend Bryan Randall & Mirzapur Season 3