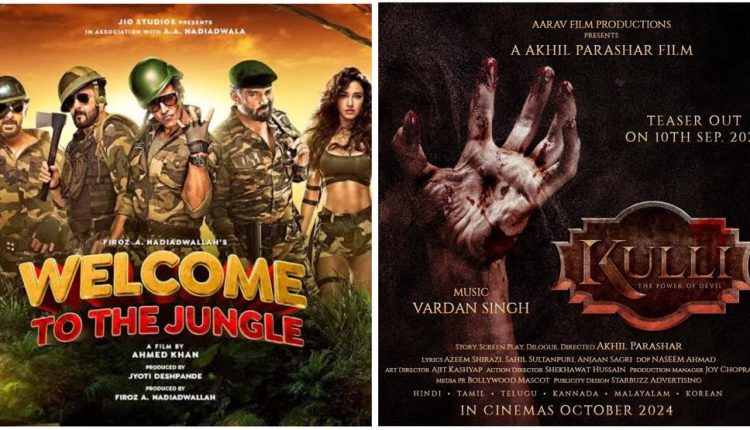 Trumping Star-Studded 'Welcome To The Jungle', Critics Hail 'Kulli: The Power of Devil' Motion Poster as a Standout
In a surprising turn of events, film critics and enthusiasts have showered praise on the motion poster of 'Kulli: The Power of Devil,' outshining the star-studded 'Welcome To The Jungle' in the realm of anticipation and intrigue.
Kulli: The Power of Devil, directed by the enigmatic Akhil Parashar, promises to be a groundbreaking horror film that delves into the struggles and experiences of transgender individuals. Its motion poster has created quite a stir, captivating audiences with its haunting visuals and thought-provoking narrative. The tagline, "The Story of someone who is not satisfied with whoever he is born!" hints at a story that challenges societal norms and pushes the boundaries of terror.
On the other hand, 'Welcome To The Jungle,' the latest installment in the beloved 'Welcome' franchise, boasts an ensemble cast of 24 leading Bollywood actors, including Akshay Kumar, Sanjay Dutt, Suniel Shetty, Arshad Warsi, and a slew of others. The film's announcement, coupled with the star power it brings, had initially garnered significant attention.
However, it's 'Kulli: The Power of Devil' that has stolen the limelight with its motion poster. Complemented by a chilling musical score composed by Vardan Singh and poignant lyrics by Azeem Shirazi, Sahil Sultanpuri, and Anjaan Sagri, the film's marketing has struck a chord with both critics and audiences.
Critics have commended 'Kulli: The Power of Devil' for addressing a socially relevant and daring subject matter. The motion poster has further heightened the anticipation for the film's release.
"When God created this world, and made both male and female, why did He create me?" – A chilling dialogue delivered by a transgender character in the motion poster has resonated deeply with viewers, shedding light on the struggles faced by transgender individuals.
As Bollywood enthusiasts eagerly await the release of these two promising films, 'Kulli: The Power of Devil' has already left a mark with its thought-provoking and spine-chilling motion poster, proving that sometimes, it's not just the star-studded cast but the narrative and societal impact that capture the hearts and minds of the audience.
Click here for the latest news from Bollywood, Hollywood, South Film Industry, Bhojpuri and TV world… Click here to join the Facebook Page, Twitter Page, YouTube page and Instagram of Bollywood Mascot !