Tiger Shroff 's New Love Interest: Deesha Dhanuka Sparks Romance After Disha Patani Breakup
Bollywood heartthrob Tiger Shroff has been making headlines not only for his professional achievements but also for his personal life. After parting ways with actress Disha Patani a few months ago, Tiger seems to have found a new love interest, stirring curiosity among his fans. While the identity of his new flame remains somewhat veiled, recent reports suggest an emerging romance that has piqued the interest of the media and fans alike.
Tiger Shroff Finds a New Connection Amidst Professional Commitments
As Tiger Shroff gears up to grace the silver screen alongside Akshay Kumar in the upcoming film "Bade Miyan Chote Miyan," his personal life has once again become a subject of fascination. The actor, who recently caught everyone's attention with his appearance in the song "Love Stereo Again," is known for his commitment not only to his professional career but also to his personal relationships. Following his breakup with Disha Patani a few months ago, Tiger has reportedly found a new love interest, marking a new chapter in his romantic journey.
Who is Disha Dhanuka?
Amidst the speculation surrounding Tiger Shroff's newfound love, the spotlight has turned to Deesha Dhanuka. A seasoned professional working at a prominent production house, Deesha has been gaining attention for her proximity to Tiger since his separation from Disha Patani. Sources from within suggest that Deesha Dhanuka often contributes creative ideas to Tiger's projects, while Tiger ensures to support her fitness endeavors. Notably, Tiger's family is said to have warmed up to Deesha, indicating a growing closeness between the two. Their relationship seems to be no secret within their circles.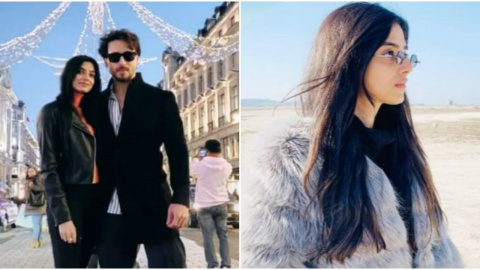 Tiger Shroff Addresses Relationship Rumors and Sets the Record Straight
Recent rumors have ignited a flurry of speculation about Tiger Shroff's love life once more, especially after his past relationship with Disha Patani that lasted for six years. However, Tiger Shroff took a moment to address these rumors, shedding light on the current state of his heart. "I thought I had been linked to someone else a few months ago, but no, I have been single for the past two years," clarified Tiger, putting an end to some of the conjecture.
While Tiger Shroff's personal life continues to be a topic of intrigue for fans and the media alike, the actor remains focused on his professional commitments. As he embarks on new cinematic adventures, his fans are eager to witness his on-screen magic and discover more about the intriguing new chapter in his personal life.
In the ever-evolving world of Bollywood, the entwining of personal and professional lives often sparks a wave of fascination, with fans eagerly awaiting every twist and turn in the lives of their favorite stars. As Tiger Shroff's romantic journey takes a new turn, all eyes remain glued to the unfolding narrative, eager to witness where love and destiny will lead him next.
Click here for the latest news from Bollywood, Hollywood, South Film Industry, Bhojpuri and TV world… Click here to join the Facebook Page, Twitter Page, YouTube page and Instagram of Bollywood Mascot !