'Made In Heaven' Season 2: A Deep Dive into Weddings, Drama, and Personal Struggles"
Returning for its second season, 'Made In Heaven' once again immerses viewers in the opulence of weddings, uncomfortable realities, and a generous dose of drama. With its intricate and captivating narrative, this installment fearlessly explores profound themes, making it a compelling and irresistible choice for binge-watching.
The highly anticipated return of 'Made In Heaven' with its second season brings back the enchanting world of extravagant weddings, hard-hitting truths, and compelling drama. Four years after its debut, the show continues to captivate audiences, though its impact may be subject to interpretation.
Made in Heaven 2 Details
| Attribute | Information |
| --- | --- |
| Genre | Drama, Romance |
| Created by | Zoya Akhtar, Reema Kagti |
| Written by | Reema Kagti, Zoya Akhtar, Alankrita Shrivastava |
| Directed by | Nitya Mehra, Zoya Akhtar, Prashant Nair, Alankrita Shrivastava |
| Starring | Arjun Mathur, Sobhita Dhulipala, Kalki Koechlin, Jim Sarbh, Shashank Arora, Shivani Raghuvanshi |
| Country of origin | India |
| Original language | Hindi |
| No. of seasons | 2 |
| No. of episodes | 16 |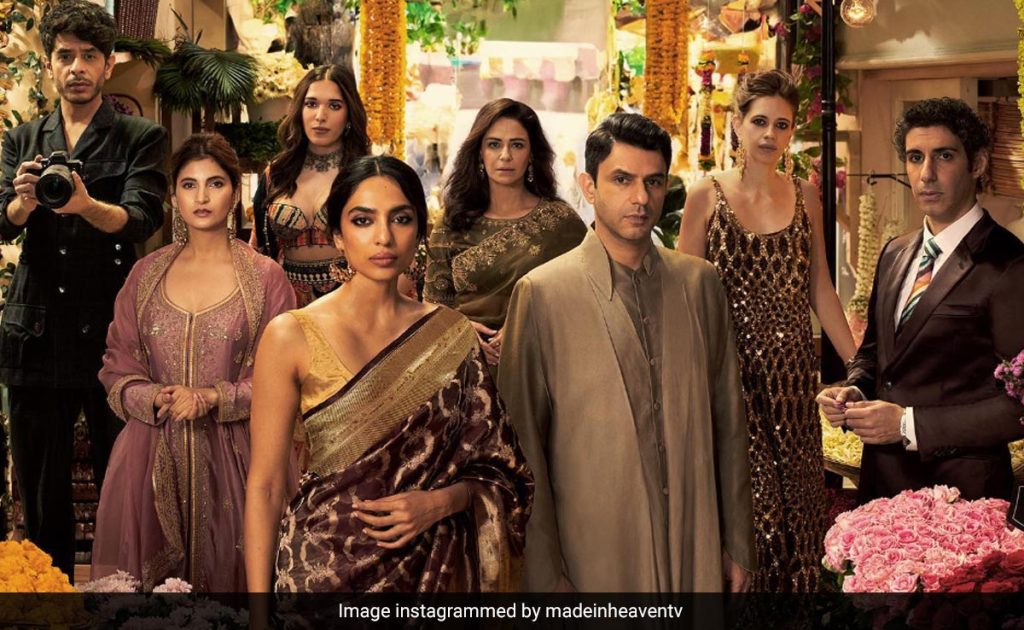 Made In Heaven 2 Review
Season 2 resumes with Tara (Shobita Dhulipala) and Karan (Arjun Mathur), founders of the wedding planning company 'Made In Heaven,' facing a downturn in their business. In a bid to revive their enterprise, they enlist Ramesh (Vijay Raaz) as a co-partner and Bulbul (Mona Singh) as an auditor. The characters' personal struggles and professional challenges are unveiled layer by layer, adding depth and relatability to the narrative.
Tara, Karan, Kabir (Shashank Arora), and Jazz (Shivani Sharma) endeavor to deliver exceptional wedding experiences, despite their own turmoil. Tara grapples with a divorce case and the company's crises, while Karan confronts a personal dilemma. Romance takes a backseat amidst the chaos, yet a glimmer of hope remains.
Across seven episodes, the season explores various interpretations of 'happily ever after' through diverse wedding stories. It handles discomfort and profound silence adeptly, exploring themes like racism, Dalit community struggles, infidelity, polygamy, and same-sex weddings. Creators Zoya Akhtar, Reema Kagti, and the directors' team (Nitya Mehra, Neeraj Ghaywan, Alankrita Srivastava) masterfully weave these topics, striking a balance between impactful messaging and viewer engagement.
While the show occasionally delves into preachiness, it momentarily disengages the audience. Zoya and Reema's typically subtle approach to messaging is occasionally overshadowed by overt commentary. Nonetheless, two captivating characters emerge in this season: Bulbul (Mona) and Meher (Trinetra Haldar), a transwoman. Kalki Koechlin reprising her role as Faiza Naqvi adds depth. Cameos by actors such as Mrunal Thakur, Samir Soni, Neelam, Pulkit Samrat, Dia Mirza, and Radhika Apte leave their unique imprints.
A highlight is a grand Bollywood wedding set in the French Riviera, reminiscent of Deepika Padukone and Ranveer Singh's nuptials. The show's scale has undeniably escalated, boasting an engaging and linear screenplay. The writers adeptly navigate parallel storylines, addressing a multitude of subjects while maintaining viewer interest. The complexity is riveting, making 'Made In Heaven' Season 2 an unquestionably binge-worthy delight.
Made in Heaven 2 Trailer
As 'Made In Heaven' Season 2 graces screens on Prime Video, it challenges perceptions of love. Its intricate portrayal of intertwined lives, multifaceted narratives, and the universal pursuit of happiness demonstrates that while love may be twisted, it remains an undeniable force.
Good
'Made in Heaven' showcases India's clash of traditional and modern values, embodying tension between age-old customs and progressive desires
Great for Drama Lovers
'Made in Heaven' showcases India's clash of traditional and modern values, embodying tension between age-old customs and progressive desires
Great for Drama Lovers