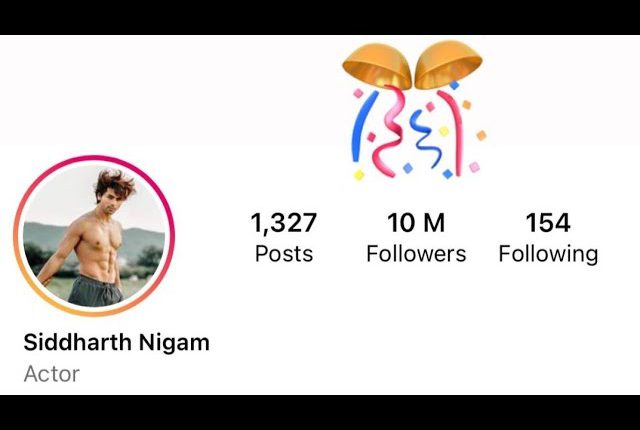 Siddharth Nigam Celebrates 10 Million on his Instagram, Posted this Video
The craze of social media now a days is on its peak. There are a lot of social media influencer who earning very well by their social media handles only. One of them is Siddharth Nigam who is also active in TV industry as an actor. The child actor if you remember from the film Dhoom-3 who played the childhood of Bollywood actor Amir Khan, was actually Siddharth. He is in current, very popular on social media especially Instagram. He has recently gained 10 Million followers there on Instagram and posted a celebration video for the same.
Well, If you have a look at the Instagram account of the actor and get in to his recent post, you'll find a video there. Siddharth Nigam is celebrating his reach to 10 Million followers on Instagram. The actor recently left the show Aladin: Naam Toh Suna Hoga as it gets off air. Later he joined Hero: Gayab Mode on which got a better TRP results after he joined the show. His brother Abhishek Nigam played the lead in the same and Siddharth came as the character named Shivaay in the show. Siddharth who started his career with the film Dhoom-3 by playing Amir Khan's childhood, recently reached at Bigs Boss set for promoting his music video titled by Wallah Wallah. Jannat Zubair Rahmani and Siddharth both romoted the song in the presence of superstar Salman Khan on the sets of Bigg Boss.
Siddharth Nigam's show Aladin: Naam Th Suna Hoga did very well on television where he played led alongside female actor Ashi Singh. Ashi is also very active on social media as she has nearly 2 million followers there. She is now doing daily soap named Meet where she is playing the title role. Ashi and Siddharth both make reels together on Instagram which gets a huge ammount of likes and views. The pair was very liked by the audience when they were doing the show Aladin: Naam Toh Suna Hoga.